Introducing Osaka Metro's AR Navi:
Say Good-bye to Getting Lost in Umeda
2020.08.07

Written by: リナ(rina)
● A Maze at Umeda (Osaka) Terminal
Every day, more than 2.5 million people use Osaka's main terminal, Umeda.
Umeda is made up of a number of stations including Osaka Metro's Umeda, Nishi-Umeda, and Higashi-Umeda Stations as well as JR Osaka station, Hankyu Railway's Osaka-umeda station, and Hanshin Electric Railway's Osaka-Umeda station, all of which are connected underground, providing for walkable transfers among them.
Navigating such a large terminal can be a daunting task for visitors new to Osaka, however. In fact, difficulties surrounding transfers cause a delay for many.
Umeda's massive underground shopping mall that extends from one end of Umeda to the other—a maze where even locals get lost—seems especially impossible to navigate. I mean, there's a reason this place is also called the "Umeda dungeon."
● Introducing Osaka Metro's AR Navi
Osaka Metro is here to rescue! Osaka Metro just launched a revolutionary app that will help you conquer the Umeda dungeon.
"Osaka Metro Group Navigation App" includes the usual conveniences like the route map, timetables, and route search. And, among them, AR Navigation (AR Navi) uses the newest digital technology to guide you through stations of Osaka.
AR stands for augmented reality, an enhanced version of the real-world environment produced by combining computer-generated images with the images of user's environment in real time. Simply put, an arrow appears on your phone screen over the image of your surroundings (via your phone's camera,) and you can get to your destination by following that arrow.
Still not sure how that works?
Here's how we experienced AR Navi at Umeda Station.
● Follow the "Moving Arrow"
In order to use AR Navi, you first need to find an AR Navigation Board (AR Navi Board) located near a ticket gate. It's easy to find—it's lit up in blue, the color of Osaka Metro's logo. We found two at Umeda Station's center ticket gates.
Once you find an AR Navi Board, open AR Navi on your phone and scan the board.
Once scanning is complete, you can select your destination from the list that appears on your phone, which may include station exits, nearby stations, department stores, and shopping malls.
If you've been to Osaka, you would know some stations have many, many exits. AR Navi gets you to the right exit. Finding another station or a department store—without getting lost—is simple with AR Navi, too!
I simulated a transfer from Umeda Station to Nishi-Umeda Station.
When I selected Yotsubashi Line Nishi-Umeda Station as the destination, a box for scanning the AR Navi Board popped up on my device. After scanning, I pointed the phone toward the floor and shook it lightly, as directed.
And…voila! On my phone appeared a "moving arrow," over the image of the floor my camera was capturing.
This was the start of the navigation; I only needed to follow the arrow from here!
The screen conveniently showed the distance and time to destination, too.
As I walked, I noticed the arrow actually moved as I moved; so, it's not a problem if you don't exactly walk the ground where the arrow appears.
Do remember not to stare at the screen as you walk. It's dangerous. Stop, look at the navigation, then walk!
When you get to a staircase, the app even indicates "UP" or "DOWN." Watch your step!
I was admiring the accuracy of this navigation system as I walked, and what do you know, I was already at Nishi-Umeda station! Navigation ended here.
Watch a video on how to use the AR Navi app.
● Say Good-bye to Getting Lost!
It was impressive just how smoothly I got to my destination. How could I have gotten lost in here before??! This is, without a doubt, a super useful app for travelers visiting Osaka.
AR Navi Boards are currently set up at Umeda, Higashi-Umeda, Nishi-Umeda, Namba, Dome-mae Chiyozaki, and Taisho Stations (as of July 29, 2020.) There will be more, coming soon!
Do try out the AR Navi when visiting those stations! You can transfer and find your destination with ease like I did. And your trip will be great and stress free!!
Recommended Plans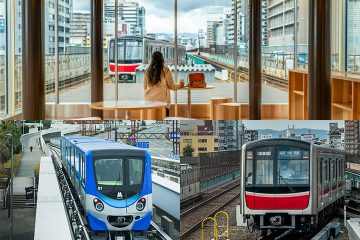 The colorful train cars of Osaka Metro attract railway enthusiasts and others to take …
2021.07.16
Welcome to Along the Osaka Metro Lines series which showcases the characteristics and …
2021.05.14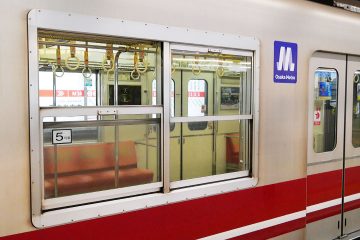 Osaka Metro has implemented a number of measures to provide safe and comfortable services to …
2021.04.30
Umeda
Higashi-Umeda
Nishi-Umeda