Navigate Osaka's Kita & Minami
With the Help of Osaka Metro's AR Navigation
2020.12.04

Written by: SILA(スラ)
● Perfect App for Walking Osaka Metro
Merhaba! I'm Sila.
I'm a Turkish high school student born in Osaka who loves shopping and eating street food! Osaka has many destinations worth a visit (like Kita and Minami districts,) and I like exploring the city but, I'll be honest, I'm terrible with directions. I mean I've lived here all my life, but I still get lost transferring trains or trying to navigate the city streets. (lol)
Luckily, my friend told me about a great app for walking Osaka with Osaka Metro.
Let's go use the Osaka Metro Group Navigation App!

● Umeda – Namba – Kuromon Ichiba Market
"Route Search" is perfect for getting directions. Simply enter the starting point and destination to get a recommended route. Today, I'm going from Umeda Station to Kuromon Ichiba Market.
Here's the search result. It even tells me how much the train fare will be.

According to the app, I can take Osaka Metro from Umeda Station to Namba Station then walk to the market.
I'm hopping on the Midosuji Line to Namba as directed!

It was an easy 9-minute ride to Namba. But the real test begins here—navigating Namba's complex underground malls cannot be underestimated. Take a wrong exit and you're surrounded by unfamiliar buildings with no idea which way is what.
Let's see what this app can do for us in a place like Namba, shall we?!
I first need to find my friend…there it is, right near the ticket gates. Here's my friend, AR Navi Board.

Scan the board with a phone,

Then, on the next screen, point the phone toward the floor and shake a little…and an arrow appears to guide the way. Super easy!
This is my first experience with AR, augmented reality. It's amazing how an arrow just emerges and stays over the live view of my real-world surroundings. How impressive. I don't think I can get lost with this! (lol) Walking the arrow now!

Do remember to stop walking to check the screen. You can hurt someone, or yourself, walking and staring at the phone in the crowds.

I've arrived at Exit No. 1. Yay! I have a map app I normally use; it doesn't navigate underground well. This app, on the other hand, tells you exactly where to go. It didn't even need GPS (GPS doesn't function well inside the stations). It's easy and reliable.

After surfacing above ground through the exit, a street map guides me to the destination.

I think it's this way; let's walk inside the shotengai shopping street.

Out of the covered street, continue walking on a street with lots of nice-looking eateries.

After about 10-minute walk from Namba Station, I arrived at Kuromon Ichiba Market safely and without getting lost!! It was a smooth walk, thanks to my new app.

A large crab welcomed me from above. Let's explore the market!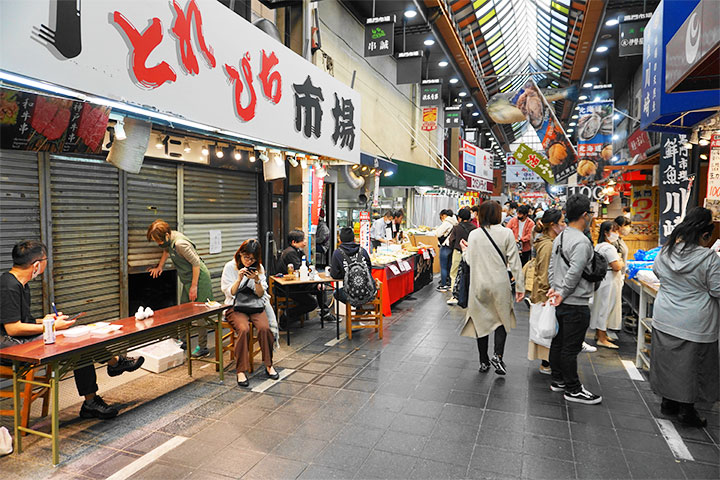 The market was, as usual, full of yummy foods like good looking sashimi, fresh fruit cups, and kushiyaki grilled meats. I wanted to eat them all! (lol)
Look at this cute little octopus I found!

● No. 1 Spot in Minami: Dotonbori
I decided to take a stroll to Dotonbori after the nice snack.
I looked up the route from my current location, Kuromon Ichiba Market , to Dobonbori using the Route Search in Osaka Metro Group Navigation App.

Walk west on Sennichimae-dori, then go north on Ebisubashi-suji…

After about 12-minute walk, I arrived at Ebisubashi Bridge in Dotonbori, the most visited spot in Minami. Kani Doraku's iconic huge crab signboard—that was in the news recently; they just repaired the legs—was right in front of me!

Gotta snap a photo of the Glico Man, too, since we're here.

And go shopping, of course♥

● Shopping and Street Food in America-mura♪
Next, we walked down Midosuji toward America-mura (American Village.) Luxury brand shops line Osaka's main street on the way to Osaka's center of youth culture.

America-mura, affectionately referred to by locals as "Ame-mura," is vibrant and colorful, an exciting place to explore. I often come here to find unique clothing at vintage shops at a nice price.

Street food is another cool thing about Ame-mura. My friends and I usually check out new food shops as soon as they open. I had IKKI's baby castella cake parfait♥
It's warm castella cakes topped with cold soft serve ice cream. Tastes even better outside. (lol)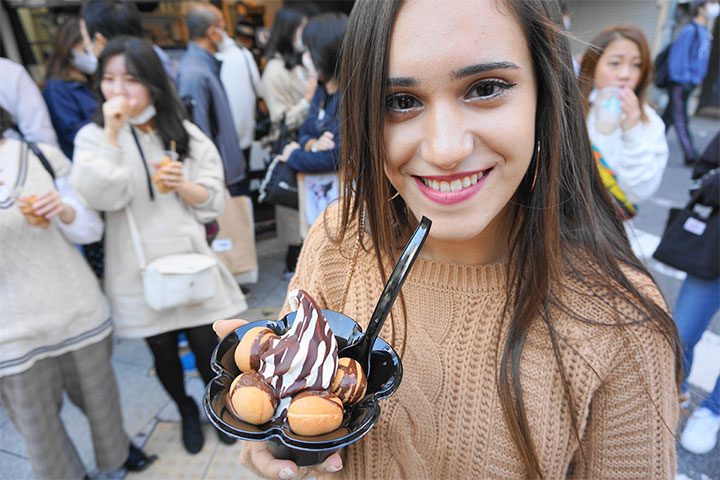 ● Take Me to Yodobashi Camera, AR Navi!
It's about time to get back to Umeda.
I know the route on the Midosuji Line from Shinsaibashi Station or Namba Station to Umeda Station, but it looks like Yotsubashi Line's Yotsubashi Station is nearby! I'm going to try this new route—Yotsubashi Station to Nishi-Umeda Station.
I want to stop by Yodobashi Camera in Umeda so I'm entering that as my destination in the Route Search in navigation app.
From Yotsubashi Station to Yodobashi Camera, here we go!

I'm at Nishi-Umeda Station. And I don't know where to go…
But it's okay! Here again is my friend, AR Navi Board.

And here's the moving arrow showing me where to go. Thumbs up to AR!

Underground malls conquered!

I've arrived at my destination, Yodobashi Camera!

This app is going to let me go to new places with no fear now. The AR navigation is especially convenient in walking Osaka's underground malls. Currently, AR Navi Boards can be found at six stations including Umeda, Higashi-Umeda, Nishi-Umeda, Namba, Dome-mae Chiyozaki, and Taisho Stations.
Personally, I can't wait for more AR Navi Boards to be set up!
Lastly, yet very importantly, the great news for international travelers is that this app is offered in multiple languages including Japanese, English, Simplified Chinese, Traditional Chinese, and Korean. Today, I used the Japanese and English versions of the app and found it very helpful.
I know I'm going to use the Osaka Metro Group Navigation App to explore Osaka more♪
How about you?
Download Osaka Metro Group Navigation App here

Find more details on how to use AR Navi here
Introducing Osaka Metro's AR Navi: Say Good-bye to Getting Lost in Umeda
Recommended Plans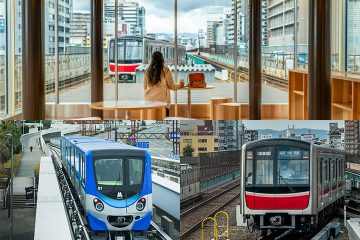 The colorful train cars of Osaka Metro attract railway enthusiasts and others to take …
2021.07.16
Welcome to Along the Osaka Metro Lines series which showcases the characteristics and …
2021.05.14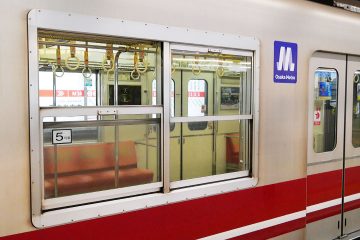 Osaka Metro has implemented a number of measures to provide safe and comfortable services to …
2021.04.30