SPECIAL
My First Osaka
Uji-Fushimi 1-day Ticket:
How to Walk Fushimi Inari Taisha Shrine
2020.11.13
Bonjour! I'm Aurore from Lyon, France.
Today, we're going to take a day trip to Kyoto—we're going to visit the famous Fushimi Inari and the Uji area, then go to the Fushimi Momoyama/Chushojima area known for sake breweries.
Sounds too ambitious for a day trip?
No worries! We're going to use a convenient train pass called Uji-Fushimi 1-day Ticket (Osaka Metro version)—with this pass, you can travel around the southern part of Kyoto economically and efficiently! It's really a perfect pass for a day trip from Osaka to Kyoto.
Aurore
I came to Japan for work about 9 months ago. On my days off, I like to explore Osaka and Kyoto.
Joshua
My colleague, Joshua, will be traveling with me, too. He's from the U.S. and is fluent in Japanese and knowledgeable about the Japanese culture.
Osaka-Kyoto Day Trip: A Convenient Train Pass

With Uji-Fushimi 1-day Ticket, you get a good deal for only 1,300 yen—unlimited rides on Osaka Metro and most of Osaka City Bus as well as in the designated section of Keihan Railway including the Uji/Fushimi segment. That means you can visit the famous Fushimi Inari Taisha Shrine and the Uji area (well-known for matcha green tea), AND take the cable car up to Iwashimizu Hachimangu Shrine (National Treasure) in Yawata City on one ticket! What a nice deal, huh?
You can purchase this convenient pass at ANY Osaka Metro station. Simply visit the station master's office—it's not sold at the ticket machines—and ask for one. We got ours at Umeda Station.
Ready to go on this ambitious tour of Kyoto? Let's go!
Fushimi Inari: Main Hall to Okusha Hohaisho

We started early in the day to cover many grounds. It was a beautiful day and the morning air felt good.
We met up at Umeda Station. From there it was a quick ride on Osaka Metro to Yodoyabashi Station where we transferred to the Keihan Line that took us to Fushimi-inari Station. After about one hour of train ride, we were excited to see the red torii gates of Fushimi Inari Taisha Shrine.
After going through the Romon gate, we visited Honden, the main hall. We learned the basics of offering a prayer at a shrine: bow twice, clap your hands twice, offer a prayer quietly with your hands put together, then bow one last time.
For your offering, use five-yen coins if you have them—because five-yen (pronounced "go-en" in Japanese) sounds the same as the Japanese word for good luck, "goen," it's supposed to bring you good luck! The combination of five- and ten-yen coins is also good—it'll bring good luck in ten-folds!
We headed to the world famous Senbon Torii (literally one thousand torii) gates right away. The color of the torii is amazing. It's somewhere between red and orange—they call this color "shu" in Japanese.
After we walked through the Senbon Torii, we wrote our wish on ema, wooden votive tablets that are hung at shrines in Japan. The votive tablets here are uniquely shaped like a fox, Inari god's messenger. On the other side of your wish, you can also draw the face of the fox.
Omokaru-ishi that sit on top of the two stone lanterns are not ordinary round rocks. Try lifting one of the rocks—if the rock is lighter than you expected, your wish will come true. Joshua had no problem lifting the stone. I wonder what he wished for?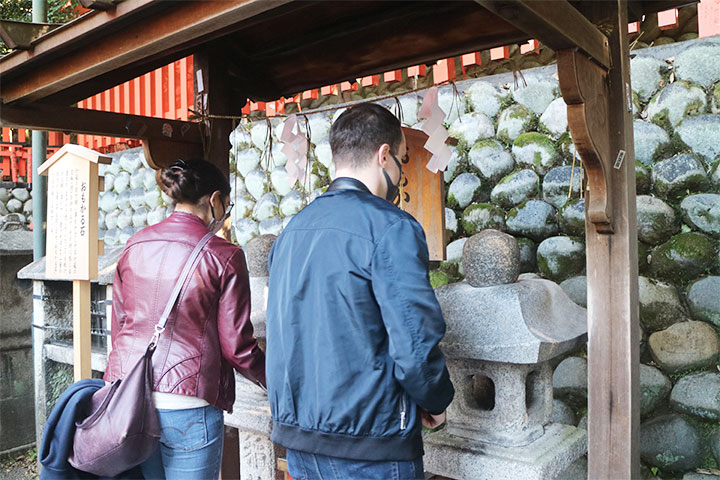 A Mystic Path to the Summit of Mt. Inari

This is the beginning of the real hike to Ichinomine at the summit of Mt. Inari! We climbed—through the torii gates, via Shinike Pond, Mitsu-tsuji junction, then Yotsu-tsuji junction. The torii and steps continue on…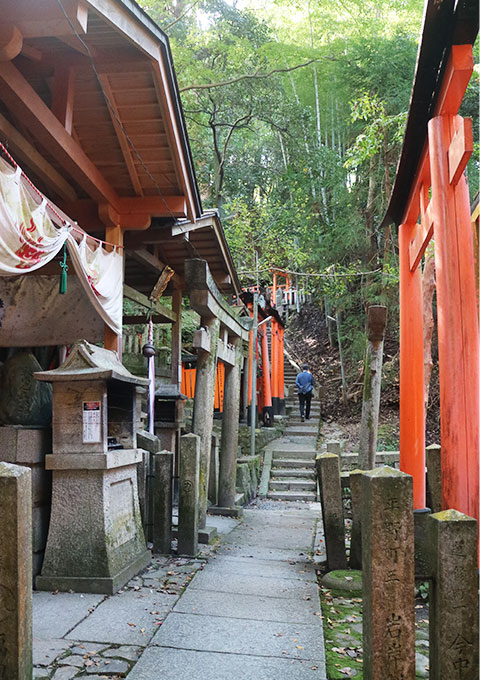 It's a pretty demanding hike, but you get to enjoy the view through the graceful torii gates throughout. Surrounded by tall trees, it felt mystic. New and old torii gates co-exist to create enchanting sceneries; it was impressive. And it was obvious that many hands have contributed to maintain this magnificence.
We climbed for 20 minutes and arrived at Yotsu-tsuji junction. By this time, we had taken off our jackets (it was a bit chilly at the beginning) and were wearing only t-shirts.
Don't forget your camera—from Yotsu-tsuji junction, you get a panoramic view of Kyoto City.
The weather was nice with clear sky on the day we visited. It was refreshing and beautiful☆
From here the hike to the summit seemed manageable. We climbed for another 20 minutes…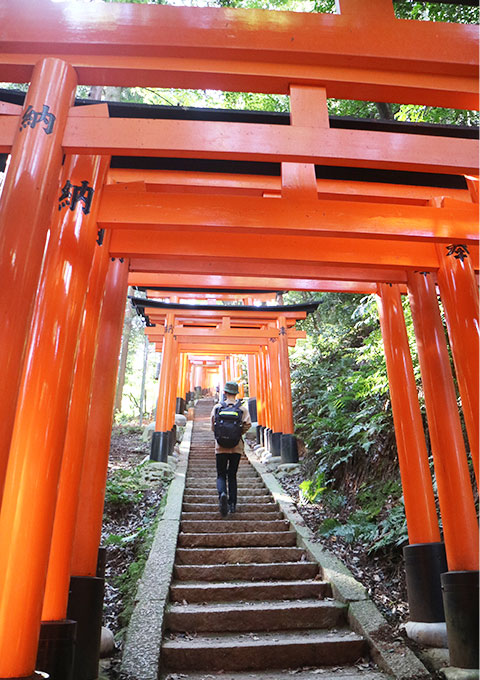 …and found a sign; we were at the summit of Mt. Inari, at 233 meters. Yay!
We visited the shrine at the summit before the descent. It was a good exercise.
This was actually the third time I visited Fushimi Inari. The first time, I was there in the afternoon, and the second time, it was rainy (all the way to the summit!) This visit was my first experience to see Fushimi Inari in the morning. The morning sun felt so good! Sceneries and the views change depending on the weather and the time of the day—makes me want to return again and again.
The mystic air at Fushimi Inari is very special to me. The torii gates, gods and creatures that exist in this space, the forest that surrounds the torii gates…I can't explain well but I feel something is overpowering here.
Inari Udon Noodles for Lunch

We were pretty hungry after a good hike. We visited Douhachi near Keihan Fushimi-inari Station for lunch☆ While the area around Fushimi Inari is usually busy because it's such a popular destination, Douhachi is an acquaint udon shop located in a narrow alley off the main streets. Yet—important to note for those of us who don't speak Japanese well—they offer an English menu.
I LOVE udon noodles♡ I couldn't decide on what to order though so went with staff's recommendation, Gomoku Udon (with various toppings). Joshua had their specialty, Inari Udon.
Dashi broth had a refined taste with a hint of sweetness. That made Joshua very happy—he likes his abura-age (fried bean curd) soaked in dashi, so the abura-age is especially good if the dashi is good! The gentle flavor of the dashi was soothing after a morning hike.
Another specialty of Douhachi is warabimochi, a traditional Japanese dessert made from warabi bracken starch. Top the smooth translucent mochi bites with slightly sweetened kinako and syrup and take a bite! Douhachi's warabimochi is quite substantial in size thus definitely sharable, if you so wish. Check out other classic traditional Japanese sweets on the menu, too, like anmitsu (agar jelly cubes, beans, and fruits topped with sweet azuki bean paste) and Zenzai (sweet azuki bean soup.)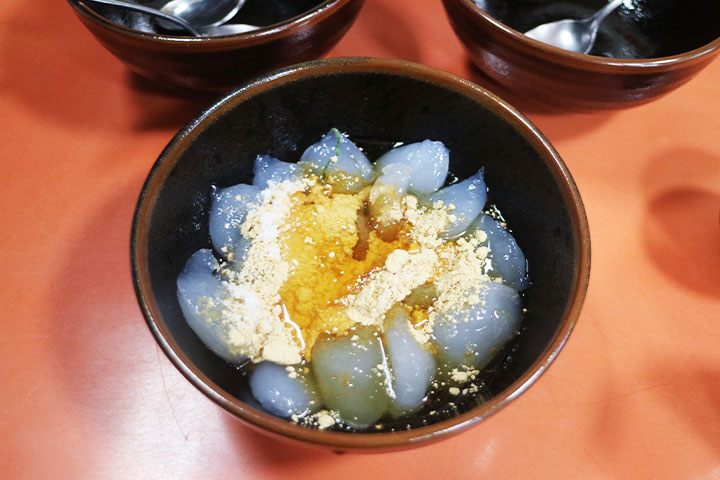 We were very much satisfied with our lunch at this udon shop beloved by the locals.
And it was time to head to our next destination, Uji!
In Uji, we visited the Phoenix Hall at a World Heritage site, Byodoin Temple, and found excellent green tea sweets. We then went to Fushimi and visited a sake brewery.
Read about our delightful afternoon in the next issue!
>> Next issue is here!
Uji-Fushimi 1-day Ticket: World Heritage, Matcha, and Sake
*The Uji/Fushimi 1-Day Ticket was discontinued on March 31, 2021. Have a look at our blog for information on Kyoto sightseeing from Osaka.
Spots Introduced
[Access] Approx. 5-minute walk from Keihan Main Line's Fushimi-inari Station, via a transfer at Osaka Metro's Yodoyabashi, Higobashi, Kitahama, Temmabashi, Kyobashi, or Sekime-Seiiku Stations
[Address] 68 Fukakusa Yabunouchi-cho, Fushimi-ku, Kyoto
[Phone Number] 075-641-7331
[Hours] Open 24 hours ( However, the offered of the amulet is 8:30 am – 4:30 pm)
[Website] http://inari.jp/en/
Douhachi
[Access] Approx. 2-minute walk from Keihan Main Line's Fushimi-inari Station, via a transfer at Osaka Metro's Yodoyabashi, Higobashi, Kitahama, Temmabashi, Kyobashi, or Sekime-Seiiku Stations
[Address] 15 Fukakusa Haraigawa-cho, Fushimi-ku, Kyoto
[Phone Number] 075-641-1951
[Hours] 11am – 5pm, or until sold out
[Closed] Fridays (Open if it falls on a holiday or on the 1st day of the month; closed on Thursday instead in such case)
Recommended Plans
Originally made its way from China, the art of Bonsai has evolved into its own form in …
2021.05.07
With icons like Dotonbori and Tsutenkaku Tower, many think of Osaka as colorful and …
2021.02.26
In Japan, Setsubun is the most famous seasonal festival in February. Setsubun celebrations are …
2021.01.29