SPECIAL
My First Osaka
Uji-Fushimi 1-day Ticket:
World Heritage, Matcha, and Sake
2020.11.20
Bonjour! I'm Aurore from Lyon, France.
My colleague Joshua and I like to travel and took a day trip to southern Kyoto using Uji-Fushimi 1-day Ticket (Osaka Metro version) a convenient train pass for visiting Kyoto from Osaka. We started the day at Fushimi Inari Taisha Shrine, the most popular tourist site in Kansai, in the previous issue. Read on below to find out about an afternoon of cool Kyoto experiences in Uji and Fushimi!
Aurore
I came to Japan for work about 9 months ago. On my days off, I like to explore Osaka and Kyoto.
Joshua
Joshua, a colleague, is my travel companion today. He's from the U.S. and is fluent in Japanese and knowledgeable about the Japanese culture.
World Heritage Byodoin Temple

After a good hike at Fushimi Inari Taisha Shrine and a satisfying udon lunch, Joshua and I took Keihan Line from Fushimi Inari Station to Uji via a transfer at Chushojima Station.
We were met with a near futuristic station building at Uji Station. I liked the bare concrete and the cool arch.
Our first destination in Uji was the Phoenix Hall (Hou-ou-do) at Byodoin Temple. You can walk across a photogenic vermillion-lacquered bridge over the Uji River to get there.
I'd seen Byodoin Temple's Phoenix Hall as depicted on the back of the 10-yen coin, but this was my first time to see the actual building in person. We purchased the admission tickets by the Main Gate, where we were given two postcards—because we had the Uji-Fushimi 1-day Ticket. Yay♡ This ticket offers many other benefits. Check out Osaka Metro's website for details.
https://metronine.osaka/en/ticket/ticket-c01/
Shortly after entering through the Main Gate, we saw Phoenix Hall surrounded by water. How beautiful. This is indeed a World Heritage. The dynamic architecture floating on a pond was overwhelming and the reflection on the water was impressive, too.
Through the round lattice window in the middle of the building, we saw the wooden statue of Amida Buddha (Amida Nyorai,) the Buddha of Limitless Light. The two phoenixes on roof top are the second generation; the first generation—the originals—are on exhibit at their museum next to the Phoenix Hall. While the face of the phoenixes is the same as the phoenixes you'd see in France or the U.S., the bodies of these phoenixes from the neck down are different, especially the wings.
After walking around the Phoenix Hall along the Aji-ike Pond, we visited the Hoshokan Museum (your admission ticket to the temple will get you in.) On exhibit at the museum are numerous buddha statues designated as National Treasures and valuable cultural properties as well as other precious artifacts. The effective use of lighting created a pleasant space for viewing and appreciating the artifacts. I enjoyed it. (Cameras are not allowed inside the museum.)
Matcha Green Tea Fondue?!

You've got to have matcha green tea sweets when you're in Uji. After all, Uji is famous for its superior green tea and Uji Matcha is considered the best matcha green tea. We took advantage of this opportunity and tried two different shops!We first went to Teahouse Kunugi located on the banks of Uji River, about 8-minute walk from Byodoin Temple.
We were seated at a table on the second floor, where you can overlook the Uji River. Time moved slowly and we forgot how tired our feet were from hiking this morning.
We came to this teahouse for a specific reason: their matcha green tea fondue. This was my first experience with tea fondue. In the fondue pot was matcha flavored anko sweet bean paste that had just the right amount of sweetness. You can't go wrong with the combination of this matcha flavored anko and sticky rice-flour dumplings—so delicious. C'est bon!
Add some matcha powder to the anko sweet beans, and the heightened aroma of the tea whets your appetite. To refresh your palate, a staff recommended these little dark strips on the plate. It's called shio-kombu, dried flavored kombu strips. You might know shio-kombu as a filling for onigiri rice balls. Apparently, it's also used as a companion to Japanese sweets—because salt brings out the sweetness and enhances the flavor. Have the fondue with a bowl of usucha (thin tea; one of the two ways to prepare matcha) and your experience will be whole.
Hojicha fondue is also on the menu at Kunugi. Hojicha infused anko sweet beans were aromatic. Joshua preferred hojicha fondue over the matcha fondue, but I think I liked the matcha fondue more. Try both and see which one you like♪
A Contemporary Matcha Green Tea Drink

Matcha Republic is a stylish, contemporary café. Here, matcha is served in a bottle modeled after ink bottles.
This unique matcha is called—you guessed it—"Matcha inks." From the variety of Mathca inks offered—matcha latte, matcha zenzai (matcha latte and sweet bean paste,) rock salt cheese (mathca latte with creamy rock salt cheese)—I chose the simple matcha shimizu to enjoy the flavor of the green tea itself. The ink bottle was so cute. I snapped a picture of it.
The flavor of matcha was authentic and it was very satisfying♡ I could tell high quality stone-ground Uji Matcha was used in this drink. I even bought a set of Matcha inks to go to enjoy at home before I left.
I learned different and unique ways to enjoy matcha today. It was a fun and tasty experience.
Sake Tasting in Fushimi Sake District

Our last stop was Fushimi, a town of sake breweries. It was a quick train ride (on Keihan Line) from Uji to Chushojima Station where it's located. Fushimi Sake District has its own character and made a nice spot for a relaxing afternoon stroll.
We came upon Fushimi Yumehyakushu, a café with an impressive storefront. Once the headquarters of Gekkeikan, a sake manufacturer founded in 1637, this building was built about 100 years ago during the Taisho Era. We couldn't take our eyes off this quaint historic building for a little while.
Interior of the café is very retro and chic. Besides a variety of sake and sake sweets served, the menu includes non-alcoholic sweets for non-drinkers to enjoy. Check their calendar for a list of events hosted regularly here, including sake tasting.
Fushimi Yumehyakushu also houses a souvenir shop that sells sake and other local products.
It's time to taste some sake! You can choose from a wide range of seasonal menus offered by local sake breweries.
I had the premium sake flight that included Eikun "Koto-Sennen," Keicho "Fushimi no Sake," and Tamano Hikari "Bizen Omachi." Gold flakes floated in my sake served in small glasses. They were all good but my favorite was the mild flavored Koto-Sennen that had a fruity aroma.
Joshua had the Sakemai sake flight. He prefers his sake dry and liked "Kinshi Masamune" in the center.
We also shared Seishu ice cream. We chose yuzu liqueur as the topping for our vanilla ice cream. The other option was aged sake. The aroma of yuzu was rich. I think I'll try this at home.
We enjoy sake at izakaya often, but this was a nice alternative I didn't know existed. Just try not to drink too much!
On the way back to Chushojima Station, we found this retro sento public bathhouse. Taking a refreshing bath before going out on the town would sure make a pleasant evening—that was the profound thought I had before getting on the train home, feeling pretty good.
Did you enjoy our ambitious tour of Kyoto using Uji-Fushimi 1-day Ticket? We definitely and thoroughly enjoyed the day filled with Kyoto's charms!
Today's itinerary included train rides between Osaka Metro Umeda Station and Keihan Uji-Fushimi area (round trip) and from Fushimi Inari to Uji back to Chushojima. This would normally cost 1,750 yen but we saved more than 25% by using the Uji-Fushimi 1-day Ticket(1,300 yen)! We even got pretty postcards as a bonus!
There are many other spots in the Uji-Fushimi area I want to check out. Gotta start planning my next trip!
>> Last issue is here!
Uji-Fushimi 1-day Ticket: How to Walk Fushimi Inari Taisha Shrine
*The Uji/Fushimi 1-Day Ticket was discontinued on March 31, 2021. Have a look at our blog for information on Kyoto sightseeing from Osaka.
Spots Introduced
[Access] Approx. 10-minute walk from Keihan Uji Line's Uji Station via a transfer at Osaka Metro's Yodoyabashi, Higobashi, Kitahama, Temmabashi, Kyobashi, or Sekime-Seiiku Stations
[Address] 116 Uji Renge, Uji City
[Visiting Hours] 8:30am – 5:30pm (garden); 9:00am – 5:00pm (Hoshokan Museum shop)
※Check Byodoin Temple's website for the hours of specific facility.
[Closed] Open everyday
[Admission] 600 yen (includes the Garden and the Byodoin Temple Hoshokan Museum)
[Website] https://www.byodoin.or.jp/en/
Teahouse Kunugi
[Access] Approx. 5-minute walk from Keihan Uji Line's Uji Station via a transfer at Osaka Metro's Yodoyabashi, Higobashi, Kitahama, Temmabashi, Kyobashi, or Sekime-Seiiku Stations
[Address] 66-4 Uji mataburi, Uji City
[Phone] 0774-22-7140
[Hours] 11:00am – Last Order at 4:30pm (or until sold out)
※Reservations available
[Closed] Tuesdays
Matcha Republic Uji Honten
[Access] Approx. 8-minute walk from Keihan Uji Line's Uji Station via a transfer at Osaka Metro's Yodoyabashi, Higobashi, Kitahama, Temmabashi, Kyobashi, or Sekime-Seiiku Stations
[Address] 26-2 Uji Myoraku, Uji City
[Hours] 10:00am – 6:00pm
[Closed] Open everyday
Fushimi Yumehyakushu
[Access] Approx. 7-minute walk from Keihan Main Line's Chushojima Station via a transfer at Osaka Metro's Yodoyabashi, Higobashi, Kitahama, Temmabashi, Kyobashi, or Sekime-Seiiku Stations
[Address] 247 Minamihama-cho, Fushimi-ku, Kyoto
[Hours] 10:30am – 5:00pm (Last Order at 4:30pm)
[Closed] Mondays (except on holidays), during the New Year holidays and summer holidays
Recommended Plans
Having a cup of tea is a great way to escape from the daily turmoil and relax. In recent years, …
2021.08.27
Hi! I'm Andy. I'm from the U.S.A. I'm fascinated with the wonders of Japanese temples and …
2021.07.09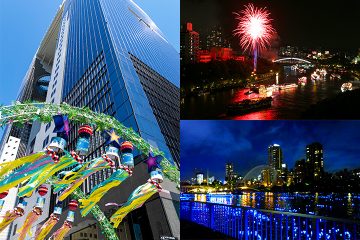 Summer is here in Osaka!I love summer. Summer is the season for festivals and other lively …
2021.07.02