SPECIAL
My First Osaka
Osaka's Korea Town:
Korean Street Food & BBQ
2020.10.16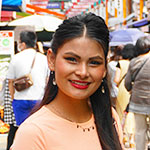 Written by: manju(manju)
Namaste! I'm Manju from Nepal. I love venturing out in Osaka; I've been exploring the city since I came here two years ago.
Did you know you can experience South Korea right here in Osaka? Let me show you around the Korea Town in Ikuno and Tsuruhashi☆
Follow the Aroma and Eat Up in Ikuno Korea Town♪

Take a nice fifteen-minute stroll from Osaka Metro's Tsuruhashi Station and you'll be greeted by the Baekjae Gate, the entrance to Ikuno Korea Town. On the other side of the gate is…South Korea! Some 150 shops line the 500-meter street that runs east-west. How the atmosphere instantly changes as you walk through the gate is quite amazing.
As you walk down the street, you notice different smells floating out of various restaurants, and you can't help but stop to see what it is. Many shops have food stalls out front, allowing you to munch on Korean street food as you stroll♪
I found a sweet rice cake I really liked. It was like a crispy doughnut. It was almost addictive ☆
I also tried something I was told I can't get anywhere else; gimmari was like an egg roll wrapped in seaweed. The aroma of seaweed was enticing!
Honestly, everything looked interesting. I simply wanted to try them all.
Kimchi specialty shops, loads of pig feet, tteokbokki (spicy rice cakes) and pajeon (Korean savory pancakes)…so many Korean food options that are not a common sight elsewhere were all available in Korea Town. I was so excited!!
Cute and Delicious Sweets☆

Next stop was Sun-chan Café. Their colorful and pop storefront drew me towards them.
See the colorful soft serve with pastel colored puffs💛 It looked like it was from Dreamland—so cute! These puffs just melted in my mouth. It was indescribable but I loved the lightness of it!
Hatogu = Korean Hot Dogs!

I know I was snacking a lot, but I also had to have hatogu cheese dogs!
Hatogu is a staple of food stalls in Korea. I got the potato mozzarella rice hatogu from JongNo Hatogu. Breading made from rice flour gives it a soft and sticky texture. I sprinkled a little sugar then topped it with ketchup and mustard—the girl behind me in line told me that's the way to do it! The sweetness of sugar, the sourness of ketchup, and the gentle spiciness of mustard all came together to create a…devil's snack!
With a full stomach, I strolled back toward Tsuruhashi Station enjoying shopping along the way and arrived at Tsuruhashi shotengai shopping street. Yep, this area is also part of the Korea Town! I was already full before I got there, but there just were too many temptations. No worries. You can always get stuff to go since they offer carry out services!
It really felt as if I was at a market in South Korea. I even had a nice chat with a friendly mama.
Finish with Yakiniku, Late Lunch Tsuruhashi Style

Tsuruhashi is actually well-known for yakiniku, Korean barbecue♪ Many, many yakiniku restaurants pack the streets and the whole area smells like yummy yakiniku. Needless to say, I had to have it before I left!!
I went to Yakiniku Mimatsu. They serve the lunch menu until 5pm☆ Quality meat is offered at both lunch and dinner, but it's more reasonably priced on the lunch menu! Their tokujo te-shoku (special set) includes popular pajeon, kimchi, and a salad in addition to jo-tan (special tongue,) jo-kalbi (special short rib,) and jo-rosu (special loin) for grilling, as well as all you can eat rice and soup. It makes me happy when I can grill the meat at the table even for lunch!
Yakiniku grilled on charcoal is delicious, but the smoke is usually a nuisance. At Yakiniku Mimatsu, though, you don't need to worry about smelling like a chimney because they use a smokeless roaster for their charcoal! A restaurant that actually cares about the smell for its customers…I was impressed. Apparently, this combinatino of charcoal grills and a smokeless roasters is rare even on Tsuruhashi Yakiniku Road.
Oh, and don't forget to check out Kizuna, Mimatsu's sister restaurant nearby, that specializes in tripe too if you're in the area and have more room in stomach than I did!
I ate sooo much. Yet, there was so much more to eat in Tsuruhashi and Ikuno Korea Town. I must return, soon!!
Coming soon—in the next issue, I'll talk about the great shopping opportunities in Ikuno Korea Town! Be on a lookout☆
>> Next issue is here!
Shopping in Osaka's Korea Town:A Girl's Day Out
Recommended Plans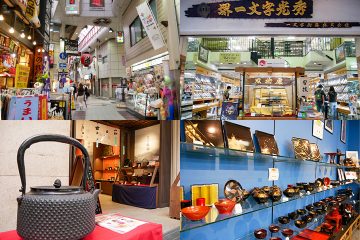 Osaka is Japan's food capital, known as a city where you "eat 'til you drop". Every day, locals …
2021.10.08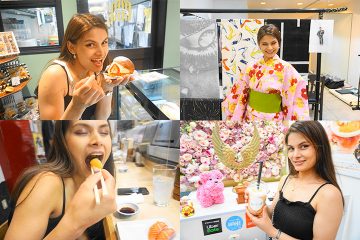 Namaste! I'm Manju. I'm from Nepal. We're walking Osaka's famous Tenjinbashisuji Shotengai …
2021.07.30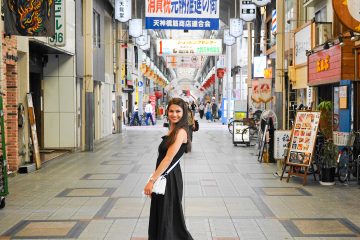 Namasute! I'm Manju from Nepal. I love good food and good buys! So I visited Osaka's gourmet and …
2021.07.21