How to Osaka Metro
This is Osaka Metro style!


Buying Tickets and Using Ticket Gates (and What To Do if You Travelled Beyond the Purchased Fare)
As with other train lines in Japan, visitors need to pay the correct fare for their specific journey when riding Osaka Metro, and go through the ticket gate before and after the journey. Here is how.
Osaka Metro Station Entrances
Entrances and Exits
Station Entrance
Osaka Metro lines are almost all underground. While many station entrances can be found above ground, some are connected directly to buildings. As such, you may suddenly find yourself in a subway station!
At times, entrances are temporarily closed due to construction and renovations. If you find yourself lost or confused, be sure to check the Boarding Guides.
Looking at a station entrance connected to a building
The Midosuji and Chuo Lines
have several aboveground stations.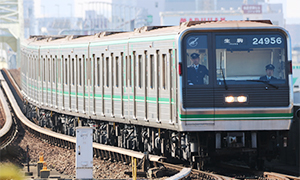 Train running above ground
An aboveground station
Stairs, Escalators, Elevators
Escalator
Accessible route
Subway station entrances may have stairs, escalators, and/or elevators. Every station is wheelchair accessible and the platforms can be reached without using stairs.
Check the Boarding Guides to see which entrances can be accessed via escalator or elevator. Either way, if you find yourself unable to find an entrance, look for the Osaka Metro symbol.
How to Buy Osaka Metro Tickets
Purchasing Tickets at Ticket Machines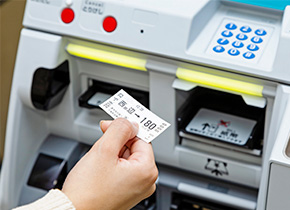 First and foremost, you need to purchase a ticket to your destination.
Tickets can be purchased at the ticket machines located near the ticket gates.
Before going to the ticket machine, check what the fare to your destination is.
Fare Map
The fare map above the ticket machines display the cost of travel between your station and all other stations on the map. First, find the station you are at—it is marked in red. Then find your destination on the map. Under or next to the name of your destination station, you will see a number indicating the cost of your trip. Fare for an adult is indicated in black, while fare for a child (ages 6-12) is indicated in red.
If you are having difficulty figuring out the correct fare, find a station manager or concierge and ask "XX eki made ikura? (How much to XX Station?)."
Check out our useful communication tools for travelers
Language Guides
Some ticket machines can display in English, Chinese and Korean.
Simply touch the screen and select "Purchase Ticket".
As you insert money, various fare buttons will be displayed. Select the button with the amount that matches the fare you confirmed earlier.
The ticket is dispensed from the machine. Any change you may have is also dispensed. Don't forget it!
Buying Passes and Discounted Tickets at the Ticket Machine
Special-deal train tickets
Special-deal tickets
Metro offers a variety of passes and discounted tickets that can be purchased anytime, such as the one-day "Enjoy Eco Card" and multiple ride cards. As with regular tickets, most of these can be purchased at the ticket machine, but some can only be purchased at the station manager's office or the Osaka Metro Information Counter.
First, select "Purchase Card".
A variety of pass/card options will be displayed.
Insert money and select the card you want to purchase.
The pass/card is dispensed.
Any change you may have is also dispensed. Don't forget it!
Passes and special tickets offered by or in conjunction with other railways and establishments are also available for purchase. Find the pass/tickets most suitable for your traveling needs!
List of passes・special tickets
Using Osaka Metro Ticket Gates
Passing through with tickets and discounted ticket cards
First, purchase the ticket to your destination at the ticket machines near the ticket gates.
Once you have bought your ticket,
proceed to the ticket gates.
Find the ticket insert slot on the machine,
and insert your ticket.
As you walk through, the ticket is dispensed on the other side of the gate.
DO NOT forget to grab your ticket! You will need it to exit the station once you arrive at your destination.
IC card only gates
Some IC card only ticket gates do not have the slots to accept other types of tickets or cards. Simply try another nearby gate if you encounter this.
Going through using IC cards
IC card
Going through the gate with an IC card is even more simple.
With your IC card, touch the round area with a blue IC card logo (the area is usually lit up), located above the ticket insert slot.
The LED panel at the other end of the gate will show the remaining balance on your IC card.
If you have insufficient funds on your card, the gate will not open and you won't be able to exit.
Be sure to confirm your balance on the IC Card is enough to cover the required fare amount before exiting.
〈Extra〉What to Do if You Travelled Beyond the Purchased Fare
Using the fare adjustment machine
Fare adjustment machine
If you have purchased a ticket with insufficient fare or if you do not have enough funds on your IC card, you will not be able to exit through the ticket gate.
If you cannot exit through the ticket gate, find a "fare adjustment machine" located near the ticket gates. Insert your ticket or card into the machine, and it will automatically calculate and display how much you need to pay (the adjusted fare). Insert the required amount displayed on the screen.
An adjusted fare ticket will be dispensed. Insert the new ticket into the ticket slot at the ticket gate and you're free to exit the station! (Nothing will be dispensed at the other side of the ticket gate. Just walk through.)
Check out our useful communication tools for travelers
Language Guides
Find the pass/tickets most suitable for your traveling needs
List of passes・special tickets