Explore the Wonders of 16th Century Japan
At a Hot Spring in Osaka's Bentencho
Part I
2020.01.17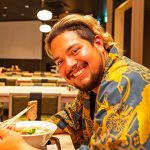 Written by: Enrique Prado(Enrique Prado)
● One of Kansai's Largest Hot Spring Theme Park
While Japan is famous for its abundant onsen (hot mineral springs), Osaka is hardly a place known for hot springs. But that's changing.
Among the many hot spring facilities that are popping up all over Osaka in recent years, Solaniwa Onsen Osaka Bay Tower, opened in February 2019, is getting a special attention. Solaniwa Onsen is a unique place—it's not just another hot spring; it is a hot spring theme park where you can travel back in time to Azuchi Momoyama era (1573-1603)!
Azuchi Momoyama era lasted merely 30 years, a brief period in the long history of Japan, but it's an important era marked by a political unification of the country by a feudal lord named Oda Nobunaga and his successor Toyotomi Hideyoshi who built the Osaka Castle. The period is also known for its flamboyant culture and close interactions with Spain and Portugal—with the influence of Western culture and goods, people enjoyed a colorful and lavish lifestyle during this time.
Inspired by Azuchi Momoyama era, Solaniwa Onsen combines the luxurious 16th century Japan with modern elements allowing visitors to have an exceptional onsen experience and more.
Located near Bentencho Station on Chuo Line—the line that takes you to Osaka Aquarium Kaiyukan—this new type of onsen is easily accessible.
We sent in Prado from Peru, another country with lots of hot springs, to check out the popular spot among international visitors!
● To the World of Azuchi Momoyama!
Walking down a passageway from Bentencho Station, I immediately found a large noren curtain that read Solaniwa Onsen. I felt a little anxious because onsen usually doesn't have such a grandiose entrance, but after I put my shoes in a locker, the nice smile from the front desk staff dressed in kimono made me feel at ease. Excitement started to replace my nervousness.
After getting a quick introduction to this large complex (don't lose the locker key wristband—you need it to pay for everything inside!) I chose my yukata—a kimono robe used at hot springs and Japanese inns—to wear around the facility. They had a variety of patterns and picking one out was actually a fun experience.
After changing into yukata, I walked through a room full of lanterns—a very photogenic spot—and traveled back in time into Azuchi Momoyama era♪
● Relaxing in Hot Springs
I thought it only made sense to try the natural hot springs first. Afterall, this place was an onsen. I walked through Bentendori avenue—it was like a scene right out of a samurai show—and took the elevator to Bentenyumachi on the 5th floor, the floor full of various hot springs.
I much appreciated the signage on noren curtains indicating men's and women's entrances to the hot springs.
The water springing from 1,000m underground is categorized as weak alkaline and is known as the "water for beautiful skin."
They have a variety of baths including an outdoor bath, a carbonated spring, and a sauna. The garden view bath with the view of the Japanese garden was fantastic! They also have family baths that you can rent for families or small groups.
Soaking in the hot springs, my mind and body were warm and relaxed—hot springs are such a great way to recharge.
I also liked the tatami space available for taking a break.
● Sake Tasting, Festival Booths, Live Performances and More!
A recreation of a lavish Azuchi Momoyama town, Solaniwa Honmachi area is where you go to eat and shop. A taikobashi bridge and a Solaniwa shrine in the back add a little charm to this town and make for a great photo spot. And don't forget to look up, or you'll miss the intricately decorated ceiling!
I spent time in the festival area and played some games. Shooting games, character masks—these kinds of fun cannot be found in everyday Japan. Japan has a culture of festivals, and you can experience it here too!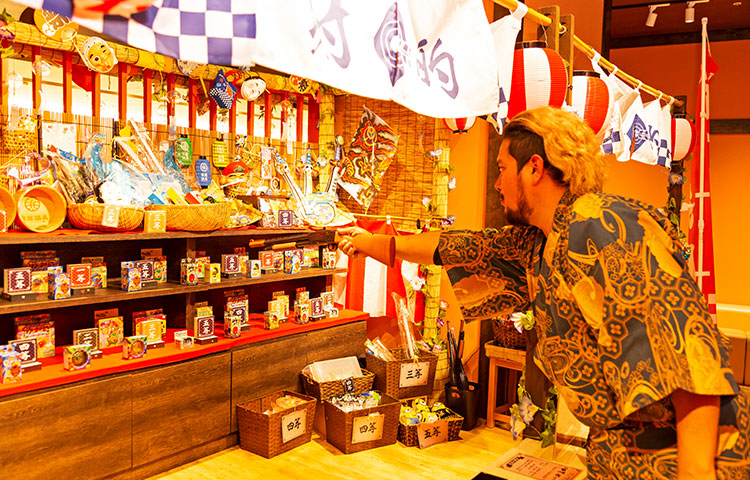 On the opposite side of the festival area is Kuidaore ("eat 'til you drop") street with izakaya and restaurants. I especially liked Kakuuchi Yama-Zentei that has a nice selection of sake.
I ordered a flight of sake that comes with 3 kinds of sake and 3 appetizers to go with the select sake.
With more than 20 kinds of sake behind the counter, they can help you find the perfect sake for you!
Don't forget to check out live performances and special events, too! You might even meet someone from the Azuchi Momoyama period?!
Solaniwa Onsen has so much to offer. In Part II, I'll talk about the Japanese garden with a foot bath, a manga corner stocked with 10,000 mangas, and other cool spots.
Look for my article soon☆
Spots Introduced
[Access] About 1 mins walk from Exit 2A at Bentencho Station.
[Hours] 11:00 a.m.-11:00 p.m. the next day (Last admission 10:00 p.m. ) *Open until 19:00 for those under 16 years old and until 22:00 for those under 18 years old.
[Closed] Irregular holidays(Once a month)※Please check the website for exact dates.

Recommended Plans
Here's Part II on the wonders of Solaniwa Onsen OSAKA BAY TOWER in Bentencho! Prado who …
2020.01.23