「Solaniwa Onsen Osaka Bay Tower」
A New Hot Spring Theme Park in Bentencho
Part II
2020.01.23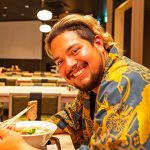 Written by: Enrique Prado(Enrique Prado)
● So Much to Do at Solaniwa Onsen♪
Here's Part II on the wonders of Solaniwa Onsen OSAKA BAY TOWER in Bentencho! Prado who experienced the hot springs and sake tasting in Part I continues with his fun. (If you haven't read Part I yet, go here.)
There's so much more about this special place Prade will show you—the Japanese garden, the main feature of Solaniwa Onsen, a library with an ample collection of books, a new restaurant specializing in noodles! Find out what else you can do at a hot spring theme park♪
● An Ultimate Combo: Japanese Garden & Foot Bath
The best part of Solaniwa Onsen was its 3,300 square meter Japanese garden. Open air was vast and empowering. I felt as if everything there was all mine!
Who could have imagined a little elevator near the changing room can take you to this tasteful garden on the 4th floor of a building?!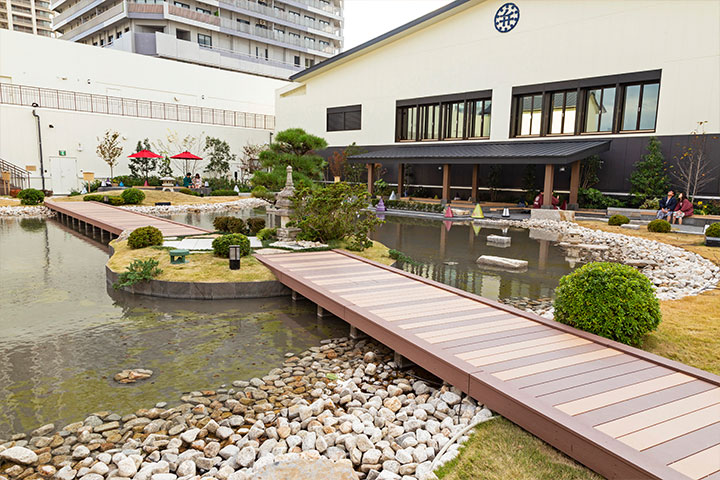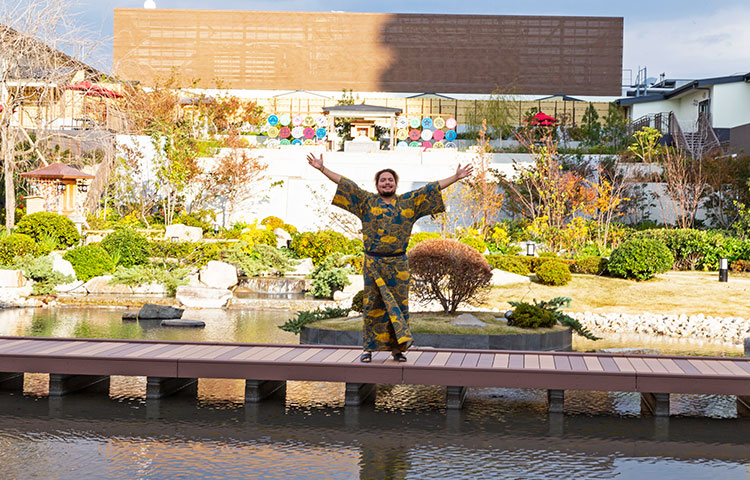 Foot bath is a great spot to enjoy the garden view. Overlooking the pond and the garden, it's such a peaceful scenery. And, foot bath improves blood circulation and warms your body from the core. It's a win-win!
Aggghhhhhh, it felt absolutely wonderful, from feet up!
Inside the garden, I also found small shrines and a series of torii gates, just like the ones at Kyoto's famous Fushimi Inari Taisha Shrine, all creating very Japanese Instagramable spots.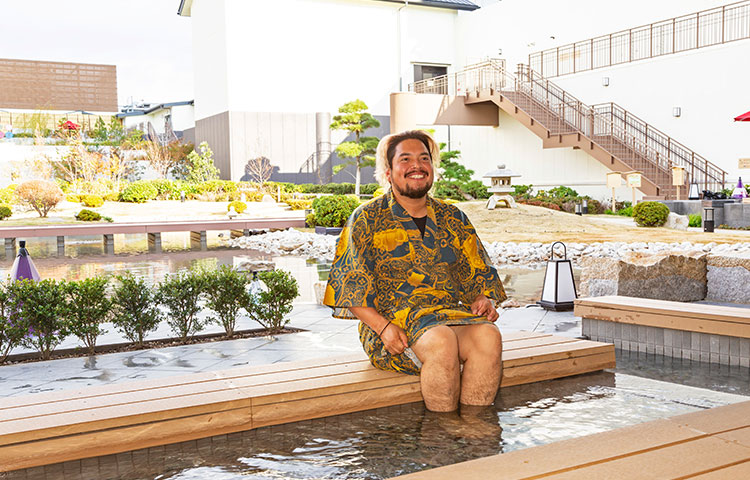 There's no need to worry about the cold in winter—hanten coats padded with thick cotton will keep you cozy and warm. And, these hanten come with Solaniwa Onsen written with Kanji characters on the back. Very cool♪
Right now, this beautiful Japanese garden is illuminated at night. It must be even more beautiful!
● World's Noodle Shop: Bentenmen Now Open
On December 2, 2019, Bentenmen opened in the restaurant area.
Its menu includes noodles from around the world including ramen, pasta, and Vietnamese pho.
I ordered a simple ramen dish—ramen lightly flavored with soy sauce served with char siu pork (sliced roast pork). The size of the noodle dish was rather small—great for kids or as a snack!
Char siu lined the edge of my ramen bowl and a bright yellow soft egg sat on the side…it was like art.
The flavor of the clear golden soup was a perfect combination of soy and seafood flavors, and its warmth permeated throughout my body.
The noodle was springy and went down smoothly. Char siu was lightly flavored and easy to eat. Needless to say, I finished the whole bowl right away! Gochiso-sama!
The high quality of the noodles made me want to try everything on the menu. Next time, I think I'll go for a Singaporean style laksa noodle soup.
● All-You-Can-Read 10,000 Manga
With my tummy full, it was time for a break♪
Solaniwa Onsen offers a number of resting spots—tatami area, couch & sofa room, recliner room—but my favorite was the library!
Books filled the walls like a bookstore, boasting a collection of more than 10,000 books. Japanese manga and anime are popular in my country, and I couldn't help but notice they had the entire series of Dragon Ball, the most popular in Peru. The great selection almost makes you dizzy but I managed to pick out NARUTO I'd been wanting to read.
As the name indicates, the recliner rooms have comfortable reclining chairs equipped with TV—keep the volume down though because some people are sleeping!
It was so relaxing. I ended up spending more time than I intended.
Checkout was super easy. You can go to the counter to settle your bill, or go to the self-checkout for a smooth and quick payment process. The machines conveniently offer multiple language options.
Solaniwa Onsen is indeed an onsen theme park where you can spend the entire day and still want more!
Parts of Solaniwa Onsen I didn't see during this visit—stone sauna, private bath, costume rental (you can be a samurai!!)—all sound great. Next time, though, I might just go back and forth between the baths and manga library and stay until the morning. Or, I'll go with my family and rent a private bath. So many possibilities!
I recommend you go check it out too, with your family, friends, boyfriends, or girlfriends. You are sure to find your way of fun at Solaniwa Onsen♪
*This information is current as of January 23, 2020. Please understand that some details may have changed.
Spots Introduced
[Access] About 1 mins walk from Exit 2A at Bentencho Station.
[Hours] 11:00 a.m.-10:00 p.m. the next day (Last admission 9:00 p.m. ) *Open until 19:00 for those under 16 years old and until 22:00 for those under 18 years old.
[Closed] Irregular holidays(Once a month)※Please check the website for exact dates.

Recommended Plans
While Japan is famous for its abundant onsen (hot mineral springs), Osaka is hardly a place known …
2020.01.17