Nintendo OSAKA at Daimaru Umeda Store – Part II
2023.04.14

Written by: kuro(kuro)
●
・

The Legend of Zelda Series

Hola! I'm Kuro from Mexico. I'm a student.
Today, I'm visiting my new favorite store in Osaka, Nintendo OSAKA! It's located about a 5-minute walk from Osaka Metro Umeda Station inside the Daimaru Umeda department store.

In the previous article, I told you all about the character statues that're placed all over the store and everyone's favorite games like Super Mario, Splatoon, and Pikmin. Today, I'll continue covering popular games like The Legend of Zelda and Animal Crossing goods as well as Nintendo OSAKA exclusive merchandise, gaming trials, and their ticketed entry system.

Let's go!

First up is the Legend of Zelda series.
The Legend of Zelda themed pins caught my attention first. Heart Containers (770 yen incl. tax), Ocarina of Time (1,100 yen incl. tax), Majora's Mask (1,320 yen incl. tax)…they have it all!
I'd actually seen these pins online and thought they'd be plain flat, but in reality, these pins are very 3D and good quality. Looking at these items I collect when I play the game, a vivid image of the game came to my mind. I should get a Heart Container pin and "Life-Up"! (lol)
These key chains (1,540 yen incl. tax) are enticing to The Legend of Zelda fans, too, I'm sure.
I mean, you can have the Boss Key in your hand! I could enter the boss room anytime and open a dungeon's big chest! And I can use the Lon Lon Milk next to it to help me heal in the battle! lol
This heat sensitive mug (1,760 yen incl. tax) with the Recovery Hearts can also heal you as you sip on your coffee. The color of the hearts turns red when you pour hot drink into the mug, and it happens in a sequence from left to right! How cool is that?! ❤❤❤
Whoever came up with this design is a genius! Imagine having your favorite drink in this mug at the end of the day. Your Heart Containers will be filled, and you'd feel great♪
Other Zelda items include stylish hoodies (8,250 yen incl. tax), spiral notebooks (828 yen incl. tax), tote bags (7,700 yen incl. tax), and coin purses (2,420 yen incl. tax). Whether you want to announce to the world that you're a Zelda fan, or you just want to have Zelda on you inconspicuously (and share it only with those in the know), you are sure to find something you want here👍
●
・

Animal Crossing Comes to Life

Let's move onto the Animal Crossing corner.
These are nice! The coffee grinder and the mug both have the Brewster at The Roost Cafe on them! These are pretty stylish, I can see the Brewster using this set to serve coffee at his cafe. "Coffee is 200 Bells a cup…Coo," says the Brewster! lol
Appropriate to the Animal Crossing series, lots of kitchen tools with characters from the game are available to make your cooking experience more fun.
Storage containers and canisters have a simple black and white design that blends into any kitchen interior.
Cutting boards with Animal Crossing characters (1,870 yen incl. tax), oven mitts (1,430 yen incl. tax), and enameled cast iron Dutch ovens (5,060 yen incl. tax) are all well-made and great for cooking. I think my mom in Mexico might like this oven mitt.
There's of course more than kitchen tools here. Look at all these adorable Animal Crossing plushies! Blathers, Gulliver, Brewster, Tom Nook…the villagers are all here!
●
・

Character-Themed Snacks & Souvenirs

Everyone loves snack souvenirs especially if they have cute character designs!
Every generation of Super Mario series is represented in above snack size cookies (2,200 yen incl. tax) and , best of all, they come in the green Warp Pipe pictured on the left! Let's see…which generation have I played the most? (lol)
Splatoon Squid Cookie tins (1,595 yen incl. tax) include both squid- and octopus-shaped cookies.
It'd make a nice souvenir for school or work.
These Spanish Christmas cookies (1,458 yen incl. tax) have Tom Nook, Timmy, and Tommy together on the tin.
I can feel the warmth of the island. lol
Here's a nice size box of marshmallows (1,469 yen inc. tax) with Animal Crossing villagers printed on each marshmallow.
They'd make a nice gift and it'd be tasty and cute to put them in hot chocolate.
My friends would definitely love any of the snacks from Nintendo OSAKA. It's really a matter of me deciding which one to get, which is proving difficult!
● Nintendo OSAKA Exclusives
These T-shirts and pens with the Nintendo OSAKA logo are exclusively sold at Nintendo OSAKA, a perfect Osaka souvenir.
And the various goods with marching Nintendo characters are a rare item that can be found only at Nintendo OSAKA and Nintendo TOKYO. Only here (and in Tokyo), these Nintendo characters from across various games come together.
● Kirby's Dream Land, Metroid, and Other Games
I've talked about several popular games, but this is Nintendo. They have many more games as you know.
Here, for example, are Kirby's Dream Land goods with charming pop designs.
And…OMG!!
They have Metroid goods! I love this action-adventure game!! You don't know how excited I am to find this!!
You can also find non-video game items at Nintendo OSAKA, like Mario Game of Life, Mario Hanafuda (Japanese playing cards), Mario playing cards, Mario Legos, Mario eco bags…just about anything you might think of☆
● Gaming Accessories for A Complete Gaming Setup
You can't play the games without a proper gaming setup.
Here at Nintendo OSAKA, you can get all sorts of games and gaming accessories to get you set up, like the colorful Nintendo Switch controllers. I need to be careful not to buy another controller—I like these controllers in vivid pop art colors.
I even found the very first Nintendo controller. These are not just for show, they can actually be used for "Family Computer Nintendo Switch Online" games. In fact, these original Nintendo controllers are sold exclusively to Nintendo Switch Online members and a proof of membership is required at the time of purchase.
This old school controller reminded me of one of my most treasured possessions, the Nintendo 64 controller I got when I was five. I still have it and cherish it to this day!
● Test Out a New Game
Luckily for me, the Covid situation had improved enough, and their gaming corner was open for the public to play!
I played Mario Cart 8 Deluxe Edition. It'd been awhile since I played this game, but I enjoyed it very much♪ As a matter of fact, I should own this game again. (lol)
It's a great place to try out Nintendo's latest games or the games you'd been curious about but hadn't had a chance to play.
● Check Twitter for Entry Ticket Info
I went on a weekday, so the crowds weren't that bad. On weekends and holidays, though, it can get very busy at Nintendo OSAKA as you might guess. On those days, Nintendo OSAKA uses a ticketed entry system.

▲Tickets are distributed in front of the Water Clock at Osaka Station before the store opens at 10am.

▲Tickets are distributed at the Nintendo OSAKA store after 10am.
Tickets are distributed in front of Osaka Station's Water Clock before the store opens at 10 am and then at the store after it opens. This can change depending on how busy they are that day, so make sure to check Nintendo OSAKA's official Twitter account for the most up-to-date information about entry tickets.
Click here for Nintendo OSAKA's official Twitter account ↓
https://twitter.com/N_Officialstore
Look! I have completed the tour of Nintendo OSAKA and have purchased my favorite Zelda merchandise! The bag of course has a design of Nintendo characters—as if they're coming home with me. When I get home, I'm going to play Nintendo Switch! I've been inspired. (lol)
So, what do you think about Nintendo OSAKA? Is it on your list of places to go in Osaka?
Nintendo OSAKA is a great place for both kids and adults, whether you're a gaming fan or not. Designs are all high quality, and anyone can find something they like. As for me, I will need to come back to the store soon. After today's tour, my shopping list for Nintendo OSAKA got longer♪ Maybe I'll see you then?!
※Price and the availability of the goods introduced in this article are current as of the day of the interview and may change without notice.
Spots Introduced
[Access] About 5-minute walk from Umeda Station Exit No. 8.
About 5-minute walk from Nishi-Umeda Station Exit No. 1.
About 10-minute walk from Higashi-Umeda Station Exit No. 3.
[Hours] 10am-8pm

Recommended Plans
One of the highlights of Osaka is its people and their warm, friendly character. Over its …
2023.09.29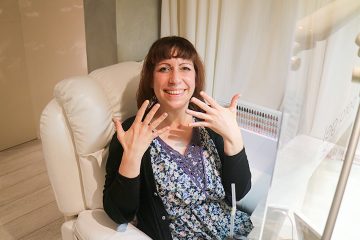 Nail art is truly a creative artwork in Japan. Stunning yet delicate designs and …
2023.09.22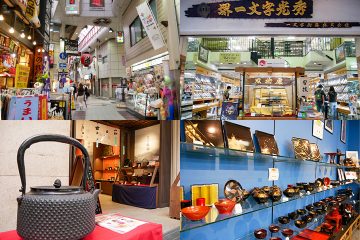 Osaka is Japan's food capital, known as a city where you "eat 'til you drop". Every day, locals …
2023.09.08
Umeda
Nishi-Umeda
Higashi-Umeda