Nintendo OSAKA at Daimaru Umeda Store – Part I
2023.04.07

Written by: kuro(kuro)
● Nintendo's Second Official Shop in Japan
Hola! I'm Kuro from Mexico. I'm a student.
I've been into Japanese games ever since my parents bought me a Super Nintendo when I was five.
Today, I'd like to show you my new favorite spot in Osaka, Nintendo OSAKA located on the 13th floor of Daimaru Umeda. The Daimaru department store is conveniently located in the middle of Osaka's downtown, only a 5-minute walk from Osaka Metro Midosuji Line's Umeda Station. In other words, it provides an easy access to the hottest spot for a gamer like me.
Impressively, Nintendo OSAKA carries about 2,000 game-themed goods. Super Mario, Splatoon, Animal Crossing, The Legend of Zelda, Pikmin…I can find the merch for all the games I've played since I was young. It gets me excited just thinking about it!
Since there's so much to cover, I'm going to do a two-part series to talk about Nintendo OSAKA. In Part I, I'll focus on the atmosphere of the store and their popular products.
Let's take a dive into the world of Nintendo OSAKA!!
● Welcome to Nintendo OSAKA!
I got off the elevator and was walking toward Nintendo OSAKA when I found Mario and a Warp Pipe in pixel art. It looked as if Mario jumped out of the game to welcome me. It made a great photo spot–here's me running with Mario!
A whole bunch of characters gathered along the store wall…and looked like they were going somewhere…
So I went along with them and was guided to the store entrance.
● Character Statues
As I stepped into the store, I was surprised by the sheer size of it. Apparently, it's twice as big as its counterpart in Tokyo, encompassing about 800 square meters. I'm pretty tall especially for Japan, but I felt free walking around in the massive store♪
The first spot I ran toward was the statue of Mario.
He was posing just the same as he does in the game, and I couldn't help but also pose the same and say "Here we go!"
Statues of characters from other Nintendo games like Splatoon, The Legend of Zelda, and Animal Crossing were all around the store.
These statues are elaborate and look very real. Take Link, the main character in The Legend of Zelda series. The sword, the shield, and even the texture of his clothes are so detailed and high quality. I know the game well, and I'd say they did an amazing job. Link looked very cool.
Around each statue are various game-themed goods, from rings to hats to bento box to you name it! These items help create its own mini world centered around the statue.
When you walk from a statue to another, it's like you are going from one world to another♪ And as you do so, you find your shopping list get longer and longer. lol
As I admired the unique worlds of my favorite games, I caught myself singing along with the music they were playing at the store. As you might guess, they are all songs from various Nintendo games. Surrounded by the beloved characters and enveloped in the theme songs, I truly felt I was in the world of Nintendo♪
● Where's Pikmin?
As I eagerly explored the Nintendo store, I came across Pikmin characters here and there.
A blue Pikmin helping up a red Pikmin. A yellow Pikmin carrying a tree nut. They were all hiding in strange corners of the store and I just happened upon them. What a cute little surprise.
Apparently, there's a bunch of Pikmin hiding around the store. So make sure to look for them when you're there☆ If you're like me, these adorable Pikmin characters will make you smile.
● About 2,000 Nintendo Merch
Now that we've seen the fun atmosphere of the store, its time to take a closer look at the merchandise.
As appropriate for a store directly managed by Nintendo, Nintendo OSAKA carries about TWO THOUSAND goods and items, including over 1,000 Nintendo original goods.
To make your shopping experience easier, large shopping bags are available for you to grab and throw in your favorite merchandise as they catch your eye. It didn't take me long to fill the bag and I'm not sure if I'll be able to sort them out later. lol
● Super Mario!
I don't think anyone would leave a Nintendo store without Mario goods. Everyone–including non-gamers–knows Mario. In my home country Mexico, as in other places around the world I imagine, the most popular Nintendo character is, no doubt Mario! That said, let's first look at Nintendo's top character Super Mario!
Look at these shelves packed with Super Mario plush! Luigi, Princess Peach, Bowser, Yoshi, Waluigi, Toad…the entire Mario family is here⤴☆
I was told the most popular plush right now is this big Mario.
With impressive size comes presence and they'd be perfect on a couch or a bed. In fact, I feel a big Mario would be perfect on MY couch…
Yoshi's eggs (3,850 yen each incl. tax) are another popular item.
They come in four colors–green, light blue, yellow, pink. Wouldn't it be perfect to have Yoshi and one of these eggs together in your room?
Other Super Mario merchandise include Question Blocks storage cases (2,530 yen incl. tax), various Power-Up Mascots (1,650 yen incl. tax), and phone cases (3,300 yen incl. tax). Any of these items can help you make Super Mario part of your daily routine!
● Colorful Splatoon Goods
Let's take a look at colorfully designed Splatoon-themed goods next.
The most popular item is the SQUID or OCTO Splatoon series, a result of collaboration between Nintendo and NEW ERA. T-shirts (4,477 yen incl. tax), Crossbody Bags (6,820 yen incl. tax), Caps (5,830 yen incl. tax), and Buckets (5,390 yen incl. tax) all have cool designs. I think they would make my friends jealous if I brought them home♪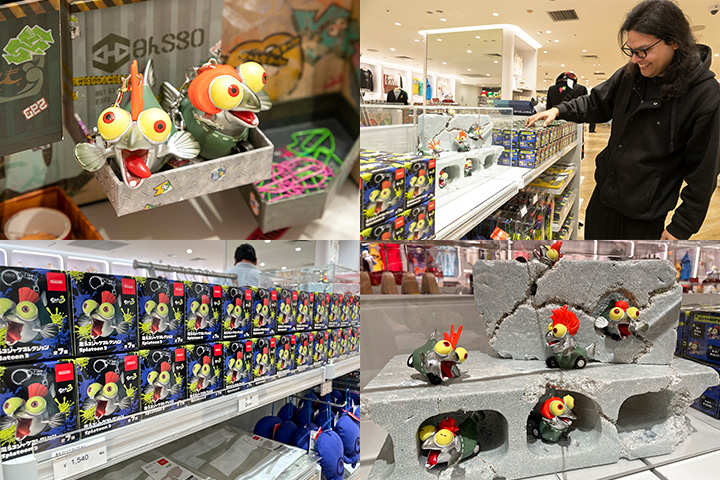 The Running Kojake Collection Splatoon 3 (1,540 yen incl. tax) is a fun surprise–you don't know which Kojake you get until you open the box♪ This collection is so popular they get sold out sometimes, so grab one if you are lucky enough to find it!
The new Judd and Li'l Judd pillows can be yours today!
Weird how Li'l Judd felt exactly how I'd imagined he'd feel. And the look on Judd's face…I just love it!
● Adorable Pikmin
Game merch doesn't have to be just cute. In fact, I found Pikmin goods that are cute, practical, and playful. The Red Pikmin Gratin Plate (2,200 yen incl. tax) above is delightful and great for baking. And, when it's filled with ingredients, the red Pikmin heads and green leaves pop out on top and look just like Pikmin that reached maturity and are ready for harvesting! They really put a lot of thoughts into the design, I'd say.
Here's a cute hoodie (starting at 6,600 yen incl. tax) that turns you into Pikmin! Yes, there's a flower at the top of the hoodie.
It comes in youth sizes too–maybe for next Halloween, you can be a family of Pikmin! Yeah, I might get them for my family in Mexico.
Other Pikmin items include small vases (3,300 yen incl. tax), working Pikmin collection (1,300 yen incl. tax), T-shirts (starting at 3,080 yen incl. tax), and face towels (1,430 yen incl. tax). These adorable Pikmin goods are sure to brighten up your day!
● To Be Continued…
So, what do you think about my favorite shop so far?
Nintendo OSAKA is full of merchandise that are fun and exciting, isn't it? And there's a lot more I want to tell you.
In Part II of the Nintendo OSAKA series, I will check out The Legend of Zelda and Animal Crossing merchandise, explore the items that are sold exclusively at Nintendo OSAKA, explain how to get entry tickets, and play some games. See you soon!
※Announcements about entry tickets, when required, are made on Nintendo OSAKA's official Twitter account below:
https://twitter.com/N_Officialstore
※Price and the availability of the goods introduced in this article are current as of the day of the interview and may change without notice.
Spots Introduced
[Access] About 5-minute walk from Umeda Station Exit No. 8.
About 5-minute walk from Nishi-Umeda Station Exit No. 1.
About 10-minute walk from Higashi-Umeda Station Exit No. 3.
[Hours] 10am-8pm

Recommended Plans
One of the highlights of Osaka is its people and their warm, friendly character. Over its …
2023.09.29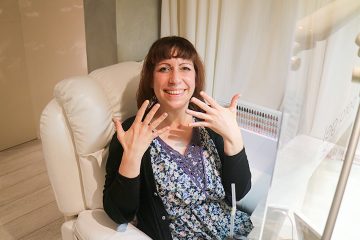 Nail art is truly a creative artwork in Japan. Stunning yet delicate designs and …
2023.09.22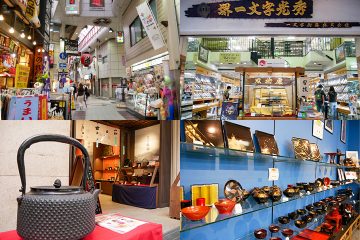 Osaka is Japan's food capital, known as a city where you "eat 'til you drop". Every day, locals …
2023.09.08
Umeda
Nishi-Umeda
Higashi-Umeda