A Chill Day at Osaka's Nagai Park
2022.12.09

Written by: オキトモ(okitomo)
● A Chill Day
Do you like to pack your days when you travel? Start the day at that breakfast place you read about, visit all the tourist attractions, dine at a nice cafe for lunch, walk around the city, shop at the best stores, find a cool nightlife spot… I love those busy days, but I also like to have a day to relax at a local park. It's like having a little chill'n day trip in the middle of a packed schedule.
Nagai Park is a favorite spot of mine for spending a chill day in Osaka.
The park is vast (it doesn't feel like you're in Osaka City) and it's serene. After the renewal they went through this summer, the park has so much to offer.
● Easy Access, Top-Notch Facilities
Located in Osaka City, Nagai park is super easy to get to. A short ride Osaka Metro's Midosuji Line to Nagai Station and the entrance to the park is literally in front of the station (exit 3).
See? It's as if the subway exit is the entrance to the park. And, inside the park, shops and cafés await you♪
Shops and cafés ? In a park?? I know it sounds strange, but this park is no ordinary park. Here're some of the facilities of Nagai Park.
Sports Facilities for the World Cup and International Games
Yep, you read it right. This park has hosted the 2002 World Cup games. First rate athletic facilities at Nagai Park include a track field, a stadium, a skatepark, a swimming pool, and even a Sumo arena. The long distance track is popular among runners of all levels who fill the track especially on weekends.
The Botanical Garden and the Museum of Natural History
The Nagai Botanical Garden along the shore of a large pond in the middle of Nagai Park is a common destination for school field trips and the Osaka Museum of Natural History has kids' favorite exhibit—dinosaur skeletons. Of course, you will find the usual suspects of a park at Nagai park too—playgrounds, picnic/barbeque area, etc.
With so many facilities, Nagai Park is nothing but vast—some 14 Tokyo Dome can fit in it—and comprehensive, covering sports to the nature to art and food. No wonder Osakans are proud of this park.
● Serious About Food
Centered around the park's Southwest Entrance are restaurants, cafés, and even confectionery shops. Here's a quick report on my gourmet food experience at Nagai Park.
■YANMAR MARCHÉ NAGAI
Operated by the Yanmar Group based in Osaka, YANMAR MARCHÉ NAGAI creatively brings fresh, local produce to the table.
I found their baguette sandwich to be a nice companion for a stroll around the park.
I chose the "Roast pork and vegetables with homemade basil flavored salsa sauce" (1,400 yen). It was a perfect take out menu to enjoy in the sunshine even in winter! The perfectly cooked roast pork matched the texture of the vegetables and the mild acidity of the salsa. Combined with "Homemade lemonade with mint" (600 yen), I had a refreshing lunch and felt revitalized afterwards.
If you dine in, the "drink bar"—self-served drink area with free refills—comes with food orders free of charge until 2pm. Their menu is light enough for lunch yet great for a nice relaxing dinner, accompanied by their original cocktails, if you so prefer. (I recommend the cocktail with their original lemon syrup.)
Their "Color Beer" (beer cocktail) includes "Red Eye," a beer cocktail made with tomato juice and petit tomatoes (800 yen). The bitterness of the beer and the refreshing flavor of the tomato creates a nicely balanced flavor, so much so that you'd want seconds, guaranteed. And, yes, it has the actual flesh of the tomato in the drink♪
Along with my "Red Eye", I ordered FISH & CHIPS (850 yen) and a flight of Cold Potage Soup made with rice and three kinds of vegetables (550 yen).
The white fish was so fluffy. The contrast with the crispy batter was very nice.
The rice gelée used in their potage soups is a special ingredient of Yanmar. Made only from domestic rice and water, it's gluten free and addictive free. Each soup was flavored with a vegetable—kabocha pumpkin, potato, and edamame beans. I felt the rich umami in my body as I ate.
The entire menu of YANMAR MARCHÉ NAGAI—whether it's food, drink or dessert—is filled with creativity and originality, making this restaurant a nice spot for any occasion. The peaceful scenery of the park outside the windows only adds to the experience.
● Locally Sourced Produce
■OSSO MARKET & KITCHEN
Inside the OSSO MARKET & KITCHEN is filled with gentle sunlight. The market carries rare vegetables grown mainly in Osaka and Kansai as well as spices and condiments from around the country. The adjacent kitchen takes these ingredients to prepare a satisfying café menu.
The OSSO Market is a great place to shop for a unique and refined souvenir, including locally made condiments. The more you look around, the more items you want to buy… It's like a treasure island.
The hamburg steak in Original Hamburg Steak by OSSO (900 yen) is Huge. And it's topped with cheese, king trumpet mushrooms, eggplant, and tomato sauce. Served with lots of rice and grilled vegetables, it even comes with a potage soup made with the vegetables of the season. The dish warmed my body and gave me lots of nutrients and energy!
Oh, and I can't forget to mention the Green Smoothie (450 yen) that also uses seasonal produce.
My smoothie was fruity with ingredients including kale, spinach, banana, and citrus fruit. No water is added so the smoothie is flavorful and nutritious and has a smooth finish. I highly recommend it especially during winter when raw produce and fresh fruits may not be as abundant in the daily diet.
OSSO MARKET & KITCHEN is a casual, comfortable space for enjoying food and drinks.
● Specialty Coffee & Cherry Blossoms
■ Sakura Coffee
Breakfast and sweets are the feature of Sakura Coffee. Some locals come here for breakfast every day and enjoy their 9 kinds of breakfast menu. As you may have guessed from the cafe name, Sakura cherry blossoms are everywhere at Sakura Coffee. I particularly liked the cherry blossom themed cups and plates. The interior of the café blends well the Japanese and Western styles and creates a calming space.
When you order a cake at Sakura Coffee, the server will bring you a tray full of all cake options to choose from. I love being lost in a tray full of cakes. Lol
Here's a cake set served with baked goods and gelato (935 yen).
For Japanese sweets, I recommend the Dora Soft Serve and a Drink set (990 yen).
Having a cup of specialty coffee made with select, high-quality beans roasted in-house is in itself a luxury. Add to that the pretty Sakura designs in the café's interior, it is a happy moment you will remember from your trip.
Don't forget to check out their seasonal sweets and sandwiches made with homemade bread while you're immersed in bliss.
● Bouken-no-Mori Adventure Park
It's about time we get out and be active. Afterall, we're at a park. Lol Named Bouken-no-Mori, the adventure park offers three courses that don't require a harness.

The adventure courses were built around the trees and spaces that already existed and the highest point is 6 meters above ground. I bet it feels great up there, wth a nice view!
I chose the Picnic Course. This course requires no harness and no special equipment. All you need is you in casual clothes and shoes. (1,200 yen per lap / Minimum age: 5 / Children under the age of 10 must be accompanied by a parent or guardian. / ※ Special rates may apply during busy season.) 
I started with bouldering. I grabbed the rope and tried to go sideways, but…? An invisible force is pulling my body down…! It was harder than I had imagined, but I cleared the course using all the muscles in my body.
The highlight was a zipline.
Using my whole body felt really good. I was relaxed and felt refreshed when I was done♪
Other courses included a giant trampoline and a free adventure course for little kids, both great for a light exercise.
● Sweet Souvenirs
Last stop I recommend is confiteria S, a confectionery shop located near the park exit.
Their elaborately designed and flavored sweets are based on French confectionery. They all taste and look sweet.
Cakes at confiteria S are mini size. They are super cute.
Petit four comes with a selection of 6 confectioneries (price starts at 1,620 yen). Since it's petite, I think it's okay to have two (or three!) on my own.
It'd make a nice evening snack at the hotel.
I might pick up a can of cookies with the Sakura design or a box of Sakura sable (you can choose the flavors) for family and friends. These sweets are made in the image of Sakura—a flower that blooms once a year—which brings excitement, smiles, and warm hearts to everyone.
My favorite among the many baked goods I bought at confiteria S was the brownie cookies! They have a crunchy texture, and the flavor of chocolate is deep and rich. It was as if I brought happiness home.
A relaxing day, surrounded by greens and a dose of healthy essence, with gourmet food to enjoy. That's what a chill day at Nagai Park involves.
Last but not the least, the Team Lab Botanical Garden at the Nagai Botanical Garden is an amazing exhibition of light. Doors open at 6pm. It's a perfect stop to finish your day after enjoying a beautiful day at Nagai Park!
Recommended Plans
One of the highlights of Osaka is its people and their warm, friendly character. Over its …
2023.09.29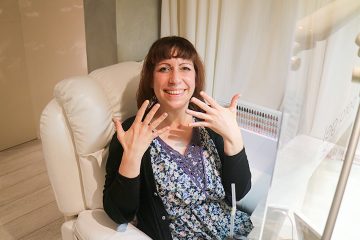 Nail art is truly a creative artwork in Japan. Stunning yet delicate designs and …
2023.09.22
Everyone knows about Japanese snacks—from Pocky to gummies, to ramune to matcha KitKats and mochi …
2023.09.15