SPECIAL
E-mon Guide
Off-The-Beaten-Track:
A Historic Walk in Tennoji
2019.10.29
Many come to Osaka to enjoy food and shopping, but Osaka is also a city with a long history, filled with many sites with historic significances.
Indeed, Osaka was the capital of Japan, albeit very short period, during the Asuka period extending into the Nara period (7th and 8th centuries).
Let me introduce a small piece of Osaka's history, a historical promenade including Tennoji Nana-saka that was featured in a novel.
01
A "Power Sport" in Osaka
The area between Tanimachisuji and Matsuyamachisuji streets just north of Tennoji where famous Abeno Harukas is located is packed with hundreds of temples and shrines, a rare spot even in all of Japan. With Shitennoji and Isshinji temples nearby, the area has been worshipped as a sacred site since the old times.
It has been, throughout its history, what we now call a "Power Spot," a spiritual place that energizes visitors!
02
What is Tennoji Nana-Saka?
The Power Spot, Tennoji Nana-saka (the Seven Slopes of Tennoji), is located in the hilly Uemachi Daichi (Uemachi Plateau).
These seven slopes—Shingon-zaka, Genshoji-zaka, Kuchinawa-zaka, Aizen-zaka, Kiyomizu-zaka, Tenjin-zaka, and Ou-saka— were all named after the temples nearby. For instance, Tenjin-zaka is a hill that leads to Yasui Tenjin (Yasui Shrine) where a statue commemorates Sanada Yukimura, a samurai warrior who led the defending forces during the Siege of Osaka in early 1600s. Yukimura is said to have died at Yasui Tenjin. Many famous spots related to historical figures like this are located within Tennoji Nana-saka.
03
A Historic Dating Spot with a Sunset
Osaka city is crowded with buildings today but, during the Edo period, the west side of Uemachi Daichi was merely a cliff and the sea came right up to it. Famous for the view of a beautiful sunset for ages, Yuhigaoka (literally means Hill of Sunset) is said to have been named after a haiku poem read by a notable poet who was impressed with the view of the sunset there. Back then, food stands lined up in the area and many couples on a date came to see the sunset—how romantic!
There no longer is a view of the sea from the area but, time to time, you can catch the beautiful sunset from around Oe Shrine at the top of Aizen-zaka and from the premises of Kiyomizu-dera Temple at the top of Kiyomizu-zaka. Check the sunset time for the day before you visit them!
Enough of history talk. Let me tell you about the "BEST" and the "ONLY" in this area♪
Kiyomizu-dera Temple on Kiyomizu-zaka has Osaka's only natural waterfall called Tamade Cascade. While the cascade doesn't produce a lot of water, the sound of water makes it a nice cooling spot for taking a break in hot summer.
Aizendo Shomanin on Aizen-zaka is host to Aizen matsuri, Kansai's first summer festival of the year, known also as Japan's oldest summer festival. The parade of Aizen women wearing yukata (summer kimono) is a feature of Osaka's summer.
05
Enjoy a Stamp Rally—A Fun Way to Visit the Sites
You can make it a game to visit Tennoji Nana-saka by playing the Stamp Rally! Conquer the seven hills and collect the original stamps created by the Tennoji Volunteer Guide Council. The Stamp Rally booklet can be purchased for 100 yen at each participating temple (except for Aizendo Shomanin) and at the Tennoji Municipal Kumin Center.
My recommendation is to start your Tennoji Nana-saka conquest at Tanimachi 9-chome Station, walking all the way to Tennoji Station. (You can of course walk in the opposite direction, too.) Take a walk and explore Osaka's history!
Recommended Plans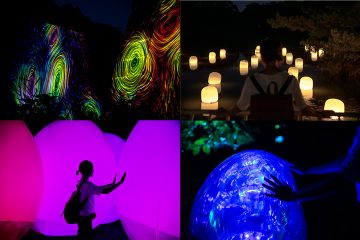 Hello! My name is fuji. I am a writer. Have you been to a botanical garden that is also an art …
2023.09.01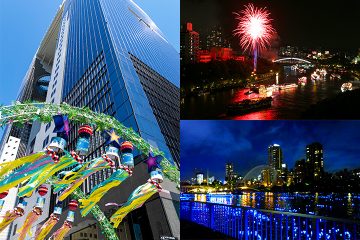 Summer is here in Osaka!I love summer. Summer is the season for festivals and other lively …
2023.06.30
Continuing from the last article on Osaka's gourmet vending machines that dispense gyoza …
2023.06.09