SPECIAL
My First Osaka
Make Your Own Butaman Pork Buns!
Osaka's Comfort Food, Made by Me☆
2020.01.31
Many have tried the Osaka staple, takoyaki and okonomiyaki. But do you know about butaman, worshipped by Osakans?
Butaman are steamed buns with savory fillings made with pork and onion. It's a Chinese bun commonly known as nikuman (literally means "meat bun") in other parts of Japan, but don't call it that in front of Osakans, or they might give you a funny look. Let's get it right: In Osaka, it is called, it is known as, and it is butaman (literally means "pig bun").
Anyways, we found a place where you can make this Osakan favorite on your own! I made it a date with my girlfriend, Hikari.
Robin ★Student from Australia
Butaman is characterized by its soft and springy bun and luscious pork fillings. It's so good that a mere one bite can make everyone smile. This is my first time to make butaman. Can I make everyone smile?
Just Show Up!
Horai Honkan restaurant in Namba, famous for their butaman and other tasty foods, offers a hands-on workshop in their 3rd floor space Monday through Saturday every week. At the end of the workshop, you can take home 4 butaman and 10 shumai dumplings that you make. International visitors are welcomed, and many do take advantage of this rare type of workshop. There's no need to bring anything; everything you need—including aprons and hats—are provided. You could make a quick stop during your date if you want to! Wash your hands and let's begin!
Looked Easy,
But Was A Bit Challenging
The instructor first demonstrated the making of butaman in three simple steps: stretch out the dough, place the filling in the middle, and fold. A perfectly shaped butaman was in front of us in no time. I thought I could easily make them myself…until I held my own dough. Evenly stretching out the dough on my hand was actually quite difficult! I struggled as soon as I started. Next to me, Hikari was also struggling with the dough silently.
On the other hand, step two of placing the filling on the dough was easy—the filling was already prepared for us. After placing the filling in the center, I shaped the bun as I folded the dough in, sort of wrapping the filling.
Lastly, I pinched to seal the center with a twist. Voila! It's done! This pinching process was a bit challenging, but my butaman looked pretty good!! Hikari's butaman looked as if it was smiling at me. It was kind of neat each butaman had its own character.
On To Making Shumai Dumplings
Next, we made ten shumai dumplings each. Shumai fillings looked very much like that of butaman, but apparently the composition of the ingredients is a little different. It was easier to fold shumai than butaman, and we used a spatula to shape it. Before we knew it, we had our ten shumai done! Each piece was so big; they looked very filling!
Tasting While Waiting☆
After we were done, they let our butaman and shumai rise a while then steamed them in a seiro (bamboo steamer). While waiting, we got to taste the goodies—each of us got a quarter of butaman and a half shumai—that were freshly prepared for us. Various condiments were also available, so I tried soy vinegar and Worcestershire sauce. Worcestershire sauce gave a rich flavor, while soy vinegar made the juicy meats taste lighter. Hot mustard gave it a nice kick—Hikari and I both looked at each other as soon as we took a bite.
Butaman To Go
The four butaman and ten shumai dumplings you make in the workshop become tasty souvenirs when you leave. It took about one hour until our butaman and shumai were ready to go. (It'd give you enough time to shop or stroll around Namba if you like!)
Our bags were pretty heavy. I wasn't sure if I could eat them all by myself, but thought it'd make a nice souvenir for families! And it was just exciting to think about how my butaman might taste on the way home.
If you want more butaman or other items to go, or you're just in the area and hungry, on the ground floor of Horai Honkan is a small shop where you can buy freshly made Horai delicacies. They make a great snack to munch on as you walk around Namba. Or, remember, they make the best souvenir in Osaka!
Honestly, I had never imagined myself making butaman, but I had a great time. And the butaman I made? They tasted better than store-bought ones! It made a nice date with Hikari, too.
It was only the two of us this time, but the butaman workshop is usually reserved for groups of 10 or more. Don't forget to make your reservation early (more than 2 weeks in advance) to allow ample time for preparation of the dough, etc. for your workshop. Next time, I'll go with a group of friends from school and families and have a lot of fun!
[Access] About 3 mins walk from Exit 20 at Namba Station.
About 6 mins walk from Exit 4 at Nippombashi Station.
[Hours] 11:15-22:00 (L.O.21:00)
[Workshop] 2pm on Monday through Saturday excluding holidays (5pm on Monday through Friday is also available)
[Closed] Irregular holidays
[Fee] 2,100 yen per person (tax included); Reserve for a group of 10 or more, more than 2 weeks in advance.
https://www.horaihonkan.co.jp/restaurant/experience.html
※You can also combine the workshop with lunch provided by Horai restaurant for 3,900 yen (arrive at 11am or 2pm; includes a meal and the drink bar) or dinner for 4,500 yen (arrive between 5 to 6pm; includes a meal). Available for groups of 6 or more.
Recommended Plans
สวัสดี! I'm Bie. I'm from Thailand. I fell in love with Japan after visiting this beautiful …
2023.03.03
สวัสดี! (Hello!) I'm Nene. I'm from Thailand and I live in Osaka. I love anime, manga, food…and …
2023.02.10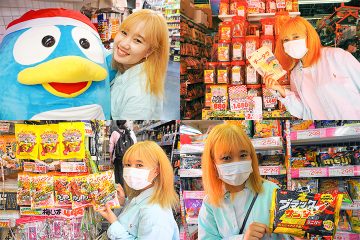 สวัสดี! (Hello!) I'm Nene. I'm from Thailand. I live and work in Osaka and love everything …
2023.02.03