SPECIAL
E-mon Guide
#TravelThruPhotos
Best Photography Spots on Osaka Metro: Trains
2023.08.25
The colorful train cars of Osaka Metro attract railway enthusiasts and others to take great photos of Osaka's nine subway lines that run crisscross in the City of Osaka.
For those who love good train photography, we have a list of best places on Osaka Metro to take a perfect picture of Osaka Metro trains!
These popular spots on Osaka Metro NiNE's Instagram include a spot to take a picture of a subway above ground, unique combination of cute animals and trains, and other places that highlight Osaka Metro and its trains♪

※Please make sure to edit the images by adding stickers or using tools such as mosaic effect to hide the identity of individual customers and train crew members before uploading pictures to social media.
Shin-Osaka Station's Train Viewing Spot
Let's start with Osaka's artery, the Midosuji Line! Shin-Osaka Station is a gateway to Osaka where you can transfer to Shinkansen bullet trains that take you to other parts of Japan, fast. Shin-Osaka is actually one of the most popular spots on Osaka Metro for train photography, and, since the Midosuji Line runs above ground between Esaka Station and before Nakatsu Station, it makes Shin-Osaka a great spot for taking pictures of subway trains above ground.
The design and form of the train against the sky in backdrop is beautiful. You too can take train photos with a nice ambience here in Shin-Osaka.
The best spot to take train photos at Shin-Osaka Station definitely is the "Train Viewing Spot" opened in February 2020.
It is a stylish, glass encased photo shooting spot located at the northern end (towards Esaka Station) of the platform.
Chic benches allow you to take a break as you wait for the train and that perfect timing for your photoshoot.
You can even take a three shot—of three trains running at the same time—like this!
Animals and Trains at Dobutsuen-mae Station
There's another great photo spot on the Midosuji Line!
It's at Dobutsuen-mae Station, near Tennoji Zoo, where animal art and trains meet.
As if the animals are waiting for the train…♪
Look around and you will notice lots of animal art on the platforms.
Take pictures of not only trains but also cute animals at Dobutsuen-mae!
※Due to ongoing renovation work, it may not be possible to view the animal art at the moment. We apologize for any inconvenience caused.
Colorful Smiley Faces of New Tram
Running along the Osaka's Bay Area is New Tram, a perfect line to take train photos on Osaka Metro.
New Tram is characterized by its colorful train cars—blue, yellow, green, red, you name it—and the front of the train that looks like a face was designed in the image of "smiling faces of children running around cheerfully."
The train totally looks like it's smiling!
Can you guess what this design is?
It's a panda! Other animal themed trains include the red panda and tiger.
Of all the places for taking pictures along the New Tram line, the best spot—a hidden gem, I'd say—is the pedestrian bridge at Trade Center-mae Station where you can take a picture of the train from various angles.
Japan's First Linear-Motor Subway
Last but not the least is the Nagahori Tsurumi-ryokuchi Line that was built to provide easy access to Tsurumi-ryokuchi Park during the International Gardem and Greenery Exposition of 1990 (Expo '90.) This line was the very first linear motor-based subway in Japan! Compared to other train cars on Osake Metro, these train cars are more compact, the ceiling is lower, and the design is quite unique.
On Osaka Metro's Instagram, you can see the pictures taken at Osaka Business Park Station where the platform is 32.3 meters below ground, making it the deepest station on Osaka Metro. Its long escalator might make interesting photography.
The Nagahori Tsurumi-ryokuchi Line is great for taking pictures of the trains and also the stations themselves. Because the platforms have a design unique to that particular station, you can capture different ambience at every station. At Tsurumi-ryokuchi Station, for instance, you can find a wall art of "Hanazukin-chan," the mascot of Expo '90.
Take your camera and hop on Osaka Metro. You can explore Osaka Metro's great photo spots mentioned above plus many more♪
Don't forget to follow us on Instagram @osakametro_nine and make sure to post your pictures using hashtag #osakametronine so we can find you and perhaps even highlight your picture on our official account♪
Look forward to seeing your best Osaka Metro photos!
Recommended Plans
One of the highlights of Osaka is its people and their warm, friendly character. Over its …
2023.09.29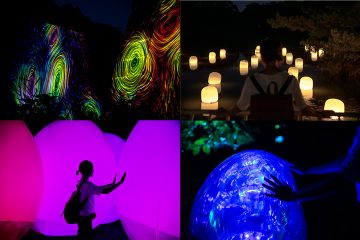 Hello! My name is fuji. I am a writer. Have you been to a botanical garden that is also an art …
2023.09.01
Osaka's nightlife is full of excitement and many enjoy dining at one of many restaurants …
2023.08.18