Meet Osaka's Most Famous Clown, Kuidaore Taro♪
2023.09.29

Written by: ฐิติกร สุนันทารอด(Sununtharod Thitikorn)
● Who is Kuidaore Taro?
One of the highlights of Osaka is its people and their warm, friendly character.
Over its course of history, Osaka developed as the city of merchants and entertainers, and that is reflected in the high value people here place in good laughs and relationships♪
Kuidaore Taro is one of the famous Osakans that make Osaka what it is. You might have seen him in the media but here's a look into Osaka's most famous clown!
Kuidaore Taro has been the poster boy of Osaka's top destination, Dotonbori, for many years.
Dressed in his signature red and white striped outfit and wearing a pair of round black eyeglasses, he's one of a kind and pretty cute♡
Kuidaore Taro came to Osaka in 1950 as a mascot of a restaurant called Cuidaore, banging on his drums in front of the restaurant every day to attract and welcome guests to the business.
Kuidaore Taro retired when the restaurant closed its doors, but he returned to his post after numerous passionate calls for him to return were received from the locals.
He is now back in his post in front of the Nakaza Cuidaore Building, located about a 5-minute walk from Osaka Metro's Namba Station, drumming away to welcome guests from all over the world just as he did back in the 50's♪
●Osaka Souvenir: Kuidaore Taro Merch
Appropriate for a city of merchants, visitors can find a lot of merch of this famous clown in Dotonbori♪
Housed on the first floor of the Nakaza Cuidaore Buildilng among other shops is Ichibiri-an Honten that sells a whole bunch of Osaka souvenirs including a number of Kuidaore Taro goods ☆彡
┣Kuidaore Taro Key Chains
A walking Kuidaore Taro to a nutcracker looking Kuidaore Taro to an acrylic Taro that looks just like the real one, it's hard to choose one key chain to buy.
┣Everyday Kuidaore Taro Goods
You can also find practical goods you can use every day, like handkerchiefs which come in super handy while traveling in Japan, a little pouch (with Remune flavored candies inside!), and Japanese "mix juice" scented hand creams and lip balms. Everything is Kuidaore Taro here!!
┣Kuidaore Taro Socks!
Everything…including socks! …Which I highly recommend as a souvenir.
A wide range of socks–socks with an impactful Kuidaore Taro face (very Osakan, I might add), socks with a simpler Kuidaore Taro design, and even baby socks with a Kuidaore Taro design–can be found here. (lol) I'm sure you can get a good chuckle out of your friend when you give it as a souvenir from Osaka. It'd be fun to wear matching Kuidaore Taro socks with your family and friends♪
┣Kuidaore Taro Sweets♡
There are, so, many, snacks! Fruit candies, choco crunchies, sweet azuki bean butter cream puffs (it's new!), puddings…shelves are packed full with snacks that have an impressive line of Kuidaore Taro designs. With so many options available, I am sure you will find one (at least) that you like♡
●Kuidaore Taro Purikura Pictures
I found a Kuidaore Taro Purikura machine in one corner of the souvenir shop!
A Purikura picture special only to Osaka…it can capture a great memory of the fun trip to Osaka♪
●Kuidaore Taro "Mix Juice"
I was ready for a break when I came across a Kuidaore Taro "mix juice" at TARO's PARLOR, located right behind Kuidaore Taro.
"Mix juice" in Japan is a popular blended fruit juice that is much like a smoothie, a staple at old fashioned coffeehouses in Japan known as Kissaten.
And–this is not a well-known fact–Osaka is the birthplace of "mix juice"! A cup of sweet and fruity Mix Juice–banana, pineapple, peach, and orange mixed with milk–was perfect for a break during a busy day of sightseeing.
●Osaka's Best Attraction–Countless Kuidaore Taro
The last thing I'm going to tell you about Kuidaore Taro is a little secret. If you look up to the ceiling above Kuidaore Taro at the Nakaza Cuidaore Building, you will see a large, beautiful, shining chandelier…of Kuidaore Taro!! This came as a total surprise even for me when I first noticed it (lol)
I truly believe this is the most Osakan, the funniest attraction in the City of Osaka. Make sure you visit Kuidaore Taro (and look up) when you are in Dotonbori!
Spots Introduced
[Access] About 5-minute walk from Namba Station Exit No. 14 on the Midosuji, Yotsubashi, and Sennichimae Lines
About 7-minute walk from Nippombashi Station Exit No. 2 on the Sennichimae and Sakaisuji Lines
About 10-minute walk from Shinsaibashi Station Exit No. 4-B on the Midosuji and Nagahori Tsurumi-ryokuchi

[Access] About 5-minute walk from Namba Station Exit No. 14 on the Midosuji, Yotsubashi, and Sennichimae Lines
About 7-minute walk from Nippombashi Station Exit No. 2 on the Sennichimae and Sakaisuji Lines
About 10-minute walk from Shinsaibashi Station Exit No. 4-B on the Midosuji and Nagahori Tsurumi-ryokuchi
[Hours] 11:00~19:30

[Access] About 5-minute walk from Namba Station Exit No. 14 on the Midosuji, Yotsubashi, and Sennichimae Lines
About 7-minute walk from Nippombashi Station Exit No. 2 on the Sennichimae and Sakaisuji Lines
About 10-minute walk from Shinsaibashi Station Exit No. 4-B on the Midosuji and Nagahori Tsurumi-ryokuchi
[Hours] 11:00~19:00

Recommended Plans
Hello! I'm Nasu from South Korea. I love Japan and have studied the Japanese language …
2023.11.17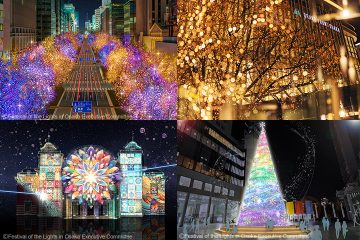 Every year at this time, dazzling winter illuminations begin to appear around the City of …
2023.11.10
Traversing the city north to south, Midosuji is the most famous street in …
2023.11.02