SPECIAL
Discover OSAKA
How Social Media Influencer
Marcy Yu Captures Osaka, Japan
2021.01.22
Interview: Marcy Yu
Marcy was born in Costa Rica and is half Taiwanese. As a social media influencer, Marcy creates travel and fashion content in both English and Spanish. She also works with Osaka Metro NiNE as a photographer and content creator for its social media platforms since July 2019.
Tell us about your work as an influencer.
I used to work as the Marketing and Communications Director at Ralph Lauren for the Latin America region. During the eight years I worked in luxury fashion industry, I gained various experiences as well as expertise in social media communications strategy.
In 2016, I quit my job and began my work as a content creator, pursuing my passion for traveling.
An influencer has the power to make impact on society through contents on social media platforms. It's been more than four years I've worked as a content creator working with tourism boards and some of the best luxury travel brands around the world and sharing my experiences in different countries.
How did you start posting about travel in Japan?
I got stuck in Japan due to COVID-19 while I was visiting this amazing country. While it was not easy, it turned out to be a fortunate incident for me—I spent seven months in Japan and every day was an opportunity to explore the country. I had visited Osaka a few times before but never had so much time to really see Osaka. Because of that, I got to discover and share with everyone many beautiful and hidden gems of Osaka and Japan. I even had the opportunity to experience the cherry blossom season without many tourists!
What about Osaka captivates you?
Osaka is certainly one of my favorite cities in Japan. It's super fun, has a great vibe and the people here are relaxed and very friendly. I also love the food and night life options.
I had a memorable time in Osaka and can't wait to come back for more. Here are some of my favorite's spots in no specific order:
Umeda (and Vicinity)
Osaka Castle
Dotonbori
Nakazakicho
America Mura
Kitakagaya
Shinsekai
Namba
Sumiyoshi Taisha Shrine
Mino Falls
Katsuoji Temple
Expo '70 Commemorative Park
Tondabayashi
What are your favorite Instagrammable spots in Osaka?
It is hard to pick one because for me nearly everything in Osaka City is Instagrammable. I love the cute cafés as well as the Namba Yasaka Shrine and the streets of Dotonbori.
Do you have tips for taking good pictures with a phone?
As a photographer, I believe lighting is everything. The quality of your camera (or phone camera) plays a much smaller role than you think compared to the lighting. I guess my second tip would be to find the good angles for your photo.
If you'd like to know more details, I actually have a few TikTok videos of "iPhone photo tips" that you can check out on @marcy_yu.
How do you create captions and choose the best pictures for Instagram?
I was able to create a good amount of content during my stay in Japan and I try to be creative in putting together posts that are relevant and intriguing such as 'Top 5 Places to See in Japan', 'Best Hotels in Osaka, 'Travel,' etc. Tips for traveling in Japan is also attractive for those who're collecting information before traveling. My content is helping people to get inspired for the travels in the near future when things go back to normal and it is safe to travel again. Also, Instagram Stories is a great tool as people like to see the personal side more than just a pretty picture.
Marcy has a tour of Osaka on Osaka Metro NiNE's Instagram. Check it out here!
Check!!
How do you like the new Instagram Reels?
Reels is a great feature for attracting audience to your content. But unfortunately, not everyone has access to this tool yet. If you do have this feature, please take advantage of it and share videos that people want to see. One of my most seen Reels is the bowing deer in Nara because it is unique, cute and funny.
What are your goals for 2021?
Some of my personal goals include eating healthier, traveling to many parts of the world, and enjoying the moment more. And I'd like to spend time capturing the moment in pictures and content.
As for professional goals, I'd like to start a new sustainable travel brand, bring together travelers from around the world, and find a way to inspire other people to live their lives more through the excitement of travel.
Do you have a message for Osaka fans who are unable to visit Osaka now because of COVID-19?
If you are planning a trip to Japan when things go back to normal, you definitely should put Osaka on top of your list if you want to fully experience Japan. I promise that Osaka will be a big highlight of your trip. Many people think Osaka as the "foodie city" and yes, the food in Osaka is amazing. But Osaka has much more to offer. Some of my followers were surprised to find out that some of my favorite temple and shrine photos were actually taken in Osaka.
I will be creating a guide about Osaka City very soon using the new feature of Instagram so please stay tuned for that one. I'm sure that you will be surprised about all the spots I found in this beautiful city!
Recommended Plans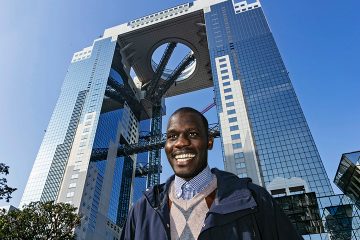 Hi! I'm Cedric. I'd like to show you the coolest building in Osaka, Umeda Sky Building! At 173 …
2021.03.26
Spring is almost here. Soon, Sakura cherry blossoms—"spiritual beauty"—will be in full bloom …
2021.03.19
With icons like Dotonbori and Tsutenkaku Tower, many think of Osaka as colorful and …
2021.02.26