A Delicious Trip To Korea Town
2019.06.03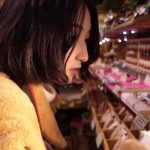 Written by: 戴安娜(Dianaaa)
● Korea Town
Did you know Osaka has a Korea Town???
In fact, we have 2!!! You can easily walk between them, with one located in Tsuruhashi and the other in Ikuno.
Tsuruhashi Shopping Street
Tsuruhashi is well known for its delicious yakiniku restaurants. And the Tsuruhashi Shop-ping Street is lined with small Korean grocers and boutiques selling colorful traditional Korean clothing. Plus there are narrow alleys branching off in all directions. Wandering the side streets really made us feel like we'd ventured into a real Korean city…
Kimchi, gimbap, chijimi, and the list goes on. There is so much food to choose from!
Ikuno Miyuki-dori Shopping Street
We grabbed a quick snack and continued on towards Ikuno. Along the 15 min. walk, we were greeted by the handsome faces of K-pop stars on fan merchandise at the many shops. And the plentiful selection of Korean cosmetics on sale certainly draw a lot of young women to the neighborhood.
Soon we arrived at the entrance to Korea Town and we found ourselves in food paradise again! Popular street foods like hatdogeu (Korea's cheesy take on corndogs) and the im-pressively long twist potatoes are served on a stick and easy to take and go. Snacking while you're in Korea Town is an absolute must! And the foods are fun to photograph too!
It's pretty amazing how much Korean culture is here in Osaka. It's so easy for visitors from overseas to experience a slice of Korea right here in Japan! And if you are Korean, you'll probably feel right at home♥
Spots Introduced
[Access] A short walk from Exit 7 at Tsuruhashi Station.
About 14 mins walk from Exit 1 at Imazato Station.

[Access] About 13 mins walk from Exit 7 at Tsuruhashi Station.
About 19 mins walk from Exit 2 at Imazato Station.

Recommended Plans
You can't have summer in Japan without fireworks displays. Each year, gorgeous …
2020.07.10
In Part I of my story, I got my HUBchari bike at Osaka Metro's Shinsaibashi Station, headed to …
2020.04.17
Spring is a great season for biking. I got myself a bike and toured around Osaka on a warm sunny …
2020.04.10