A Perfect Spot for Urban Tourism,
OMO7 Osaka by Hoshino Resorts
2022.06.03

Written by: リナ(rina)
● Now Open Adjacent to Shinsekai Area!
Attention!! OMO7 Osaka by Hoshino Resorts just opened on April 22, 2022! An operator of hotels and ryokan Japanese inns in Japan and around the world, Hoshino Resorts has developed several hospital brands including OMO, city tourism hotels that are situated in the center of urban cities and engaged with the local community.
At last, your dream to stay at Hoshino Resorts can come true in Osaka! With the recent opening of OMO7 Osaka, I pounced on this great opportunity. It also happened to by my first experience with the famous Hoshino Resorts. I was super excited♪
It was easy to get to OMO7 Osaka. It's next to the Shinsekai Area, home to the famous Tsutenkaku Tower. Naturally, access via public transportation is superb, with Osaka Metro's Midosuji and Sakaisuji Lines running through the area. It took only 3 minutes to walk to the resort from Dobutsuen-mae Station.
Contrary to the colorful, energetic culture of Shinsekai, OMO7 Osaka exhibited a refined, sleek exterior. With a total of 436 guest rooms, the massive resort building stood almost overwhelmingly. In front of the hotel is a peaceful garden area with lots of greeneries.
● Relaxing "OMO Base" Welcomes Guests
I stepped into the hotel through the elegant hotel entrance.
And was welcomed by Osaka's famous Billiken, a famous symbol of Shinsekai.
Pat the bottom of his feet, and you will be blessed with good luck. I hope something nice will happen to me ♪
Up the stairs on the second floor is the gateway…but, by design, you can't see the front desk or the lobby right away. It's dramatic and mysterious.
Pay attention to your surrounding–the designs on the wall are based on Takoyaki! The world's favorite Osaka snack on the wall! lol
Through the gate, I walked into a community space called "OMO Base" that houses the front desk, the lobby, a restaurant, a cafe, etc.
One wall in particular immediately caught my attention. It had a gigantic, floor-to-ceiling map of Osaka! Named "Dodekai Osaka Board", you can see all of Osaka's sightseeing spots in one glance. "Where shall we go?" "What do you wanna do?" You can hear the chatters of excited travelers surrounding the map every day☆
It's a great visual resource for all.
Checking in (and out) is all automated and easy. And it's much appreciated in the COVID times. Don't worry–staff is available at the reception desk right next to the automated check in counter.
This simple but stylish board pictured below is not just a decor, but it's a photo spot. Stand behind the board and you can put your face in the "O" of OMO for a picture!
Behind the board is a bright open space for the cafe and the restaurant.
You can probably play I Spy or a treasure hunt in the OMO Base. Pieces of fun can be found everywhere, like the Tsutenkaku Towers (there are 4 of them) and a display of various Maneki Neko lucky cats. Can you find them all??
Oh, and, don't forget to look up. These round lights were designed in the image of the moon.
● Find Osaka's Culture in Guest Rooms and Restaurants
I'm sure someone put a lot of thought into designing the guest rooms. Up to 6 persons can stay at the Idobata Suite where you have your own personal Osaka Board on the wall. It's easy to imagine a group of friends or families surrounding the large table, looking back at where they'd been and planning their schedule for the following day.
The Corner Twin Room offers a wide view of the city for up to 3 persons.
Of course, being in Shinsekai, the Tsutenkaku Tower and Abeno Harukas can be right in front of you depending on which direction the room faces! How luxurious to have this space to yourselves, where you can enjoy the evening with a great view.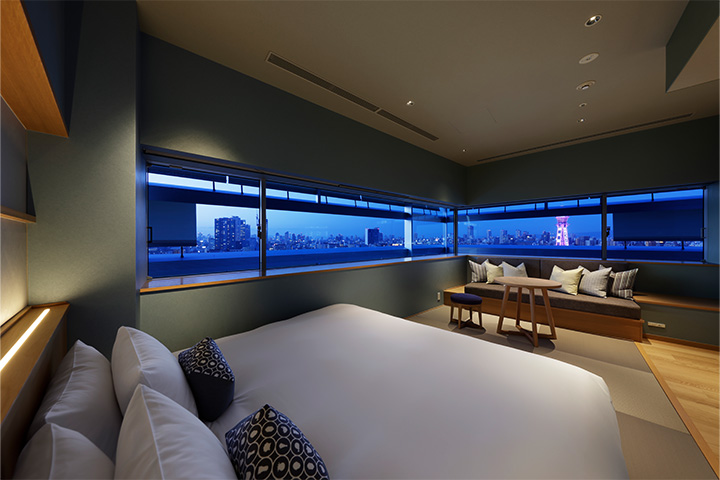 Restaurants at OMO7 Osaka offer the best of Osaka. At OMO Dining, you can choose from two course menus at dinnertime. The first, Naniwa Neo Classic, takes the local foods and ingredients of Osaka and prepares them in French style. Colorful sushi organized in a perfectly square box looks like a jewelry box.
The second, Naniwa KUSHI Cuisine" is a unique menu that highlights Shinsekai's proud Kushikatsu, skewered meats and vegetables, deep-fried. The assorted Kushikatsu below includes, from left, lotus root, crab, shrimp, octopus, and salmon, each with its own perfectly matching sauce. As you can see, not only the flavors but also the representation of the foods served will satisfy you.
Both Japanese style and Western style breakfasts are offered at the breakfast buffet. Here, you can find the Osaka culture first thing in the morning, in Osaka's favorite Negi-yaki (scallion pancakes) or Udon noodles, freshly prepared right in front of you. The aroma of freshly grated dried bonito and tasty dashi broth are making me hungry!
On top of all that are deli foods and bread delivered fresh from the Osaka Kizu Wholesale Market. You would leave here with a full stomach, guaranteed.
OMO Cafe & Bar offers a full bar and a cafe menu. You can have breakfast, take a lunch break, enjoy a cocktail in the evening, or whatever suits you.
Their original menu items include "mixed juice" flavored soft serve and takoyaki style sweets.
● Guided Tours of the Neighborhood
A unique service offered at OMO7 Osaka is called Go-KINJO, which literally means the neighborhood. Designed for hotel guests to thoroughly enjoy the neighborhood, the Go-KINJO map is filled with shops and restaurants visited and recommended by hotel staff. They plan to continue to expand this already useful map. I don't know about you but I'm definitely going to use it and go shopping and eating!
And, a service that has been popular ever since the opening and is offered only to hotel guests is a tour of the neighborhood called Go-KINJO Activity.
An "OMO Ranger" knowledgeable about the area will take you around the neighborhood and show you various spots based on a theme. You might go take a stroll in Shinsekai or hop from a Kushikatsu restaurant to another. Whatever it may be, you will see the neighborhood from a local's perspective and find things you will not see in a guidebook!
One tour that piqued my interest highlights the Dashi broth culture as its theme. This tour centers around the Osaka Kizu Wholesale Market, which is located only a 15-minute walk away from the hotel.
Whichever tour you choose, you are guaranteed to meet warm Osakans and see firsthand the lively and cheerful spirits of bustling Osaka.
● Vast Greenery of Miyagurin♪
About 7,600 square meters of greenery sprawls in front of OMO7 Osaka. AKA "Miyagurin", this garden area is a space for the hotel guests and the diners at the restaurant and cafe.
Walk along the trail, relax on the bench, lay around in the grass…do whatever pleases you. Surrounded by greenery and looking at the view of the city, you're sure to forget the stress of travel and feel refreshed.
You also have an option to enjoy a glass of beer☆
Or you might stumble into Miyagurin's bath house, Yuya. Designed based on the time during which the bath culture flourished in Osaka, the bath house cleverly uses light and shadow in its design. I loved the celestial light coming through the ceiling.
After the bath, I enjoyed the neon art at PIKAPIKA NIGHT. Osaka themed neon arts–tiger and blowfish were really cute♡–lit up Miyagurin.
You can enjoy these lights freely wearing hotel's yukata (suumer kimonot) and holding colorful paper lanterns. A glass of craft beer and takoyaki are perfect for after bath snacks, making your night special.
And don't miss "PIKAPIKA Fireworks", the LED fireworks projected on the hotel building!
※"PIKAPIKA NIGHT" is exclusively offered to hotel guests until August 31.
OMO7 Osaka has done a great job creating unique Osaka hospitality characterized by "luxury", "laughter", and "nosiness" and, with that, offers its own Naniwa style luxury to Osaka fans and other travelers. Come stay at OMO7 Osaka and experience its unique services and programs, found only in Osaka!
Spots Introduced
[Access] About 3 mins walk from Exit 5 at Dobutsuen-mae Station.
[Hours] Check in 3:00pm, Check out 11:00am
OMO Café & Bar Breakfast 7:00am – 10:00am, Café & Bar 10:00am – 10:00pm

Recommended Plans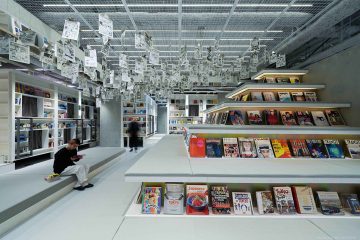 Offering a collection of about 4,000 books covering a wide range of genre, Book and Bed is, as …
2023.03.24
สวัสดี! Hello! I'm Nulek. I came from Thailand five years ago to study Japanese. Did you know …
2022.04.08
What do you look for when you're searching for a place to stay? Do you want to be able to stay …
2020.03.27
Dobutsuen-mae
Dobutsuen-mae