Dinosaurs and Insects and Plants♪
At Osaka Museum of Natural History
2021.04.09

Written by: Shino(Shino)
● Osaka Museum of Natural History at Nagai Park
Nagai Park is conveniently located about 20 minutes from Osaka Metro's Namba Station. It's a vast, beautiful park that serves as an oasis for busy Osakan's.
Osaka Museum of Natural History sits next to the Botanical Garden within this oasis.
It is the most popular destination for field trips for the children of Osaka and, with exhibits of dinosaur fossils and rare species, it is a popular spot for kids and adults alike.
We took Osaka Metro to Nagai Station and walked east for about nine minutes through Nagai Park.
At the entrance to the museum, we were welcomed by a massive skeleton!! It's the skeleton of a whale, the largest of the mammals. And this particular model is of a Blue Whale, the largest whale, which can measure as long as 19 meters. Just look up from below and you will see its massiveness.
This model was created from a carcass that washed up at the Port of Sakai-Semboku located along the Osaka Bay just south of the City of Osaka. It's an evidence that Osaka Bay is connected to the vast ocean where such large whales inhibit. How cool is that!
As we walked into the exhibit hall, we were again greeted by an impressive Naumann elephant. Footprints and teeth of this Naumann elephant were found in the rock layers that have formed under Osaka. This enormous animal used to roam the land of Osaka a long time ago!
If you're with kids, take advantage of the QR code found on the orange panels marked "For Kids." It will get you access to interpretive texts written specifically for kids.
YouTube videos prepared by exhibition curators are also available to help you enjoy the exhibition.
Speaking of thoroughly enjoying the exhibition, we also used the free coin lockers by the elevator in the Naumann Hall. Free of baggage and with the support of kid-friendly explanations, we were ready to explore more!
● Five Permanent Exhibits, from Dinosaurs to Insects to Plants
Exhibition Hall 1 is about "the Natural World Around Us."
We saw alien species found around the ports in Osaka. Apparently, they find interesting things among imported lumber—not just bugs but also things like scorpions and lizards! Hiding in the piles of lumber. Well, that's one way to cross the ocean, I suppose!
This particular exhibit left an impression on me, perhaps the biggest impression at the museum. It's a huge cockroach!!!
I certainly don't want to find this in my kitchen…

Kids loved it. Screaming in fear(?) or joy(?), they snapped a picture of the gigantic roach. I really hope they don't use it as the wallpaper on the phone…lol
Here's an exhibit on rural nature. Bamboo forests and wooded areas around us are all made by humans to support our livelihood.

We learned about what Osakans ate during the Jomon Period (c. 14,000-1000 BCE.) They hunted animals and caught fish back then. Osaka used to have an abundance of nature.
We also learned about cockroaches. I had no idea there were so many kinds…nor had I ever studied roaches nicely arranged in an exhibit…😅
The theme for the Exhibition Hall 2 is the "History of the Earth and Life," with a dinosaur exhibit which happen to be the main reason we were there!
So, many, dinosaur skeletons. It was spectacular.
So big, too! You can feel its might, just looking up.
I love how it's so tangible and you can physically sense everything at museums. It's an entirely different experience than seeing it on a screen or reading about it in books.
What would you do if you encountered such a large animal in real life?? It's hard to believe they roamed the earth at one time.
This is indeed "experiencing" the size of dinosaurs.
Kids fit easily in a footprint of a large dinosaur, Apatosaurus.
Great for kids, it's okay to touch some exhibits here at the Osaka Museum of Natural History.
The fossil of Ammonite was so smooth. It really felt like a rock.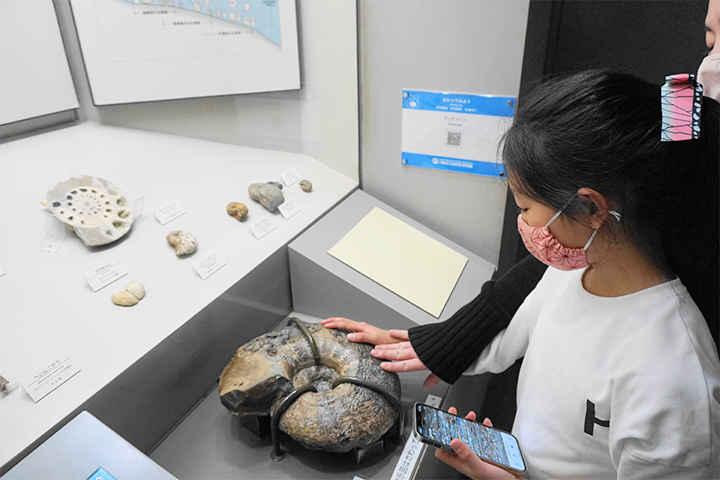 Two skeletons of Desmostylus are slightly different. The one on the left is an older reconstruction where researchers used as a reference some creatures similar to Desmostylus that exit today. The one on the right is a new reconstruction based on an anatomical analysis of the bones. It's interesting how the shape of the creature evolves as the research evolves.
The exhibit with the timeline since the birth of the earth was very educational even for adults.
Exhibition Hall 3 is about the "Evolution of Life."
We explored the great diversity of life today, from small insects to large whales.
We learned about the food chain and the survival strategies of different creatures.
Beautiful insects covering the wall come in various colors and designs.
From apes to humans; we evolve.
"The Gifts from Nature" is the theme in Exhibition Hall 4.
You can learn about the origins of edible plants.
A large dung beetle caught my eyes.
Kids love big bugs, too, and this one is special—it's poop (lol).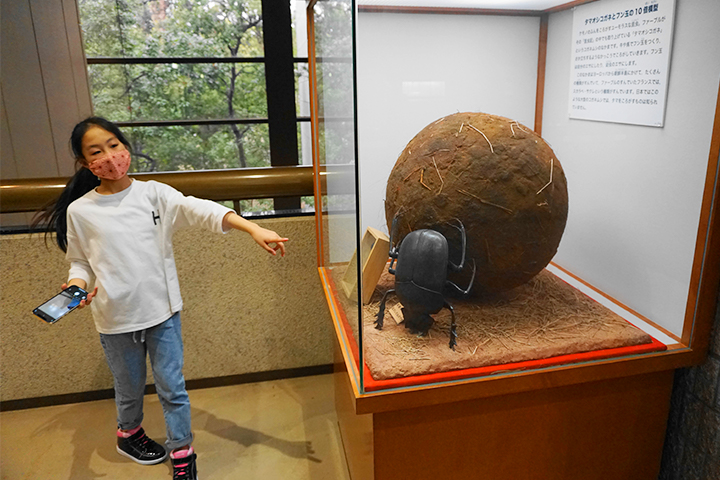 Exhibition Hall 5 showcases "the Lives of Living Things."
We learned about how living organisms are connected and support each other—like microorganisms that break down carcasses and feces and flowers that have provide honey to bugs that carry pollen dust.
Boys apparently preferred play over study, though.
It's another fun way to learn about the natural world?!
● Shopping for Souvenirs at the Museum Shop
The museum shop offers an opportunity to find toys for kids and cool goods for adults, both educational and for fun.
Exhibits were fantastic! We didn't even realize two hours had gone already!
We walked a lot—I recommend comfortable shoes.(lol)
Oh, this museum also has a café. Getting lunch or taking a break at the café would make it a nice relaxing day at the museum!
You can visit the museum safely during Covid. Social distancing is easy because the space is large, and you can see the museum staff making extra efforts to disinfect the glass display cases and touchable exhibits frequently.
The entrance fee is free for kids under the age of 15! And for adults, it's only 300 yen. It's really a steal for what you get.
I highly recommend a visit to this great Osaka Museum of Natural History. It's great for kids and adults, perfect for families.
And as the weather gets warmer, you can have a nice picnic in the park after a visit to the museum!
Spots Introduced
[Access] About 9 mins walk from Exit 3 at Nagai Station.
[Hours] March-October 9:30-17:00 (Last entry is 16:30)
November-February 9:30-16:30 (Last entry is 16:00)
[Closed] Mon. (the next day if Mon. is a public holiday), December 28-January 4

Recommended Plans
With icons like Dotonbori and Tsutenkaku Tower, many think of Osaka as colorful and …
2022.12.02
Every year at this time, dazzling winter illuminations begin to appear …
2022.11.18
In 17th to 19th century Japan, after the turbulent and violent Warring States period ended, …
2022.08.05