A Generous 1-Day Osaka Itinerary—
Kaiyukan Aquarium and More☆
2019.08.14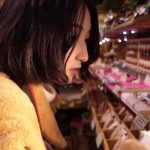 Written by: 戴安娜(Dianaaa)
● Gotta Love Kaiyukan☆
I love marine animals. The uniquely designed Kaiyukan Aquarium in Osaka is a perfect place to see them. Its location is great, too—it's easy to get to Kaiyukan from any major stations on Osaka Metro like Umeda and Namba.
My friend, Kyenga, and I decided to do a full day of Osaka sightseeing including Kaiyukan and other cool spots in Osaka using Osaka Metro's 1-day pass called Enjoy Eco Card.
We began our trip at Osakako Station. It's only a 5-minute walk to Kaiyukan from there!
I've been to the Osaka Aquarium Kaiyukan several times but, every time I go, I see a different side of the various creatures there.
Walking down the spiral path around that huge tank and watching the fish swimming graciously above me is my favorite part of the visit.
I also find Kaiyukan's exhibits interesting—another reason I go back there again and again. Right now, their special exhibit, "Dreaming of Life in the Sea," (ends on January 7, 2022), gives you a taste of the wonders of living in the deep sea.
After we took our time visiting with these animals, the Tempozan Market Place was a perfect spot for lunch. I like the many options of the Osaka gourmet scene offered there.
A couple of other nice attractions around Kaiyukan where you can get a discount with Enjoy Eco Card (although we skipped them this time) are the Tempozan Ferris Wheel and Santa Maria bay cruise!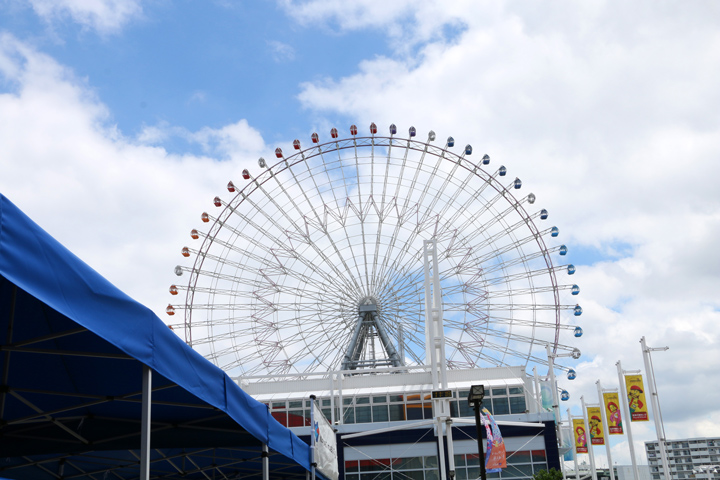 ● A Stylish Café in Tanimachi
We had the whole afternoon ahead of us so we headed to Karahori Area,which is known for its unique shops.
Our top destination there was "art&sweets cica". It's an art café we found on the Internet and definitely wanted to check out.
They are known for the unique plating of food; they actually draw detailed images with sauce☆ If you bring a photo—of your pet, a celebrity you like, or whatever—they will draw it on your plate! We had no photo with us; so we just asked for 'omakase' and had the chef decide what to draw. It was so cute we didn't want to eat it! And the sweets themselves (pancakes, donuts, and more) were delish!
● To the Floating Garden Observatory!
There were more shops we wanted to visit in the Karahori area, but the day was catching up with us. So, we took Osaka Metro to Umeda and headed to the Floating Garden Observatory in the Umeda Sky Building to catch the sunset. I'd been interested in going there for a long time, and Enjoy Eco Card got us a nice discount.
The panoramic view of the big city Osaka from 173 meters above ground was amazing! The sun slowly setting in the sea was simply breathtaking.
The Bustling Osaka Station City
Our last stop was Osaka Station City nearby. Osaka Station is always filled with people, but the one place you can see everyone enjoying their own time is the "Toki no Hiroba" (literally means the plaza of time and space). It is a pleasant space with lots of benches—many use it as a meeting spot. You can see the trains coming and going below you and enjoy different events each season—you might just forget time. Living in Japan, I think I've started to appreciate the different seasons.
Osaka Metro's 1-day pass, Enjoy Eco Card—is a great pass to use for a day of sightseeing in the City of Osaka. It costs only 820 yen during the week and even less on weekends and holidays—only 620 yen!—for adults. For children, it's a mere 310 yen for a full day of transporation.
You can easily purchase the pass at ticketing machines at Osaka Metro stations and get one day of unlimited rides on all of Osaka Metro lines and most of the Osaka City Bus system. You can literally go anywhere in Osaka with this pass!
What's more, it even gets you discounts at popular tourist attractions like Tempozan Ferris Wheel and the Floating Garden Observatory. Who can say no to that?!
Kyenga and I had a great day out in the City of Osaka with Enjoy Eco Card. What amazing places do you want to visit with the 1-day pass in Osaka?
Recommended Plans
Manholes can be found everywhere in every city and has an important task of …
2023.03.31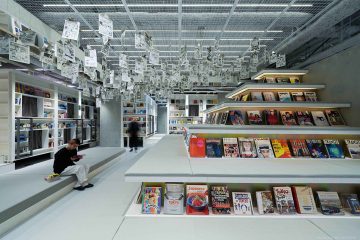 Offering a collection of about 4,000 books covering a wide range of genre, Book and Bed is, as …
2023.03.24
Spring is almost here. Soon, Sakura cherry blossoms—"spiritual beauty"—will be in full bloom …
2023.03.10
Osakako
Tanimachi 4-chome
Tanimachi 6-chome
Higashi-Umeda