What Do You Get When You Add
Stand-up Paddleboarding and Kotatsu?
2020.01.10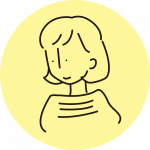 Written by: キタちゃん(Kita chan)
● Riding Waves in Nakanoshima?!
Sometimes referred as "aquapolis," city of water, Osaka's development historically relied on its waterways that opened pathways for traders and commodities to reach the city. With a river running through the city center, boat cruises have been a great way to enjoy this aquapolis' popular spots like Dotonbori, Osaka Castle, and Nakanoshima. And now, there's a new, unique means to enjoy this city of water: Discover the thrill of "Walk on the Water®"!
Stand-up Paddleboarding (SUP) is a sport that's growing in popularity around the world with its roots in Hawaii. The rider stands on a large flat board—a little bigger than a surfboard—and uses a long paddle to move through the water. Sounds like a marine sport (and it is), but you can actually experience SUP in Nakanoshima! First timers can even get a quick lesson to get the know-how of paddleboarding and enjoy the sport safely.
● Why SUP?
Can you imagine "walking" on the water in the middle of Osaka? Standing on a board so close to the water gives you a unique vantage point and you feel as if you're walking on the water! Sounds of the wind and waves, birds flapping their wings, and even cars going by all start to sound like music to your ears. A cruise ship comes by every so often and the sound of its engine resonates with your refreshed mind. Needless to say, SUP is a great water activity I highly recommend.
● Winter Only☆ The World's First "Heated" SUP
You might think it's crazy to do SUP in winter when the water is cold. Think again. It's possible—and comfortable—with the new Kotatsu SUP, found only in Osaka!
Kotatsu is a winter essential in Japan. A low table with a built-in heater is used with a thick blanket cover to keep warm. You've probably seen a picture of kotatsu somewhere—perhaps in a living room scene in anime—with mikan tangerines on top of the table? During the cold winter, the Japanese love to stay warm in kotatsu and eat sweet juicy mikan (that coincidentally is in season) because, you know, staying in warm kotatsu for a long time makes you thirsty.
Stand-up paddle boards are usually made for one rider, but Kotatsu SUP is a round board—more like a rubber boat—big enough to hold a kotatsu table and 4 people!
It's even equipped with an electric carpet and you can borrow a hanten coat (a traditional Japanese short coat padded with a thick layer of cotton) to go over your life jacket. With such contraptions, you're guaranteed to stay warm!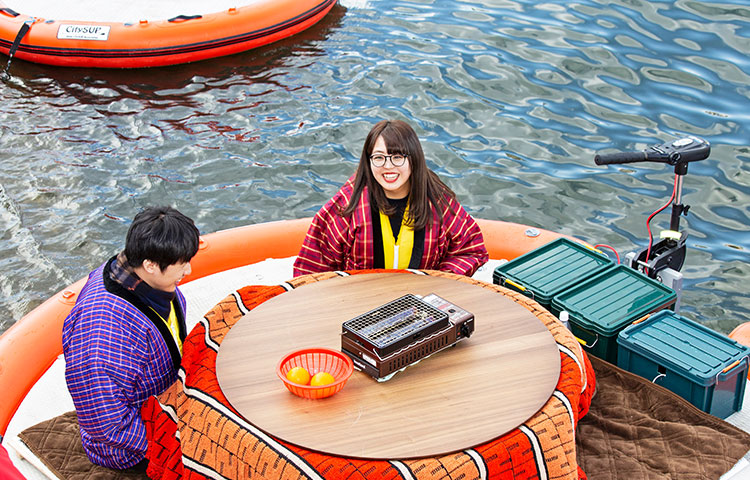 ● Enjoy Yourself with Kotatsu SUP
What's a kotatsu without food and drinks, you're thinking? They've got you covered. You can bring food and drinks onboard and go further to rent a portable stovetop to grill mochi (rice cake) to eat with mikan and snacks. Heck, you can have a little party with your friends or even a romantic date night on Kotatsu SUP if you wanted to!
In case you're wondering, there's no need to worry about being flooded or losing balance. A professional staff will be there to control the paddleboard the entire time. All you need to do, in a sense, is to get on and sit down. You'll find the waves quite comfortable in no time!
The view of panoramic Osaka from water is absolutely beautiful.
Come out and try the Kotatsu SUP, a winter experience you can get only in Osaka!
[Access] About 4 mins walk from Exit 2 at Temmabashi Station.
[Date] Thursday/Friday/Saturdays/Sundays/Holidays between December 3, 2020 (Thu) and February 28, 2021 (Sun)
[Hours] 10:00am to 5:00pm (last admission 4:30pm)
[Location] Walking trail in front of River Station Hachikenya (Floor B1)
[Website] https://www.citysup.jp/
※All are welcome to try this fun activity. Simply fill the reservation form with your name and contact information.
Spots Introduced
[Access] About 4 mins walk from Exit 2 at Temmabashi Station.

Recommended Plans
สวัสดี! I'm Bie. I'm from Thailand. I fell in love with Japan after visiting this beautiful …
2023.03.03
안녕하세요 (Annyeonghaseyo)! I'm Bask Sang Hun from South Korea. Fascination that …
2022.09.09
안녕하세요 (Annyeonghaseyo)! I'm Bask Sang Hun. I'm from South Korea. I've been a …
2022.09.02