SPECIAL
Now! Osaka
Osaka's Fireworks Shows:
Flowers in the Summer Night Sky
2022.07.08
You can't have summer in Japan without fireworks displays. Each year, gorgeous hanabi (fireworks; literally "fire flowers") light up the sky all over the country during the months of July and August.
Here's a peek into what Osaka has to offer—images and videos of the dynamic summer delight from Osaka's top fireworks shows, Tenjin Matsuri Festival's Fireworks for Dedication and the Naniwa Yodogawa Fireworks Festival! Let's take a look and get a taste of Japanese summer together♪
01
Japanese Fireworks
Are an Art
in Itself
Perhaps the most significant characteristic of Japans' fireworks is its round shape.
When a firework is fired into the sky, the display is typically round, resembling the chrysanthemum or the peony.
Shells of aerial fireworks are shaped like a spherical ball, designed with detailed calculations for it to explode into a beautiful flower in the sky.
And, surprisingly, all work is still done by hand. Basically, each and every firework is a piece of art meticulously calculated by firework craftsmen♪
Naturally, the whole point of fireworks display is the firework itself in Japan while, in the West, fireworks display is usually just one part of a larger event. Here, the true joy lies in enjoying each and every firework that ascends into the sky.
Below, you can see two of the most impressive fireworks displays of Japan.
02
Fireworks for Dedication
at the Tenjin Matsuri
The Tenjin Matsuri (the Tenjin Matsuri Festival) is one of the biggest festivals in Osaka, attracting some 1.3 million people each year.
It is also one of Japan's three major festivals, with more than 1,000 years of history.
The Tenjin Matsuri usually begins in late June and continues for an entire month with various festivities. Hommiya on the last day of the festival features Funatogyo, a procession of 100 festive boats on the Okawa River that runs near Minamimorimachi Station on the Tanimachi and Sakaisuji Lines as well as Temmabashi Station on the Tanimachi Line.
The finale of this month-long event is the Fireworks for Dedication when some 5,000 fireworks light up the summer night sky. Combined with the boat lights wavering on the water, it creates a dreamy atmosphere♪
Featuring both traditional rituals and fireworks, I'd say the Tenjin Matsuri is a very Japanese summer festival; highly recommended☆
Read more about the Tenjin Matsuri Festival
/article_tour/article-now02/
03
One of the Largest:
Yodogawa Fireworks
Another popular fireworks show in Osaka is the Naniwa Yodogawa Fireworks Festival which brings together more than half a million people.
This year, the spectacle is expected to return on Saturday, August 5th! We sincerely hope that we can go ahead with the dazzling fireworks as planned♪
Yodogawa Fireworks is held at Osaka's largest river, Yodogawa. Getting there is easy, as it's within a walking distance from Midosuji Line's Umeda Station or Nishinakajima-Minamigata Station.
The scale of this fireworks show is incredible; Highlights include the underwater fireworks launched from six different locations at once as well as gigantic fireworks—No. 10 firework balls that boast some 300 meters in both the height and the size of the firework display after the explosion!
When your vision is filled with dazzling lights, it is simply breathtaking♪
The whole production from the beginning to the end—a perfect harmony of fireworks and music—is remarkable, too.
Experience the dynamic fireworks show in the video!
Tenjin Festival dedication fireworks
[Date] July 25 of every year
[Location] Kema Sakuranomiya Park
[Access] About 20 mins walk from Exit 5 at Minamimorimachi Station.
About 22 mins walk from Exit 1 at Temmabashi Station.
[Address] 4-5-56 Nakano-cho, Miyakojima Ward, Osaka
Naniwa Yodogawa Fireworks Festival
[Date] Saturday, August 27, 2022
[Location] Yodogawa River riverbed between Shinmidosuji Yodogawa Tekkyo Iron Bridge(新御堂筋淀川鉄橋) and Downstream Route 2 (下流国道2号線)
[Access] About 20 mins walk from Exit 5 at Umeda Station.
About 30 mins walk from Exit 2 at Nishinakajima-Minamigata Station.
[Address] Near 3-chome, Shinkitano, Yodogawa Ward, Osaka
Recommended Plans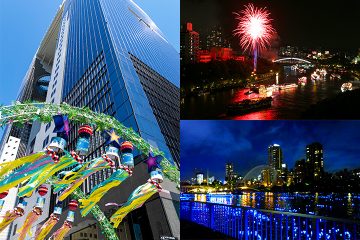 Summer is here in Osaka!I love summer. Summer is the season for festivals and other lively …
2023.06.30
The Tenjin Matsuri (Tenjin Matsuri Festival) is one of the biggest festivals in …
2019.06.22