SPECIAL
Discover OSAKA
Capturing the Beauty of Osaka with a Camera:
An Interview with a Professional Travel Photographer
2020.09.04
Robert is a travel photographer who posts Osaka photos on Osaka Metro NiNE's social media platforms on a daily basis. He is always venturing out in Osaka, Japan, and the world, and captures with his camera the magic of the places he visits, from magnificent sceneries to the mundane ordinary life.
We spoke with Robert about techniques and tips for photographing Osaka and Osaka Metro as well as the message he sends through his photos.
Interview: Robert Michael Poole
Originally from England, Robert Michale Poole is a photographer, journalist, and social media influencer. He has been managing Osaka Metro NiNE's social media posts and operations with other photographers since July 2019.
Please tell us what made you start photographing Japan.
I've always been interested in finding places off the beaten track, authentic experiences, local culture, and natural landscapes that are less well-known. On my own Instagram feed @robertmichaelpoole, I show places all around the world that even locals may not know.
Big cities in Japan like Tokyo, Osaka, Kyoto, and Nara are well-known around the world, but Japan is a wildly diverse country and there are a lot more places that are unknown yet attractive.
In my first trip to Japan in 2002, I used the Value Pass to travel from Wakkanai, the northernmost city in Japan, all the way south to Kagoshima in Kyushu, then took ferries down the Okinawa island chain. So, I was aware Japan had a lot to explore. This year during COVID-19, I decided to rent cars and really explore the country, prefecture by prefecture, and capture unique images.
What do you think is the attraction of Osaka travel and Osaka Metro photos?
Osaka City, formerly the site of the ancient Naniwa City and today a globally recognized metropolis, is much more historic than it first looks, even if on the face of it the city feels very modern. Today's Osaka is full of energy like no other city in Japan, and you can feel that in the atmosphere and in the way people dress and communicate. It has a much less stressful vibe than Tokyo, a place where people let their hair down and express themselves.
Using Osaka Metro, you can reach colorful and creative neighborhoods—like America-mura at Midosuji Line's Shisaibashi Station and the area around Yotsubashi Line's Kitakagaya Station —with its street art, something you rarely see in Japan. Osaka feels like the most colorful and creative of all Japanese cities.
Please tell us about the charms of Osaka.
Osaka is the energetic city of Japan, a place to eat out and try all kinds of different foods—even on the street. It really feels that Osaka is only napping during the day, while it's most awake and alive after the sun goes down. Dotonbori lights up and people head to bars, izakaya (Japanese pubs,) clubs and karaoke. This feeling of fun comes through the people who seem to have a very positive attitude towards enjoying life, and you can feel it when you go shopping or sightseeing, too.
What do you try to convey in your Osaka travel photography and Osaka Metro photos on social media?
On Instagram, we are trying to show the diversity of the city and its many faces—not only major tourist attractions but also small hidden temples and shrines, seasonal gardens and local neighborhoods.
I want to show that the more time you spend in Osaka, the much more you will discover beyond the obvious sights. Osaka is always changing with new stores, restaurants, and hotels opening up—it's a vibrant city. I want to show that the people move and so does the city. Shooting Osaka Metro helps to capture the feeling of movement.
Please tell us about techniques for trimming photos, the optimal image size for social media, and other tips you have as a professional photographer.
For shooting I use a Sony a7rii and a variety of 5 lenses depending on the shot, but my favorite is my Samyang AF 35mmf/1.4 FE. It's a fixed portrait lens with no zoom, but since it's capable of shooting on a large aperture even in low-light, I can focus on precise elements of riding the train, from maps and tickets to trains and staff.
I also use a Sony FE 12-24mm F4 Wide Angle, which has an unusual dome-shaped front lens. It's perfect for shooting panoramas and wide shots. A great spot to use it is Shin-Osaka Station's train viewing spot where you can photograph trains going by on each side of you at the platform end.
For editing I use Adobe Lightroom, and you should always keep in mind that Instagram uses a maximum 4:5 size for vertical shots so I first cut shots to match the size, then edit from there. Raising Whites, boosting contrast, and increasing Luminance in Noise Reduction all help to enhance the photos.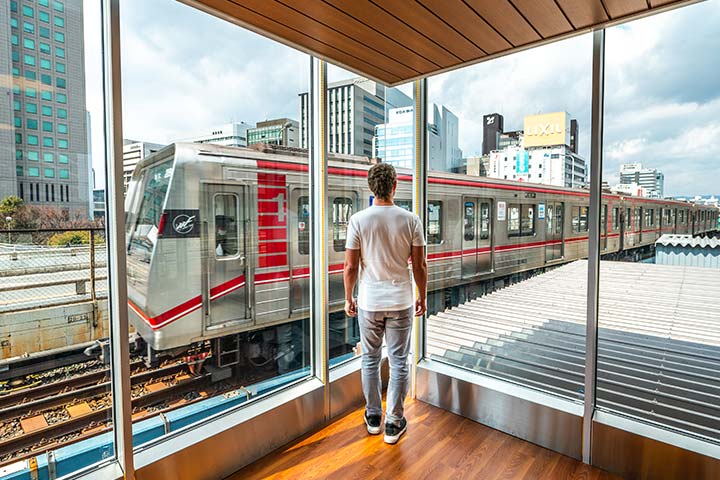 What are your thoughts on the future of photography?
We live in an era where pretty much everybody has an excellent camera in their pockets, built into their mobile phones. Even if someone wants to carry the extra weight of a real camera and multiple lens, almost anything they buy is capable of capturing anything they want near-perfectly.
Thus, the future of photography is only in creativity—using that equipment to capture images that stand out. In particular, in this social media age, it's about a collection of images. Photographers need to stand out by presenting a set of images that flow from one to another, or that match together when presented on a feed. Most photos today are accessed via social media and that's only going to continue. Consequently, the future is about having a clear plan, style and pattern to the images you create.
Can you give a message to the fans of Osaka around the world?
Osaka is the most vibrant and welcoming city in all of Japan. Right now, with no tourists (because of COVID-19,) the locals are having all the fun. But I am sure they can't wait to welcome back visitors more than ever before, to enjoy dining, drinking and singing with them in this great city!
Follow Osaka Metro NiNE on Instagram and have fun planning your trip and saving photos of the spots you want to visit, so that when you come here, you can make the most of every day in Osaka!
Recommended Plans
The air feels chilly in the morning and at night. Fall has arrived. That means …
2020.11.27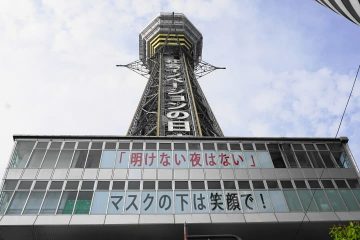 July 2020 was supposed to be an exciting time with the opening of the Olympics. Osaka would have …
2020.07.22
A serious question: what do you think about toilets at train stations? Dark, dirty, …
2020.06.05