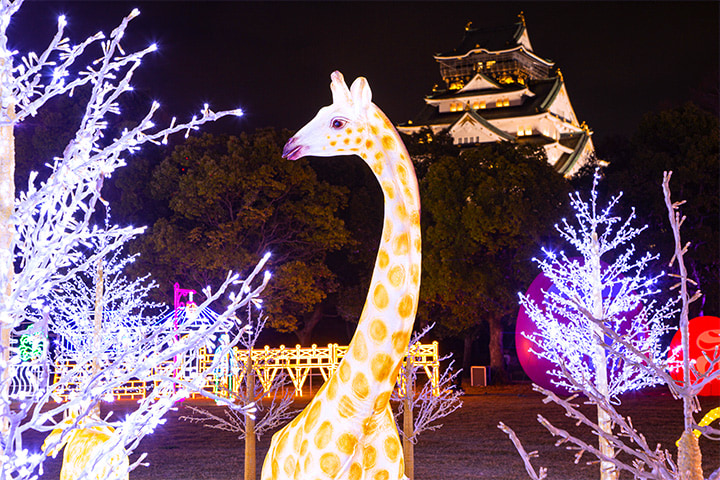 Osaka's Winter Illumination –
3 Million Lights Shine at Osaka Castle Illuminage☆
2020.12.11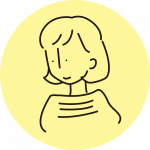 Written by: キタちゃん(Kita chan)
● Social Media's Favorite Winter Illumination is Back
Osaka is host to some of Japan's best winter illuminations. While the spread of the coronavirus has caused various events to be cancelled this year, Festival of the Lights in Osaka 2020 began on November 3 as a ray of hope that colorfully lights up Osaka at night. And, on November 27, Osaka Castle Illuminage also returned to Osaka's winter illumination scene with three million glittering lights brightening Osaka Castle's Nishinomaru Garden.

● Endless Sea of Lights
Lights in the Nishinomaru Garden turn on at 5:30pm right when darkness sets in. At that moment, the darkness and nothingness disappear and, in its place, emerges a world of brilliant lights. It's a sea of lights that extend forever.


The Osaka Castle main keep is also lit up nearby, creating an interesting contrast with the cluster of high-rise buildings in the background.


A festival of lights with Osaka Castle as the background is a sight to see☆

You're sure to recognize Osaka's landmarks and icons at the event—Kuromon Ichiba Market, Osaka City Central Public Hall, takoyaki, Tennoji Zoo's animals are all on colorful display. In fact, spotting the icons you know among the displays local to Osaka is a fun game.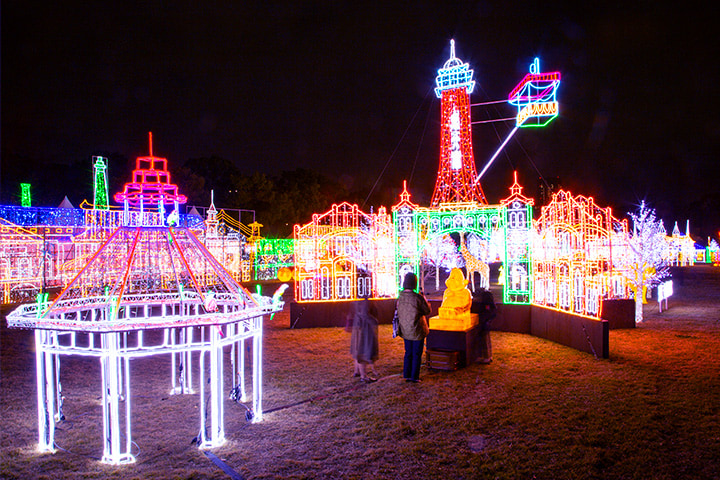 ● History, Food, and Games
This year's display showcases the jokamachi—castle town—of Toyotomi Hideyoshi who constructed the Osaka Castle in 1500's, as well as Osaka's evolution since the end of Edo period (1603-1868.) Colorful installations include Daisen Kofun (Tomb of Emperor Nintoku; one of the ancient tombs at the World Heritage site Mozu-Furuichi Kofungun,) Shitennoji Temple (Japan's first state-sponsored Buddhist temple,) the Tower of the Sun (the symbol of the 1970 Japan World Expo,) and the Tsutenkaku Tower (an Osakan icon in Shin-Sekai.) It is a very Japanese themed event with delightful retro colors that make a perfect Instagram post.

Inspired by Toyotomi Hideyoshi's jokamachi, the food area is a recreation of Osaka's castle town and offers hot food and beverages.
Visitors can even enjoy retro games including old school "smart ball"—a Japanese pinball game—and a target shooting game as well as saru mawashi—Japanese traditional monkey show. Travel back to Hideyoshi's Osaka, a vanguard of modern day jokamachi castle town, and experience 150 years of history!
● "The Story of THREE Illuminated Cities"
Illuminage 2020 features the story of not just Osaka but three cities. In addition to Osaka Castle Illuminage, it includes Kyoto Nijo-jo Illuminage—a new addition this year—at Nijo-jo Castle and Kobe Illuminage at Michi-no-eki Kobe Fruit & Flower Park Osawa. Each location offers a unique theme suitable to the location. Visit all and experience three different stories!
[Access] About 10 mins walk from Exit 1-B at Tanimachi 4-chome Station.
About 11 mins walk from Exit 3 at Temmabashi Station.
About 16 mins walk from Morinomiya Station.
About 16 mins walk from Exit 2 at Osaka Business Park Station.
[Duration of Event] November 27, 2020 (Fri) – March 7, 2021 (Sun) *Open daily for the duration of the event
[Hours] 5:00pm-10:00pm (Light up 5:30pm-9:30pm)
[Admission] Adults (middle school students and older) 1,500 yen; Children (elementary School students and younger) 800 yen
Spots Introduced
[Access] About 11 mins walk from Exit 1-B at Tanimachi 4-chome Station.
About 12 mins walk from Exit 3 at Temmabashi Station, about 16 mins walk from Exit 2 at Osaka Business Park Station, about 19 mins walk from Exit 3-A at Morinomiya Station.
[Hours] 9:00-17:00 (from November to February until 16:30)
※last entry: 30min before closing
[Closed] Monday (next weekday if holiday), New Year holidays

Recommended Plans
One of the highlights of Osaka is its people and their warm, friendly character. Over its …
2023.09.29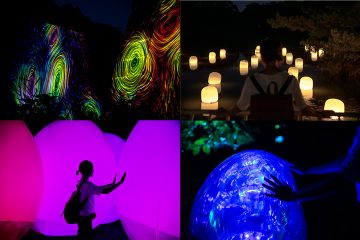 Hello! My name is fuji. I am a writer. Have you been to a botanical garden that is also an art …
2023.09.01
你好! I'm Huang from Taiwan. I've been a Pokémon fan since the time of Game Boys. After years …
2023.07.21
Tanimachi 4-chome
Tanimachi 4-chome
Temmabashi
Morinomiya
Morinomiya
Osaka Business Park