SPECIAL
My First Osaka
My First Japanese Nail Art Experience♡
at ANNE Higashi-Shinsaibashi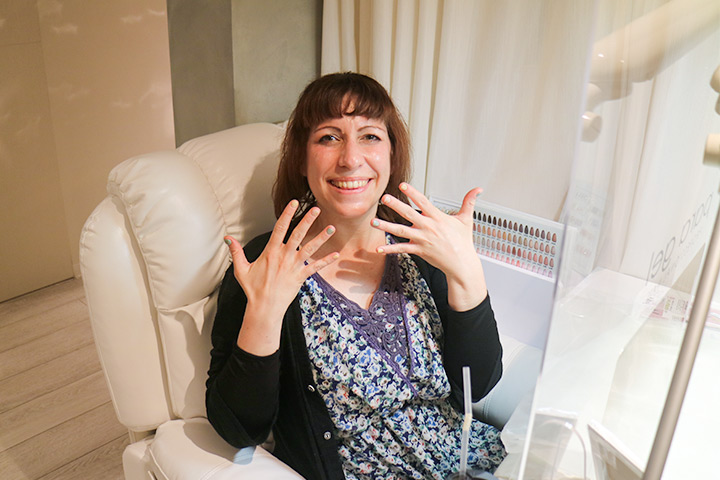 2023.09.22
Nail art is truly a creative artwork in Japan. Stunning yet delicate designs and high-quality meticulous nail care are a standard in Japanese nail salons, attracting attention from visitors and the beauty world across the globe. Nail Salon ANNE Higashi-Shinsaibashi has been offering superb nail experiences to international visitors. Experience the nail art of Japan at ANNE!
Orsolya Károlyi
Hi, everyone! I'm Orsolya from Hungary. I moved to Japan seven years ago to study Japanese literature of the Heian Era (794 – 1185 AD) and Hyakunin-Isshu, an anthology of 100 classic Tanka poems written by 100 poets over 500 years in classic Japan, at a graduate school in Kyoto.
It's well known in Hungary that Japanese nail art requires highly technical skills. I went to experience it firsthand in Osaka's Shinsaibashi for the first time!
An English-Speaking Nail Salon ANNE Higashi-Shinsaibashi

For many, language skills—or lack thereof—is a key point of hesitation in going to a beauty salon, making Japanese nail art practically unreachable for visitors to Japan. That's something Forcise, a company operating a network of hair and nail salons in Tokyo and Osaka and just celebrated its 20 th anniversary in May, always understood and proactively addressed in its customer service training for staff. I went to experience Forcise's English customer service firsthand while I relaxed and enjoyed Japanese nail art.
Located a mere 3-minute walk from Shinsaibashi Station, ANNE Higashi-Shinsaibashi is one of the nail salons operated by Forcise. With a collection of reputable salons with talented technicians in the area, Higashi Shinsaibashi is known as the battleground for beauty salons. Let's see what ANNE has to offer!
A Wide Selection of Nail Designs

And my first Japanese nail experience began!
The first step of manicure was nail care. It was like receiving a hand massage. I loved it★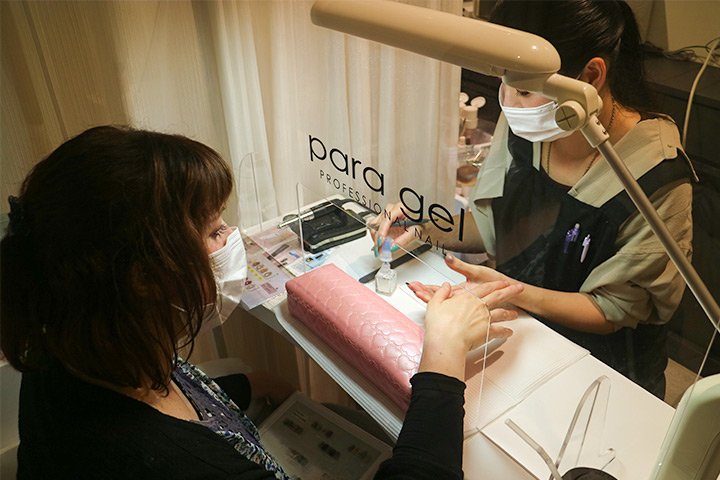 As I sat through the wonderful nail care experience, I thought about the design for my nails. They had so, many, options. It was really hard to pick one.
According to Kassy, many visitors from abroad have the same issue. It depends on where they are from, but clients from Europe and the U.S.A. seem to be most surprised about the wide selection offered.
ANNE posts many of their designs on Instagram (@anne_east_official)which used to bring international tourists to the shop. I appreciated these samples because it would be difficult to verbally convey the design I want. After some deliberation, I chose a design from Designs of the Month! I couldn't wait to see how they'd look on my hands…
Delicate Brush Strokes & Anime Characters

After the nail care, Kassy started applying the gel nail polish. You might be familiar if you are used to manicures, but it was my first time to experience the LED nail lamp which dries the gel instantly. I appreciated Kassy asking me about the temperature of the light—I heard it can be a little hot sometimes.
I was fascinated with the delicate strokes of her brush while Kassy repeated the process of applying and hardening the gel nail. As I watched her hands move, I noticed a famous anime character on her thumb nail! I think I embarrassed Kassy a little, but I couldn't help but comment on how intricate the illustration was! She said she sometimes draws anime and manga characters at client's request. (Do inform her in advance if you're going to request the service, please.)
I'm a fan of Japanese anime like Pop Team Epic and Cells at Work. Maybe I'll request a design from these anime next time…!
They do nail work for men at ANNE, too. Look at these cool designs—a famous Japanese samurai, Sakamoto Ryoma, on the thumb and other Japan themed patterns…these are all Kassy's designs!
Modeling the cool nail designs for men is Kazz, the CEO of Forcise and the top stylist at hair Mission right next door to ANNE. I'm sure he was busy, but he gladly complied when we asked him to pose for us. Thanks, Kazz!
You might be wondering if Kassy's always been good at English. We asked.
Kassy: "I didn't speak a word of English before I started working at ANNE! Working here sparked my interest in other countries and studying English because we have many international customers in Shinsaibashi. I enjoy talking with clients. I get to learn their perspectives and how Japan and Osaka look to the rest of the world. It's inspiring."
Learning a language is not easy. Hats off to Kassy for having such positive attitude toward her work!
We talked a lot that day, including a lot about—of course—Hungary.
Relaxing Hand Hot Springs to Finish Off the Experience

Before I knew it, we were already at the final stage of the experience. Kassy wrapped my fingers in oshibori hot towel, aka "Hand Onsen," which literally means "hand hot springs." It was super relaxing. Kassy treated my hands with much care throughout the experience. It reminded me of the time I got a head spa. I didn't realize you could experience such pleasure with nail care. It was delightful♡
Here's the result of today's experience. They are so cute! Even my husband commented on them when I got home☆
By the way, since a hair salon is right next door, you could actually combine your nail experience at ANNE with your hair appointment at hair Mission. I'd always wondered if there was a way to utilize the time it takes to color my hair. Getting manicures done would be perfect.
I really enjoyed my first nail experience in Japan. Thank you so much, Kassy!
Nail technicians at ANNE Higashi-Shinsaibashi are talented artists with an extensive experience. Experience the Japanese nail art and find your favorite nail art design at ANNE when you visit Osaka!
※The information in the article is for 2021.
Spots Introduced
[Access] About 3 mins walk from Exit 5 and 6 at Shinsaibashi Station.
[Hours] 10:00am – 7:00pm
[Closed] Mondays

Recommended Plans
Hello! I'm Nasu from South Korea. I love Japan and have studied the Japanese language …
2023.11.17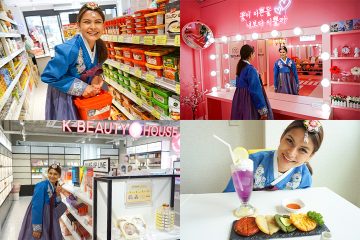 Namaste! I'm Manju from Nepal. I love gourmet food and shopping! I love Osaka's Korea Town in …
2023.08.10
สวัสดี! I'm Bie. I'm from Thailand. I fell in love with Japan after visiting this beautiful …
2023.03.03