SPECIAL
Now! Osaka
Mozu-Furuichi Kofungun:
The First World Heritage in Osaka
2019.09.10
News flash! As of July 6, we have a World Heritage Site in Osaka!!
Mozu-Furuichi Kofungun, Mounded Tombs of Ancient Japan located across Sakai, Fujiidera, and Habikino cities just south of Osaka city, was inscribed on UNESCO's World Heritage List for its "outstanding universal value", a must have criteria to be included on this prestigious list.
01
At Last, A Long-Awaited
World Heritage!
It's been a long 12 years since the site was initially proposed for World Heritage inscription in 2017.
After years of ups and downs—efforts by Mozu-Furuichi Kofungun mascot Sakai City's Haniwa Bucho (modeled after clay figures buried in kofun), introduction of kofun themed food, and several delays despite the high hopes for the inscription on the World Heritage List—the Kofungun has, finally, made the List!!
The long-awaited Osaka's World Heritage has been born♪
02
What's The Big Deal?
The Size!!!
Kofun is an ancient mounded tomb built during the Kofun period (3rd to 6th century), usually in the shape of keyholes, scallops, squares or circles. A cluster of these tombs are called Kofungun (Kofun Group).
So, what's so amazing about Mozu-Furuichi Kofungun? The sheer size and the number of kofun included in the group!
This group of tombs includes 49 kofuns, 11 of which are large keyhole shaped kofun. At 486 meters in length, Nintoku-tenno-ryo Kofun is the largest of the group as well as in Japan and is also said to be one of the world's three largest ancient tombs along with the Great Pyramid of Giza in Egypt and the Mausoleum of the First Qin Emperor in China.
While it is difficult to grasp its scale on the ground—it just looks like a big round forest when standing close—you'd be surprised of its size when you see it from above.
High up in the sky, you can clearly see the keyhole shape and the many surrounding ko-fun. And, when compared to the sizes of nearby parks and houses, its expansive reach is evident.
03
Take A Look From Above
The observation lobby on the 21st floor of Sakai City Hall is a great place to catch this view. The 21st floor (soaring 80 meters above ground) is actually not quite high enough in order to capture the entire view of the Kofungun, but you can see the grandness. I just think it's just precious that these tombs have been protected for more than 1,600 years since they were built!
Also, check out the special exhibit at the Sakai City Museum focusing on the Mozu-Furuichi Kofungun and the Kofun period. There will be a series of lectures, including one where you can experience a virtual reality tour of the Kofungun and see the entire Ko-fungun from the sky. The exhibit runs through September 23.
04
Rent a Bike
at Nakamozu
Station!
Biking is a great way to explore the Kofungun.
You can rent a mamachari (literally means mama bike) for 300 yen a day at the Nakamozu Cycle Port at Midosuji Line's Nakamozu Station (Exit 7)!
The very-easy-to-ride mamachari, which is getting increasing attention in the bike com-munities around the world, was born in Japan and is utilized as an everyday means of transport by many.
You will need to present an identification such as a Japanese driver's license or the Japa-nese national health insurance card when renting a bike.
See here for more details.
If you are an international traveler, bring your passport instead.
See here for more details.
Rent a bike to explore world class tombs and enjoy historic Sakai City—killing two birds with one stone!
[Access] About 27 mins walk from Exit 6 at Nakamozu Station.
[Address] Daisencho, Sakai-ku, Sakai, Osaka
Sakai City Hall Observatory Lobby
[Access] About 40 mins walk from Exit 6 at Nakamozu Station.
OR Take Nankai Koya Line to Sakaihigashi Station; 4-minute walk from there
[Address] 43-1 Minamikawaramachi, Sakai-ku, Sakai-shi
Sakai City Museum
[Access] About 30 mins walk from Exit 6 at Nakamozu Station.
OR Take Nankai Koya Line to Mikunigaoka Station; 18-minute walk from there
Recommended Plans
Having a cup of tea is a great way to escape from the daily turmoil and relax. In recent years, …
2021.08.27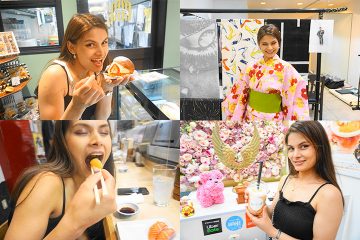 Namaste! I'm Manju. I'm from Nepal. We're walking Osaka's famous Tenjinbashisuji Shotengai …
2021.07.30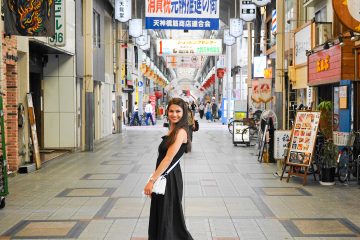 Namasute! I'm Manju from Nepal. I love good food and good buys! So I visited Osaka's gourmet and …
2021.07.21