SPECIAL
Now! Osaka
OH! MIDOSUJI
Enjoy a Stroll on Osaka's Main Boulevard!
2019.11.06
Traversing the city north to south, Midosuji is the most famous street in Osaka.
Just beneath it runs Osaka Metro's Midosuji Line, which prides itself of having the highest ridership in Osaka.
As November has arrived, gingko trees that symbolize Midosuji are changing colors. At night, they are beautifully illuminated. This is part of Osaka's proud urban cityscape.
01
A Boulevard Modeled After Paris
Many years ago, not many north-south streets existed in Osaka. In 1926, creation of the boulevards was planned and construction to expand Midosuji began. The redesign of this city's main street was modeled after Paris and other European cities. Next time you're on Midosuji, look around. Does the streetscape, like the streetlights, remind you of the Champs-Elysées? The electric wires were buried underground, and the office area packed with busy businesspeople was transformed into a comfortable space perfect for a nice stroll. You can enjoy different sceneries on Midosuji: near Yodoyabashi and Honnmachi areas are filled with showrooms and offices of major corporations as well as fashionable cafés and retro buildings, and as you get closer to Shinsaibashi, the scenery changes to rows of brand shops.
Best of all, it's quite walkable—it'd take about 1 hour to walk down the 4 km boulevard.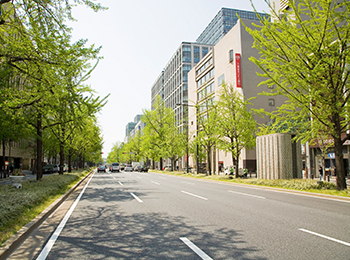 02
Symbolic Gingko
Trees Are in Season!
Gingko trees that line and symbolize the boulevard provide an urban oasis where you can feel the change of seasons in the middle of a bustling city. The green is refreshing in spring, and the golden leaves that cover the boulevard in the fall is an impressive scenery Osaka is proud of.
When the leaves turn yellow and start to fall off the trees in late November to early December, cold autumn winds blow in Osaka, signaling the arrival of winter.
More than 800 gingko trees that line the street are specially maintained by the city and each tree has its own chart. We can't forget that the efforts of many people underlie the maintenance of this beautiful city scenery.
03
Enjoy the Illumination
Festival of the Lights in Osaka began on November 4 this year. Starting around 5pm when the sky starts to get dark, different areas of gingko trees illuminate in different colors. It is a spectacle when so many trees light up at once.
Don't miss the illumination of Nakanoshima Park and the historic Osaka City Central Public Hall as well as other buildings in the area♪
04
A Café That Offers Green Tea
from Kyoto
There're many, many cafés on Midosuji. OMATCHA SALON Yodoyabashi, opened in summer of 2018, is a café where you can truly enjoy Japanese green tea. At this café specializing in green tea, tea from one of Kyoto's long-established tea wholesalers is freely used in their dishes, sweets, and drinks. The menu includes carefully poured hand drip Japanese green tea and raw tiramisu served in a masu box traditionally used to serve sake. The carry out booth added in October of this year also offers bubble tea. Try and kick your tea up a notch with kinako (roasted soybean flour), hojicha (roasted green tea), and/or mitarashi dango (skewered rice dumplings glazed with sweet soy sauce). It will be an even more tasty experience☆
Take a break from your stroll down Midosuji at this green tea salon with a focused yet versatile menu!
[Location] Midosuji Boulevard (between Hanshin-mae & Namba-Nishiguchi intersections)
[Access] All stations between Umeda Station and Namba Station on Midosuji Line
[Hours] November 4 (Mon) through December 31 (Tue) ※Time: Around 5pm-11pm
Spots Introduced
[Access] About 2 mins walk from Exit 11 at Yodoyabashi Station.
About 7 mins walk from Exit 5 at Kitahama Station.
[Hours] 11am-11pm (Last Order at 10pm); Open until 9pm (Last Order at 8pm) on Sundays and Holidays

Recommended Plans
Robert is a travel photographer who posts Osaka photos on Osaka Metro NiNE's …
2020.09.04
Kakigori, a bowl of shaved ice served with sweet syrup and other toppings, is a summertime …
2020.07.17
Osaka is an exciting city, always bustling and filled with energy.For now, …
2020.05.22