SPECIAL
Now! Osaka
Fall Foliage in Osaka
– Midosuji's Golden Gingko Trees –
2022.10.28
The air feels chilly in the morning and at night. Fall has arrived. That means it's the best time to enjoy the beautiful fall foliage in Osaka!
I imagine you know about the benefits of nature and how it can promote your well-being. Have you had an experience where you felt more relaxed just by looking at fall colors?
Seeing the autumn leaves activates your brain's frontal cortex and increases the level of serotonin, thereby effectively easing stress. In these uncertain times of novel coronavirus, enjoying the colorful fall foliage is a good way to help lift our spirits.
Midosuji's Golden Gingko Trees
The Japanese term Momijigari is about enjoying autumn leaves. For a nice momijigari outing, some might think of an excursion into the mountains, but you can also find nice spots closer to the city. Around Osaka, Daisen Park in Sakai City (south of Osaka City) and Katsuo-ji Temple and Mino Park in Mino City (north of Osaka City) are well-known spots for fall foliage. Within the City of Osaka, though, you need to go no further than the city center to enjoy the beautiful autumn leaves.
On both sides of Midosuji Boulevard that runs north-south in central Osaka, the leaves of gingko trees change from green to bright shades of yellow all at once in late November, creating a spectacular golden promenade. This summer, Osaka experienced an unusually hot summer with temperatures exceeding 35 degrees Celsius almost daily. That helped enhance the foliage this year because the temperature and the amount of exposure to sunlight can make a difference in a tree's colors—more exposure to sunlight during a hot summer means more photosynthesis and more absorption of colorful sunlight that gives leaves the bright colors revealed in the fall. After a summer of long hot days, we should have pariticularly brilliant golden colors on those gingko trees this year!
A Stroll Between Metro Stations
You will see those golden gingko trees as you come out of the staircases at Osaka Metro's Yodoyabashi, Hommachi, or Shinsaibashi Stations. The 4km of the boulevard lined with colorful gingko trees is a great spot for a stroll between stations.
Take advantage of the next beautiful fall day—I recommend a stroll in the afternoon, between lunch and sunset. The colors of the trees change depending on the angle of the sunlight hitting the leaves. The peak time to view those radiant leaves is right about one o'clock when they have a southern exposure. You might even be able to snap an epic photo of the leaves then. Just make sure you face your back to the south when taking photos!
I went on a day with a clear sky. The juxtaposition of yellow gingko leaves and the cobalt blue sky was an extraordinary sight.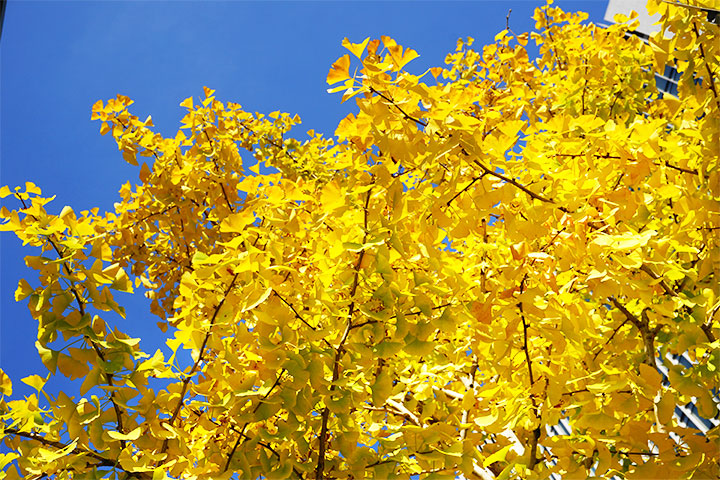 Since this is Midosuji, the main street of Osaka, you can also enjoy a break while enjoying the colorful display of nature at a spot of your choice—top name brand shops, retro buildings, chic cafes, you name it.
Scattered along the gingko trees on Midosuji's sidewalks are 29 sculptures. Those simple bronze sculptures are all original works of top local and international artists. Check the plaques and you will find the names of internationally well-known sculptors like Auguste Rodin and Kotaro Takamura. These sculptures were solicited from local businesses—many that are located on/around Midosuji—as part of Osaka City's efforts to make Osaka attractive.
So expressive and real, I almost talked to the dancer!
Artist: Venanzo Crocetti
Location: Immediately south of Yodoyabashi Station Exit No. 3
Found a sculpture designed by Rodin, famous for "The Thinker"
Artist: Auguste Rodin
Location: At northwest corner of the Hiranomachi 3 crossing; 2 blocks south of Yodoyabashi Station Exit No. 13
Dancing to a rhythm!
Artist: Takashi Shimizu
Location: Immediately south of Yodoyabashi Station Exit No. 2
You can enjoy world's top-notch arts while taking in the fall colors—isn't Osaka grand?
Protecting the City's Beauty Together
The beauty of Midosuji's gingko trees have earned a well-deserved recognition in various areas. It was designated as Osaka City's Designated Cultural Property in 2000 and was selected as one of Yomiuri Shimbun's Street Tree 100 New Scenery of Japan. When Typhoon Jebi hit Osaka in 2018, however, these trees suffered a significant damage. What's encouraging coming out of a disaster like that was that, after the incident in 2018, some companies made donations to help with the recovery of these trees. One company in the City even stocked up on gingko trees as a backup so they can be used to quickly repair or replace damaged trees in case another devastation happens.
Everyone is eager to protect and improve the City here in Osaka.
Ready to go check out Osaka's famous Midosuji? You might also consider going after dark. During the Midosuji Illumination event that begins in November, gingko trees are lit up in different areas at night and are marvelous. Go around 5pm and you can experience the magical moment when the lights turn on.
Make sure to go out there and enjoy the beauty of Osaka this season!
*All images are from last year
Traversing the city north to south, Midosuji is the most famous street in …
2019.11.06
[Location] Midosuji Boulevard (between Hanshin-mae & Namba-Nishiguchi intersections)
[Access] All stations between Umeda Station and Namba Station on Midosuji Line
[Hours] November 3 (Holiday) through December 31 (Fri) ※Time: Around 5pm-11pm ※12/31 (Sat) only until 25:00
Spots Introduced
[Access] A short walk from Yodoyabashi, Hommachi, or Shinsaibashi Stations.

Recommended Plans
Early summer brings fresh green leaves and colorful flowers to the city. The …
2023.05.26
Namaste! I'm Manju from Nepal.I've been living in Osaka for 3 years. Despite the common …
2023.05.02
Last February, Osaka welcomed the long-awaited Nakanoshima Museum of Art, Osaka to its vibrant …
2023.04.21