SPECIAL
Discover OSAKA
"Along the Osaka Metro Lines" Series:
The Cho Line (East)
2020.06.19
In the last issue of the series featuring Osaka Metro's nine lines and the famous spots around them, we introduced the western part of the Chuo Line. In this issue, we're going to go east on the Chuo Line and explore stations between Sakaisuji-Hommachi and Nagata Stations.
While the Chuo Line is all green, you sometimes come across orange colored Kintetsu Railway trains around here as the Kintetsu line connects with the Chuo Line at its terminus Nagata Station and operates on Chuo Line tracks sometimes.
Experience Osaka's History & Culture
The stop after Hommachi Station is Sakaisuji-Hommachi, also known as Semba-higashi (Semba East), located in the eastern side of Semba as the second name indicates. This station is technically located in Hommachi as well, but it was named "Sakaisuji-Hommachi" because the name "Hommachi" was already taken by the time this station opened and Sakaisuji Avenue runs through the Hommachi area right here.
Near the station is Osaka Urban Industry Promotion Center that provides support services for small businesses and entrepreneurs. The Osaka Entrepreneurial Museum of Challenge and Innovation in the basement of the center highlights the works of famous Osaka-based entrepreneurs including Momofuku Ando, the founder of Nissin Food Products Co., Ltds. and the inventor of instant noodles, as well as Kōnosuke Matsushita, the founder of Panasonic, a global consumer electronics company.
Next stop over is Tanimachi 4-chome Station, a quiet station that connects with the Tanimachi Line. The capital of Japan was once located right here albeit very briefly in the 7th and 8th centuries. Go above ground via a long passage and you will see the evidence of the history as the Remains of Naniwa-no-Miya Palace unfolds in front of you.
The Osaka Museum of History proudly stands tall across the street, commanding a great view of the Osaka Castle and the Remains of Naniwa-no-Miya Palace from inside this ten-story building. Next to the museum is NHK Osaka Broadcasting Center where you can sometimes see public broadcast live on the first floor and experience the newest broadcasting technology in the exhibit halls.
Hoenzaka warehouse, built around the 5th century, also sits onsite right in front of the museum, and the expansive museum property surrounding it is an urban oasis that's great for a casual stroll.
A Shopping Mall with a Running Track
At Morinomiya Station, one of the stations nearest to Osaka Castle Park, you can transfer to Osaka Metro's Nagahori Tsurumi-ryokuchi Line and the JR Osaka Loop Line. Connecting directly to the station is Morinomiya Q's MALL BASE, Japan's first shopping mall with a 400m running track on its rooftop.
Next at Midoribashi Station, the Chuo Line connects with the Imazatosuji Line, Osaka Metro's newest line. Shirayama Jinja Shrine nearby is home to an Osaka Prefecture Natural Monument, a gingko tree that is over 400 years old. Next stop Fukaebashi is the last station within the city limits of Osaka City, and Takaida Station and on are located in Higashi-Osaka City. At Takaida Station, you can transfer via JR's Takaida-Chuo Station to JR's Osaka Higashi Line that connects Shin-Osaka and Kyuhoji.
An interesting fact: There exists another, completely different Takaida Station in Osaka Prefecture. It's a JR station in Kashiwara City.
Takaida-kei Ramen
Perhaps you've heard of Takaida, especially if you are a ramen lover; the name "Takaida" is known for Takaida-kei (Takaida style) ramen noodles! This style of ramen was named after Osaka City Bus's Takaida stop around which many shops serve soy flavored ramen with thick, straight noodles in chicken bone and kelp-based broth. Technically, it is not considered a local dish despite its name, but Takaida-kei ramen is famous among ramen connoisseurs and definitely worth a try. Note ramen is more often called "chuka soba" (literally "Chinese noodles") in this area.
A Night View Heritage of Japan
Last stop is Nagata Station. Hanshin Expressway Route 13 Higashi-Osaka Line intersects with Kinki Expressway at Higashi-Osaka Junction nearby. The beauty of this junction's curved structure is well-known and the night view here is also popular—indeed, the surreal night view here is designated a Night View Heritage of Japan. Visit the observation lobby on the 22nd floor of Higashi-Osaka City Hall and you will see the colors that resemble outer space. This observatory offers a great view of the city including the landmark Abeno Harukas and, on a clear day, extending as far out as Awaji Island in the Seto Inland Sea. The observatory lobby is open until 11pm.
Osaka Metro's Chuo Line ends at Nagata Station, but Kintetsu's Keihanna Line originates here and operates through Ikoma Station to Gakken-Nara-Tomigaoka Station, making it a convenient way to reach Nara.
Connecting eastern and western Osaka, the Chuo Line has a lot of interesting spots around it and is convenient for accessing all Metro lines in Osaka. Take the Chuo Line and explore the city and beyond!
"Along the Osaka Metro Lines"Series Issue 2: The Chuo Line, Part I (West) Here
https://metronine.osaka/article_tour/article-osakafinder-chuoline-west/
Recommended Plans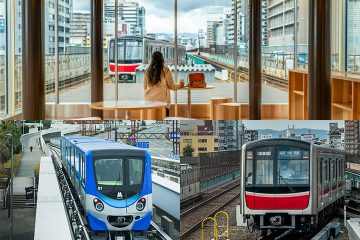 The colorful train cars of Osaka Metro attract railway enthusiasts and others to take …
2021.07.16
Welcome to Along the Osaka Metro Lines series which showcases the characteristics and …
2021.05.14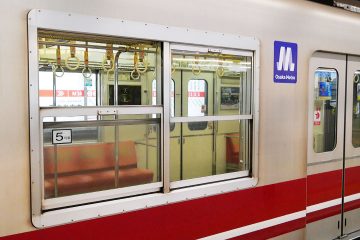 Osaka Metro has implemented a number of measures to provide safe and comfortable services to …
2021.04.30