SPECIAL
Discover OSAKA
"Along the Osaka Metro Lines"
Series Issue 2: The Chuo Line, Part I (West)
2020.06.12
Here's the issue two of the series that introduces the characteristics and charms of Osaka Metro's nine lines as well as the interesting neighborhoods around them☆
Chuo Line (literally "center line") that intersects with all of Osaka's other subway lines takes its name after Chuo-odori, Osaka's main east-west thoroughfare, under which it runs. The line color green represents the greenery of Osaka Castle Park.
In this issue, we will introduce the western part (Hommachi Station – Cosmosquare Station) of the Chuo Line that stretches some 17.9km.
Views from Subway Windows
The top feature of the western Chuo Line is no doubt that you can enjoy the view from the window; the line operates on an elevated track between Awaza Station and Osakako Station, a rare case for Osaka Metro. This section was elevated in consideration for possible tsunami and flooding because Chuo Line runs through the flat Bay Area. As the train approaches the Osaka Bay after passing under the Hanshin Expressway, the sea appears in your view and you can enjoy the scenery of a port town.
Who'd have thought you can enjoy the view of the sea from a subway?!
Semba: A Textile Town
Let's start at Hommachi Station. Intersecting with the Midosuji Line and the Yotsubashi Line, a heavy foot traffic is constant at Hommachi Station. You'd have to walk a distance to transfer here—longer than what's typically expected—but all you need to do is follow the signages you will see everywhere, and you will find the right platform. Interestingly, this station has a second name—Semba-nishi (Semba West)—as seen in the station signage. For those of you wondering, Sakaisuji-Hommachi Station is Semba-higashi (Semba East.)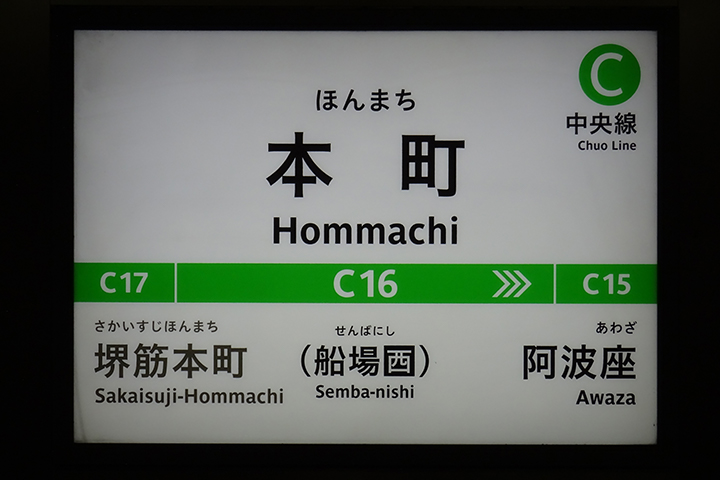 There once was a pier in Semba (literally "ship place,") the area where the station is located. Since the era of Toyotomi Hideyoshi who built the Osaka Castle in late 16th century, Semba area developed as a castle town and was the center of Osaka's economy. After the war (WWII), textile wholesalers began to move in and Semba is now known as a "textile town." Above the Hommachi station is Semba Center Building. The exterior of the building blends in with the elevated expressway above and doesn't stand out but it is a massive wholesale district. Joined by some retail shops and restaurants in recent years, people enjoy shopping here for goods offered at wholesale pricing.
Awaza Station is one stop over to the west of Hommachi Station. While Hommachi is a business area filled with people in suits, the atmosphere is drastically different in this residential area just one stop away. The spacious Utsubo Park and recent construction of residential high rises one after another make this neighborhood attractive to families. "Awaza Junction," a popular spot for a night view, is located near here too.
Thriving Osakan Life
Continuing westward, the next stop is Kujo Station. In contrast to the fresh vibe of the area surrounding Awaza Station, Kujo is an older neighborhood with a quaint old-world shotengai shopping street. Lined with about 150 shops, both new and old, Kirara Kujo Shopping Street remains an integral part of the lives of local residents.
With Kyocera Dome Osaka—home of the ORIX Buffaloes—nearby, opportunities to mingle with pro baseball players and game-day special deals are offered here. Kujo is also convenient for traveling to Kobe and Nara, as Osaka Metro connects with Hanshin Electric Railway's Hanshin namba line here.
We're getting close to the sea. After Kujo Station is Bentencho Station, the gateway to Osaka Chikko area. Osaka Metro connects with JR Osaka Loop Line here, providing an easy access to Umeda therefore making Bentencho a popular transit hub. The area is built up with residential high rises, hotels, and even onsens.
Explore the Wonders of 16th Century Japan At a Hot Spring in Osaka's Bentencho Part I
/article_tour/200117-bentencho-solaniwa/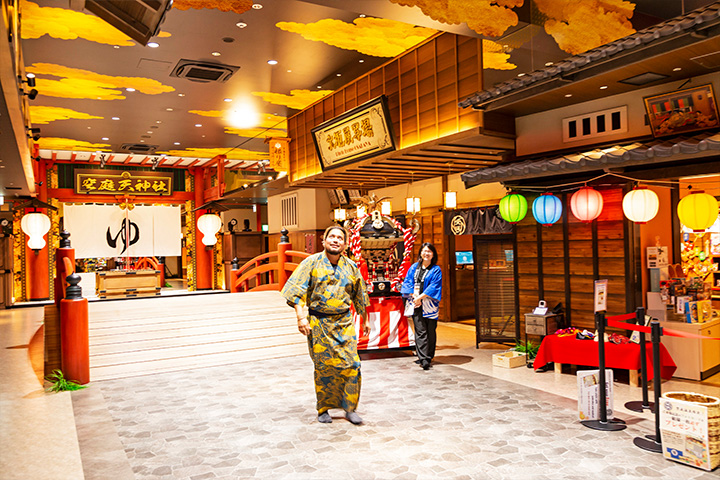 One stop over, in front of Asashiobashi Station located in a residential area is Yahataya Park comprised of multiple sports facilities including the Maruzen Intec Arena Osaka (Osaka Municipal Central Gymnasium). It has been a host to international events such as International Women's Wheelchair Basketball Friendship Games OSAKA CUP. Its pool turns into an ice-skating rink during winter and ice-skating lessons are offered. Maybe it'll be home to future figure skaters someday?!
Great Instagram Spots
We now arrive at Osakako Station, famous for the nearby Osaka Aquarium Kaiyukan. The station is named after Osakako (Osaka Port,) the first port to open in Osaka. In addition to Osaka Aquarium Kaiyukan and Tempozan Giant Ferris Wheel, the Red Brick Warehouse and the Osaka Culturarium at Tempozan—all great Instagram spots—are located here. The vertical station sign shows the station's second name, Tempozan in parenthesis.
By the way, Tempozan (literally "Mt. Tempo") Park houses Mt. Tempo, the second smallest mountain in Japan at the height of 4.5 meters!!
A Treasure Box Full of Vintage Cars☆
Travel Back in Time at GLION MUSEUM in Osaka Bay Area
/article_tour/20191011-glion-museum/
The Must-See Kaiyukan Aquarium, and then some!
Using Osaka Kaiyu Ticket for an Exquisite Sightseeing in Osaka☆
/article_tour/190815-kaiyu-ticket-2/#c11_osakako01
Cosmosquare terminus was selected as one of the 100 best stations of Kinki region. The station name—written in all katakana—is rare and a bit near-futuristic, I think. As a terminus, station signs indicate "No Trains" (meaning "arrival only") at this station, but I hear there's a plan to extend the line to Yumeshima, the host to EXPO 2025 OSAKA, KANSAI, JAPAN. Look forward to finding out where it will take us!
That's it for the western part of the Chuo Line, a subway with a view that lets you enjoy Osakan history and local life in shitamachi. Be on the lookout for Part II where I'll talk about the eastern part of the Chuo Line.
"Along the Osaka Metro Lines" Series: The Cho Line (East)Here
https://metronine.osaka/article_tour/article-osakafinder-chuoline-east/
Recommended Plans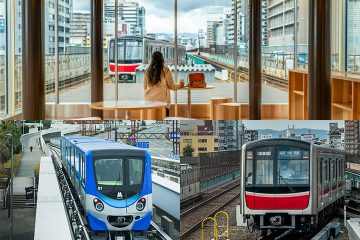 The colorful train cars of Osaka Metro attract railway enthusiasts and others to take …
2021.07.16
Welcome to Along the Osaka Metro Lines series which showcases the characteristics and …
2021.05.14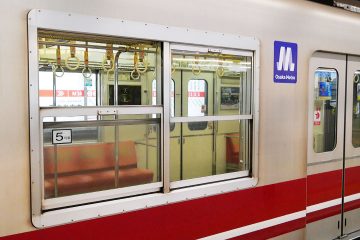 Osaka Metro has implemented a number of measures to provide safe and comfortable services to …
2021.04.30