SPECIAL
Discover OSAKA
Cool Spots, Cool Photos,
With Osaka Metro☆
2020.05.22
Osaka is an exciting city, always bustling and filled with energy.
For now, though, the city remains quiet and still, and I miss walking around the vibrant Dotonbori buzzing with noise.
While we wait for the day Osaka is filled with people and laughter again, I want to show you cool spots around the city where you can take rare photos of Osaka!
Let's explore Osaka at home♪
Am I in An Alternate World?
I See TWO Tsutenkaku Towers!!
Tsutenkaku Tower is the landmark of Shinsekai, a bustling shitamachi area in Osaka.
About 4-minute walk from Osaka Metro's Ebisucho Station, this popular spot is filled with flashy neon signs that make it distinctively Osakan.
There's only one Tsutenkaku Tower there, but did you know there's a place where you see two of them??
Twin Tsutenaku Towers? Impossible, you'd think…
Go to Spa World, a large hot spring theme park near Tsutenkaku Tower, and the great mystery will be solved☆
See? I wasn't kidding!
Actually, the tower on the left is a mirror image of the real tower reflected on the wall of Spa World.
You must be wondering where this special spot where you can see such an amazing view is. This photo was taken on Spa World's north staircase located near Midosuji and Sakaisuji Lines' Dobutsuen-mae Station, 3 to 6 steps down from the top of the staircase. Place the camera right on the wall, and you can snap a photo of the double towers.
It looks even cooler at night when the tower is lit up♡
It's like you've wandered into an alternate world where two Tsutenkaku towers exist♪

Actually Tsutenkaku towers was lit up in green this time, as Osaka prefecture cleared the criteria of the COVID-19 alert called the "Osaka Model".
We hope good day like this would continue. (as of May 22, 2020).
Go BIG with Sushi
Everyone knows the Glico Man and the giant blow fish signs in Osaka, but do you know the massive piece of nigiri sushi sticking out of a building?!
Genrokuzushi is located in the Dotonbori Shopping Street near Namba Station.
Looking up to the giant Sushi above the shop front, you can almost hear the crisp shout of the sushi chefs inside.
Agh, if only I could have a giant piece of sushi like that in front of me…
A Fun fact: Genrokuzushi is the founder of kaiten zushi (known as sushi train or sushi on a conveyor belt).
You can go inside and try this fun way to eat sushi after admiring the sign outside♪
An Expressway Goes Through A Building?
No Way!
Here's another intriguing sight—an expressway going through a building.
I know it's hard to imagine a building with a street, let alone a highway, but it's true.
You can find this rare sight in Umeda!
Gate Tower Building is the site of this rare phenomena, some 10-minute walk toward Fukushima from Umeda Station.
Looking up the building, you definitely see the Hanshin Expressway going into the building!
An Osakan would humor a sight like this by saying "nandeyanen" (no way! What's up with that!)☆
Apparently, this was the solution they came up with after a series of discussion when someone decided to construct a building on the future site of Hanshin Expressway that connects Kyoto, Osaka, and Kobe.
Pro Tip: You can clearly capture how the expressway runs through the building from the Floating Sky Garden Observatory at the stop of Umeda Sky Building where you can see the whole of Osaka♪
Terrifying Hell in a Holy Temple
Senkoji Tempe is located near Tanimachi Line's Hirano Station.
This temple is said to be founded when Shotoku Taishi (Prince Shotoku), a famous regent who served Empress Suiko during Asuka period (538-710) and whose image appeared on Japanese banknotes over the years, placed a statue of the medicine buddha Yakushi Nyorai there some 1,400 years ago.
This historic, distinguished temple is a bit unique. Ogres from hell await you here!
The dark gloomy entrance of the Hall of Hell can be found on the temple grounds.
A warning: I suggest you don't go in there alone.
Once you gather up your courage (and purchase an admissions ticket) and step into the Hall of Hell, you're greeted by Emma-o—the lord of hell—looming over you, surrounded by a bunch of large ogres with scary faces.
Hearing the sounds and screams of hell and seeing the horrifying images of punishments for earthly sins, you can certainly get a taste of hell here.
Indeed, it's actually a pretty terrifying experience for adults. It'd definitely make kids cry. They might even be scarred for life.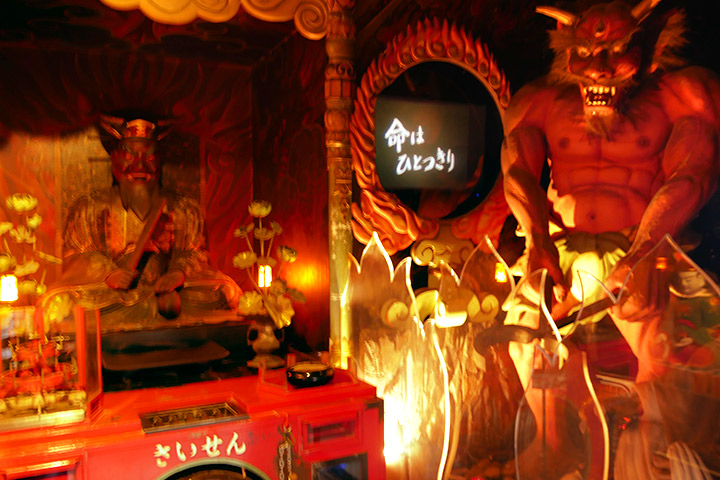 It reminded me of my childhood when I, like many kids in Japan, was told by grown-ups how Emma-o would pull my tongue out if I lie.
Believe it or not, this Hall of Hell was not built just to scare people. It was built with a serious mission—to teach the importance of life, that you live only one life and you should cherish it. After you sweat your life away in hell and learn a valuable lesson about life, go to the other side of the temple and feel better in Heaven where compassionate Buddhas gently smile over you♪
Osaka is full of rare, interesting spots like the ones I talked about♪
Check them out when coronavirus subsides!
Recommended Plans
Early summer brings fresh green leaves and colorful flowers to the city. The …
2023.05.26
Namaste! I'm Manju from Nepal.I've been living in Osaka for 3 years. Despite the common …
2023.05.02
Hi! I'm Andy. I'm from the U.S.A. I'm fascinated with the wonders of Japanese temples and …
2023.04.28