SPECIAL
Discover OSAKA
Get to Know the Trains of Osaka!
2019.07.03
The many railways of Osaka—Osaka Metro, JR, Hankyu, Hanshin, Keihan, Kintstsu, Nankai—can overwhelm a newcomer.
No worries. Here's your introduction to the railways of Osaka!
Many Railways of Osaka
Look at how many train lines run in Osaka!
So many!
What are all these railways…?
First of all, the Japan Railways Group (JR Group), formerly known as Kokutetsu (Japanese National Railways) until 1987, operates throughout Japan. The JR Group includes JR Hokkaido, JR East, JR Central, JR West, JR Shikoku and JR Kyushu. Familiar examples of JR trains in Osaka include the Osaka Loop Line and the Shinkansen among others.
In addition, private companies operate railways in Japan. These private railways are called Shitetsu and, in the Kansai region, include Hankyu Railway, Hanshin Electric Railway, Keihan Railway, Kintetsu Railway, and Nankai Electric Railway. In fact, some people refer to the Kansai region as the Shitetsu kingdom because so many private railways exist.
Finally, there is Osaka Metro, another large railway company in Osaka.
Osaka Metro was formerly known as Osaka Municipal Subway and was operated by the city of Osaka. It was officially born when the company went through privatization in 2018. Osaka Metro operates 9 lines, centered around the north-south Midosuji Line that runs through the middle of the city.
What Makes A Train A Subway?
Trains that run underground are considered subways. Well, JR and Keihan operate their lines partially underground, too. Are they subways then?? That's a good question!
No matter what you think the answer is, "subway" in Osaka means Osaka Metro!
There may be clear-cut reasons for this, but I think it's because it'd be just plain con-fusing if you called JR and Keihan a subway!
Keihan Nakanoshima Line and JR Tozai Line both partially run underground.
Now, if you know Osaka well, you might also be wondering…
"Osaka Metro runs above ground in parts, too…??"
Like this one…
You're correct.
Let's take the Chuo Line as an example. If you've visited the Osaka Aquarium Kaiyu-kan or ride the Ferris wheel in the Tempozan Harbor Village, you might have seen the Chuo Line run above ground. But, to Osaka people, the Chuo Line is and will always be subway, simply because most of the line runs underground!
So, let me say this again.
Osaka Metro is the only subway in Osaka!
A Wide Variety of Trains
Finally, here's a quick introduction of each railway. (This is completely my personal opinion.)
JR West
JR West is the largest railway in Japan. The Osaka Loop Line appears to only run around the city but, pay attention, some of the Loop trains actually take you to Nara or the Kansai International Airport!
Hankyu Railway
A tradition of Hankyu, the maroon color used for its fleet of train cars is very elegant. Hankyu Umeda station is a giant terminal where the Kyoto Line, the Takarazuka Line, and the Kobe Line all originate. With its 10 platforms lined up, it is quite a spectacle when all trains pull in!
Hanshin Electric Railway
Just like Hankyu, Hanshin extends its line to Kobe. But Hanshin is the only railway that can take you to the Hanshin Koshien Stadium, home of the popular Hanshin Tigers!
Keihan Railway
Keihan connects Osaka and Kyoto.
With its double-decker cars and the Premium Car equipped with reclining seats, their commitment to its train cars is incredible.
Kintetsu Railway
Extending across Osaka, Kyoto, Nara, Mie, and Aichi prefectures, Kintetsu Railway boasts the longest route coverage amongst private railways in Japan. Many people utilize Kintetsu to access Nagoya and Ise, popular spots for travelers. Kintetsu also connects directly to Hanshin at the Osaka Namba Station*.
*Namba has multiple stations grouped together serving multiple railway lines. The Osaka-Namba Station is one such station that serves Kintetsu and Hanshin.
Nankai Electric Railway
Limited Express rapi:t that connects Namba and the Kansai International Airport looks like an iron mask! Nankai also provides an easy access to Koyasan (Mt. Koya).
Osaka Metro
Osaka Metro runs throughout the center of Osaka, passing through Umeda, Hommachi, Namba, Nippombashi, Matsuyamachi, and Tennoji. This is the only train that connects the two major entertainment districts of Osaka, known as Kita (means north; refers to Umeda/Osaka area) and Minami (means south; refers to Namba/Shinsaibashi area).
Enjoy your visit to Osaka. Remember the trains can take you everywhere in and around the city!
Recommended Plans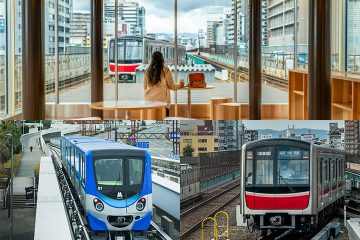 The colorful train cars of Osaka Metro attract railway enthusiasts and others to take …
2021.07.16
Welcome to Along the Osaka Metro Lines series which showcases the characteristics and …
2021.05.14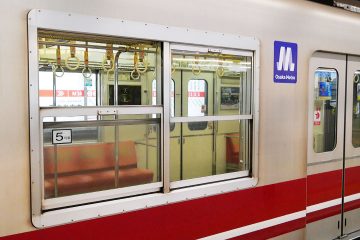 Osaka Metro has implemented a number of measures to provide safe and comfortable services to …
2021.04.30