Drive-in Haunted House in YOLO BASE –
The Most Terrifying Experience in Osaka
2021.04.02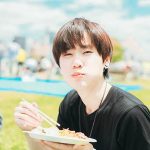 Written by: いっくん(Lee)
● A Haunted House in Osaka's Shinsekai
As it gets warmer outside, I just want to get out and do something. I've been staying home for months because of Covid. Luckily, just the other day, I came across something interesting online—a car covered in blood in total darkness… So spooky, I just had to see this haunted house! I just wanted to experience something unreal. I was sure it'd be fun.
Conveniently, while it's a "drive-in," you don't need a driver's license or your own car. And the admission to the haunted house is per vehicle—not per person—so going alone didn't make sense.
I called my friend, Yun, who's also from my country.
Lee "Let's go to a haunted house, Yun! You like cars, don't you?"
Yun "Hey, Lee! Yeah, I like cars. But I don't like ghosts."
Lee "That's okay. It's all socially distanced and it's at a nice hotel."
I talked Yun into it and made a reservation online. They are open Friday through Sunday every week, but many slots were taken already. It must be popular. I booked us for a 9pm slot on a Friday—in honor of the movie "Friday the 13th."
Let's go to the haunted house!!!!
* There is a part where the mask is temporarily removed for shooting.
● Horror at an Art Hotel
The Drive-in Haunted House is at YOLO BASE in Shin-Imamiya.
I'd heard of YOLO BASE. It's an employment training facility for foreign residents. They provide Japanese language training, cross-cultural experience including an English camp for Japanese students who want to but can't study abroad right now, and various support programs for employment and overall life in Japan.
I met Yun at Osaka Metro's Dobutsuen-mae Station at 7pm. Yun had his usual gentle smile on his face despite we were on our way to see spooky ghosts. After about a 7-minute walk, we easily spotted YOLO BASE's orange neon. They have a large parking lot, too.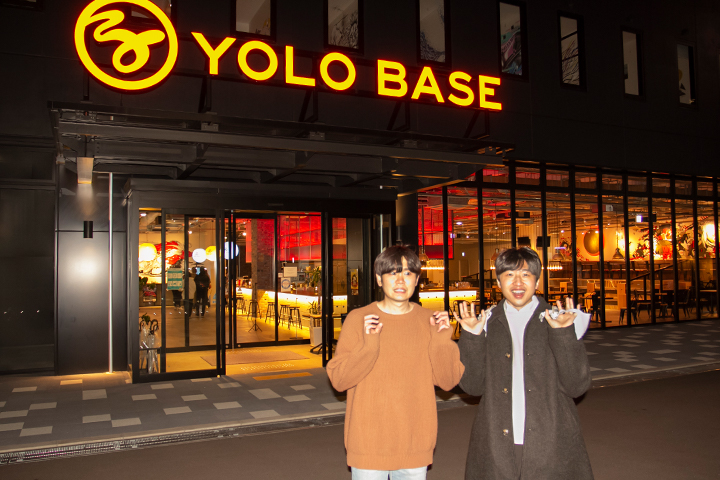 The poster at the entrance gave a glimpse of what we were about to experience.
Yun "The haunted house is at a hotel?? This poster is pretty creepy!"
Lee "Don't worry about it. It's just a picture…"
We were early but went ahead and checked in at the front desk. We even snapped a photo with the staff at the front desk.
The ticket was spooky, too! I was excited.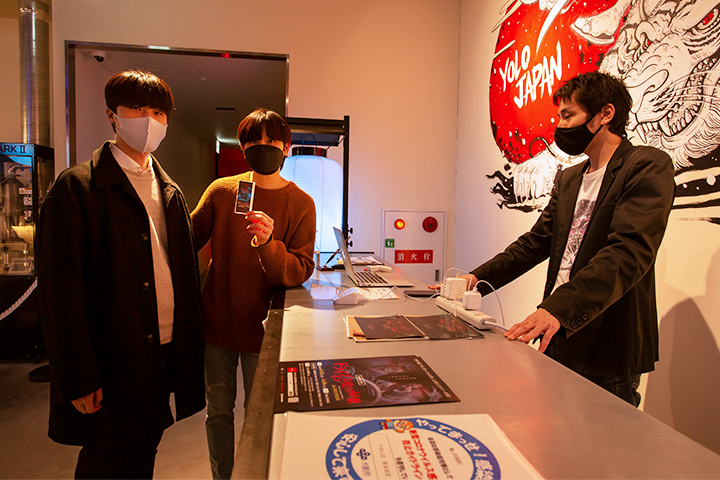 ● "Heart of the Dead" for Appetizer
We sat down while we waited—it's good to relax a little before a frightening experience, you know. It was a nice, comfortable space—very artistic and roomy, equipped with Wi-Fi. I give it extra points because it was great for Instagram!
If you get here a little earlier in the evening—before 8pm—you can even dine in at their stylish restaurant.
We found "Heart of the Dead" on the menu. It looked gross but we had to try it!
Heart of the Dead is actually warabimochi—wagashi traditional Japanese dessert made with warabi bracken starch—an authentic one from Kyo-nishijin Kasho Souzen, a famous wagashi shop in Kyoto. I recommend you eat it before the horror—you know, give yourself extra strength with warabimochi!
● The Terror Begins…
At nine o'clock, staff with a bloody mask waived at us.
After a second look, I realized it wasn't just the mask but her whole outfit was covered in blood!
Lee "Here we go, Yun! Let's do it!"
The woman covered in blood led us and two other groups out of the hotel to the drive-in haunted house. She explained this was our last chance to change our minds and get out of this commitment.
Then it began… Watching the prologue, I couldn't help but hold my breath and started to regret I was there. Yun didn't look too excited anymore, either…
● You Can't Escape from the Dead
Each group gets their own car. We got a blue one. It was very dark, and we really couldn't see well. It was getting tense.
The radio in the car made eerie sounds… It was, simply put, a terrifying 20 minutes. Unfortunately, I can't tell you the details; it wouldn't be fun. You'd just have to go on your own. But I can tell you this: It was, truly, a horror. It was too real—the ghosts, the zombies… We knew we were safe in the car, yet we were recoiled in fear the entire time. And, we screamed. Our scream was guttural—you know how you can't really scream when you're truly scared? It was that.
We couldn't relax until the very end. Yun looked pale blue when we came out. I was emotionally drained.
The quality of this drive-in haunted house was exceptional, with experienced actors who have performed in theatres and at theme parks. It was so real I might see those zombies in my dream later. It was frightening, but it was thrilling and exciting at the same time. I liked it.
The drive-in haunted house in YOLO BASE is a new type of haunted house that makes it easy to enjoy the entertainment in current environment. We never stepped out of the car and were attacked by zombies from outside. You can avoid 3Cs (Closed, Crowded, Close contact,) guaranteed. And the cars are disinfected and sanitized after each use.
The haunted house is so popular. It's been booked fully every day after its opening, forcing them to consider an extension of its schedule. In fact, they just decided to extend it through the end of May!
Literally, "there's no escaping" from the horror at the drive-in haunted house. Do you think you can take it?

* This photo was taken specially. There is no direct contact with the performers.
[Access] About 7 mins walk from Exit 3 at Dobutsuen-mae Station.
About 8 mins walk from Exit 4 at Ebisucho Station.
[Date] March 12, 2021 (Friday) – April 18, 2021 (Sunday) ※Currently extended to the end of May
[Hours] Fridays 6pm – 10pm, Saturdays 3pm – 10pm, Sundays 3pm – 9pm
[Fee] 6,600 yen per car (4 participants maximum per vehicle)
Spots Introduced
[Access] About 7 mins walk from Exit 3 at Dobutsuen-mae Station.
About 8 mins walk from Exit 4 at Ebisucho Station.

Recommended Plans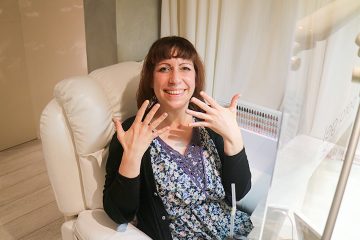 Nail art is truly a creative artwork in Japan. Stunning yet delicate designs and …
2023.09.22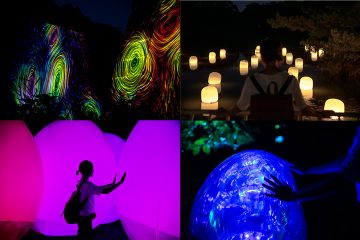 Hello! My name is fuji. I am a writer. Have you been to a botanical garden that is also an art …
2023.09.01
Osaka's nightlife is full of excitement and many enjoy dining at one of many restaurants …
2023.08.18
Ebisucho
Dobutsuen-mae
Dobutsuen-mae