SPECIAL
My First Osaka
My First Maid Café Experience at Maidreamin – Part I
2022.09.02
안녕하세요 (Annyeonghaseyo)! I'm Bask Sang Hun. I'm from South Korea.
I've been a huge fan of Japan ever since the first trip I made to this country. I like the people, food, culture…just about everything in Japan. So, I've moved here about 5 years ago.
Maid cafés sound interesting but are mysterious, and I'd never visited one. But today, I am going to visit Maidreamin and demystify the maid café!
Welcome to Maid Café♡

Located in the middle of Osaka's Nipponbashi, Maid Café Maidreamin Osaka Nipponbashi Otaroad Store is a quick 10-minute walk from Nippombashi Station on the Osaka Metro Sennichimae or Sakaisuji Line.
I was a little nervous when I got there but I gathered my courage and pushed the door open…
"Welcome home, Master!"
Two maids cheerfully welcomed me in with open arms. I felt flattered and embarrassed at the same time.
"Master, is this your first time here at Dreamland?"
"Y…yes…"
Seeing my bashfulness, they greeted with a gentle smile and walked me to a table.
Then one of them told me everything about Dreamland.
First and foremost, Maidreamin has its own code to protect Dreamland and to ensure everyone can enjoy their time there. For instance, touching maids is not allowed and taking pictures of other guests is a taboo (it's okay to take pictures of yourself and maids). Asking for maids' phone numbers or other private information is, as expected, a no-no.
Maidreamin also has its own fee system, similar to that of other maid cafés. The entry fee at Maidreamin is 770 yen, and you need to pay this fee every hour of your stay at Dreamland. You're also required to order at least one drink or food item—per person—every hour. The time charge system may not be a norm in other countries, but it's a system used in some establishments in Japan, and it is how it works at Dreamland. Every guest is expected to follow the Code and adhere to their system at Maidreamin.
Having a special code comes with a special way to acknowledge the code, I suppose. When Nana-chan finished explaining Deamland's Code and systems, I received an unusual request from her.
"Master, can you keep to the Code? If you can, please make a circle with your fingers by your cheeks and say, 'OK meow♡'!"
("Oh no! I need to say what?!" I said in my head…)
"One, two, three! OK meow♡"
Before I knew it, I followed her lead and acknowledged the Code in their special way. (lol)
I'm not going to lie—it was embarrassing, but it was all good time, and I was already starting to get into it!
With the meow, I officially entered Dreamland and was issued a Deamland passport!
Next thing I knew, I was surrounded by all the maids and had become the target of their adoration.
"Welcome home, Master♡"
How can I describe the feeling. It's definitely felt embarrassed but, at the same time, it was fun. Surrounded by many maids, the air was light and happy. The party had begun. I had become a citizen of Dreamland.
Cute Course Menus at Maidreamin

Now that I'd settled into Dreamland, it was time to get some orders in!
Maidreamin offers various course menus. I'd made it this far and was determined to experience it all the way! That meant I wanted to enjoy not only the food but also the live performance by maids. I chose the course menu they recommended.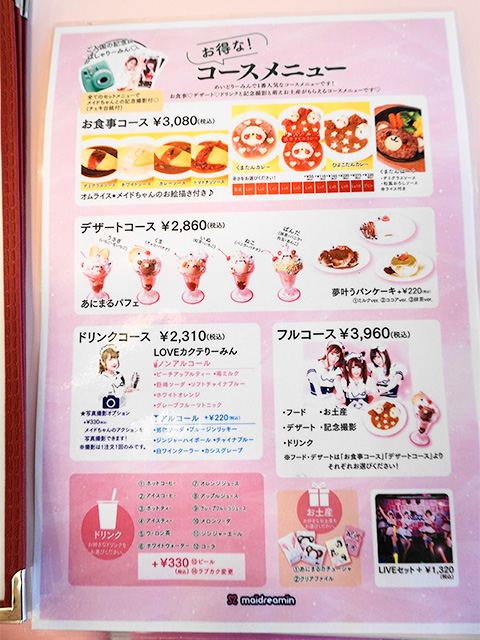 Oshokuji course (3,080 yen) includes an omelette rice—but not just an ordinary omelette rice, maids draw a picture on the omelette rice!—and it comes with mini instant photos with maids as well as a souvenir. I also ordered a cocktail drink for additional 330 yen and what they call a "live set" (1,320 yen), which is a live performance. A special performance for me and only me costs only 1,000+ yen. Not bad at all!
My orders were welcomed by maids, of course. "Happy, Happy Dancing!"
By this time, I was getting used to the way of Dreamland. (lol)
For the souvenir item, I chose bunny ears by the way. First time in my life with bunny ears. What do you think? Do I look good?
I relaxed in my bunny ears and looked around the café. I saw different people, both men and women. Some regulars were there alone, while a group of girlfriends and couples on a date chattered away, all enjoying their time.
Sometimes, masters and ladies stop by to chat with maids on their way home after work, and even families with kids who are celebrity fans also visit the café. They enjoy their time talking with maids and being adored by maids.
All four maids tending to guests looked extremely busy but the smile on their faces were always bright. They were all sensible and thoughtful, and they were there to please the masters and ladies. I was impressed with how dedicated they were.
Tasty Cocktail & Omelette Rice

My order of a "LOVE CocktaiRemin" (it's not a typo, that's the name of the cocktail) arrived!
What a fun way to serve a cocktail!
With a touch of magic, Mei-chan made my refreshingly blue cocktail. And it tasted really good! A legit, professional level cocktail at a maid café—it was luxury.
Then my omelette rice was served. Using ketchup, Mei-chan drew a teddy bear on top of the perfectly golden yellow omelette in no time.
Voila! Look at that cute bear! Good job, Mei-chan! I don't' think I could draw that well, let alone with ketchup!
I didn't want to mess up her artwork by eating my omelette rice.
But it tasted too good.
I didn't think magic was the only secret ingredient they had. Indeed, the omelette rice was made by a "fairy"–a cute female kitchen staff. It was creamy and had a flavor that made me comfortable and happy. I really liked the omelette rice and how it filled me up.
It didn't take too long for me to become captivated by the maid café. And there's much more to it—including sweets and a live performance by maids!
I'll talk about them in the next article. Stay tuned☆
Spots Introduced
[Access] About 5 mins walk from Exit 1-B at Ebisucho Station.
About 10 mins walk from Exit 5 at Nippombashi Station.
[Hours] Mondays - Fridays 11:30am - 11:00pm
Saturdays/Sundays/Holidays 10:30am - 11:00pm
[Closed] Open All Year Round

Recommended Plans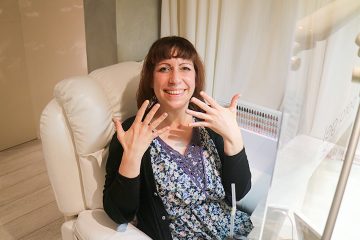 Nail art is truly a creative artwork in Japan. Stunning yet delicate designs and …
2023.09.22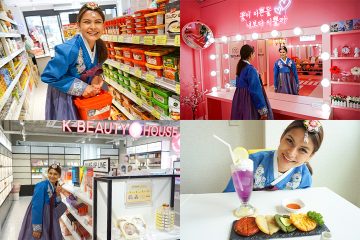 Namaste! I'm Manju from Nepal. I love gourmet food and shopping! I love Osaka's Korea Town in …
2023.08.10
Hi! I'm Bryan. I was born in New York and grew up in Denver. I've been living in Japan for 15 …
2023.08.04