SPECIAL
My First Osaka
My First Maid Café Experience at Maidreamin Part II –
Live Performances & Photo Shoots
2022.09.09
안녕하세요 (Annyeonghaseyo)! I'm Bask Sang Hun from South Korea.
Fascination that began with a trip to Japan led me to move to Japan 5 years ago. It's been quite an adventure since then, seeing and experiencing new things. Today, I'm on a quest to demystify the popular Japanese subculture of maid café!
Following the last article about how maid cafés work, here's my report on a special live performance and mini photo shoots at Café Maidreamin.
Kitty Cat Ice Cream Parfait♡

It's my first visit at a maid café. I started out nervous but time flies when you're having fun with friendly maids. By the time I knew it, one hour had gone by already. Without hesitation, I extended my stay and ordered an ice cream parfait.
Hinachi-chan was the one who brought me a really cute kitty cat parfait.
Together we chanted a magic spell to make my parfait taste good, "Oishiku nare, moe moe kyun💛"
(Moe is a Japanese pop culture term of endearment and affection; Kyun is similar to the expression "butterflies in my stomach".)
Look at this adorable parfait. A scoop of vanilla ice cream had turned into a cute kitty cat! Paws added a charming touch♡
It was actually my first time to eat a parfait. It felt extra special. Itadakimasu!
Yum! It was nice and cool, and delicious!
I did feel a bit guilty eating the cute parfait, though. But I understood the "kyun" part of the spell—the cute parfait made my stomach flutter with happiness.
Live Performance – A VIP Treatment

It was time for the live performance! I was given the best seat in front.
At Maidreamin, each maid has her own repertoire of songs they can perform, and you can request any of the songs as long as it belongs to someone's repertoire.
I requested "Dreamin' Passport" by Pearl chan. I was anxious for the show to begin☆
Pearl chan is a member of QSCS, Maidreamin's star team that consists of four maids who are vigorously selected from Maidreamin's more than 550 maids nationwide. She is a shining star in the monthly QSCS LIVE on Twitter and TikTok, too.
As the newest cast of QSCS, I saw her receive a celebratory plate from a customer earlier. I couldn'ts believe a top star is going to give a special performance just for me!
Lights dropped, and a bright spotlight created a special space for Pearl chan and me. The show began.
Right away, I was taken in by her performance with lively music.
I felt like a VIP. She was dancing on stage, looking at ME. Where else could you experience something like this??
We pointed at each other like this…
And Pearl chan would emit heart shaped beams to me…♡
There's no way I could be this close to the star in other shows!!
Recording the performances at Maidreamin is not allowed, but the song is available on YouTube right here.
A Backstage Experience

The VIP treatment doesn't end when the performance is over. You can talk with the star, like when you have a backstage pass, a special treatment only at a maid café. It was cool I was able to personally tell Pearl chan how much I enjoyed her show.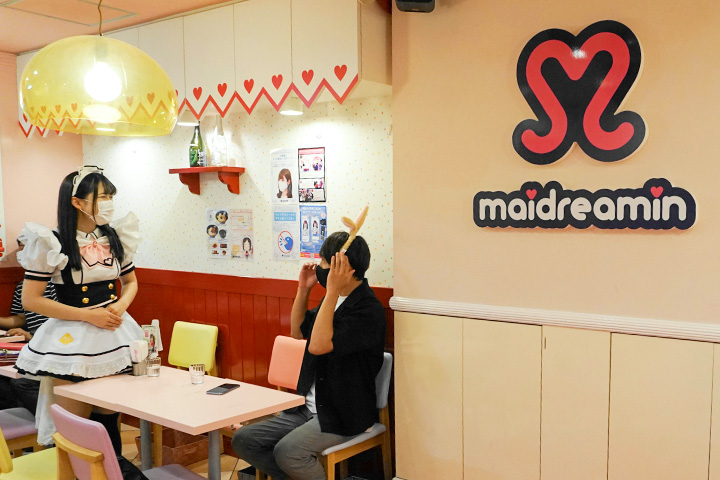 And I got to take a photo with Mei chan, too. "Say cheese!"
This card with a personal message from Mei chan is a nice memento of my time there.
Wearing a mask while serving guest has become the norm during the pandemic, but we got a special permission to take a picture of the maids with masks off.
I hope the pandemic will be over soon, so they won't need to hide their lovely faces under the masks!
From left, that's Hinachi chan, Mei chan, Nanachi chan, and Pearl chan. Each maid has their own persona. I'm sure you'll find someone you click with.
Fun time was over and everyone came to the door to send me off.
At first, I didn't know what to expect of a maid café, but I can honestly say my first experience at a maid café was wonderful.
I was impressed with how all the maids I met were devoted and they all enjoyed their job. They do many performances a day and they give it their best each time. I could feel how they were trying to make it fun and comfortable for their guests.
I think the key to enjoying a maid café is to let the maids lead you and to immerse in the Dreamland they've created.
If you're like me and feel embarrassed to go to a maid café, especially the first time, I understand. But there is no need to worry! These wonderful maids are trained to guide you through the initial awkwardness and let you have a good time.
Some may think maid cafés are a place for men, but I don't think that's true. I think there're many things about Dreamland that women can better understand and enjoy.
I had such a good time and was a little reluctant to leave Dreamland… I will be back, with my passport!
I hope you'll join me and have a time of your life at a maid café when you visit Osaka♪
Spots Introduced
[Access] About 5 mins walk from Exit 1-B at Ebisucho Station.
About 10 mins walk from Exit 5 at Nippombashi Station.
[Hours] Mondays - Fridays 11:30am - 11:00pm
Saturdays/Sundays/Holidays 10:30am - 11:00pm
[Closed] Open All Year Round

Recommended Plans
Hello! I'm Nasu from South Korea. I love Japan and have studied the Japanese language …
2023.11.17
Vegetables are almost always part of a Japanese dish, but the truth is it's not easy to find …
2023.10.06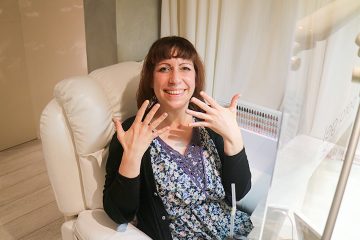 Nail art is truly a creative artwork in Japan. Stunning yet delicate designs and …
2023.09.22