Osaka Castle Illuminage☆
Recreating Osaka's Famous Spots & History
2019.12.06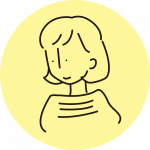 Written by: キタちゃん(Kita chan)
● A New Spot in Osaka Castle Park
With the city of Osaka beautifully lit up with illuminations this winter, you can forget the cold and lose yourself in a dreamy atmosphere. Among many illumination spots, Osaka Castle Illuminage in the Osaka Castle Park is impressive with the prominent Osaka Castle's main keep towering over in the background.
Osaka Castle Park is a top destination in Osaka, with its popular and long-standing Osaka Castle main keep and the 2017 additions of MIRAIZA OSAKA-JO and JO-TERRACE OSAKA. And, right now, Osaka Castle Illuminage is being held in the Nishinomaru Garden—best known for its beautiful cherry blossoms—through March 1. As the lights come on and the Osaka Castle's main keep glows in the dark, the winter illumination at this historical site begins.
● The Magical Moment
All lights in the Nishinomaru Garden are switched on at 5:30pm daily—in December, the sun sets early and it's dark by then. My recommendation is to get there sooner even though that means you'd have to wait a bit because you don't want to miss the magical moment when over 3 million light bulbs light up all at once. Doors open at 5pm.
● This Year's Theme: Taisho Romance
After you walk through the entrance and the arch of light built in the image of taiko-bashi (arched bridge), a bright labyrinth awaits. This is also where you step into the city of Osaka recreated with lights. Tsutenkaku tower, the Tennoji Zoo, Osaka Castle, Osaka City Central Public Hall…even the famous Glico neon sign is there! You are sure to recognize many major sightseeing spots of Osaka, all made of lights! What's interesting is that the sceneries recreated here are of Osaka during the Taisho era (1912-1926), going along with this year's theme Taisho Romance. You can see the history in the retro streetscape that includes people dressed in kimono, horse-drawn coaches, and classic cars. It's an illumination show with a historic twist. Another area is dedicated to the Meiji era (1868-1912) to depict Osaka's history and progress made into the Taisho era.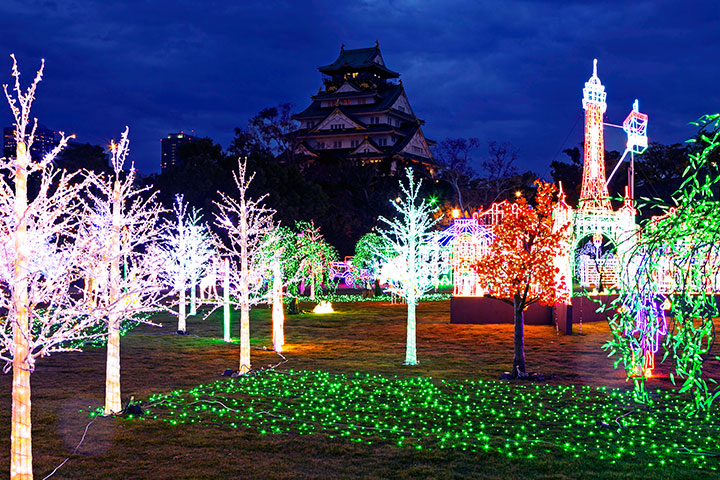 ● Keep Warm at the Romance Diner
Beyond the carpet of light, a giant screen created in the image of a picture scroll showcases the culture and fashion of Taisho period. The Romance Diner food courts serving local specialties will keep you warm.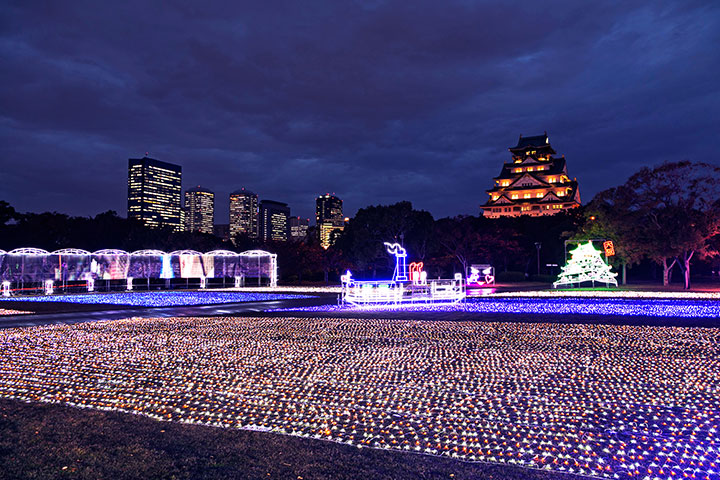 Everywhere you look, every angle you turn to, you will only see beautiful lights. It's a stunning view. Travel back 100 years to the Taisho era Osaka at this glowing world of "Osaka Castle Illuminage"!
[Access] About 10 mins walk from Exit 1-B at Tanimachi 4-chome Station.
About 11 mins walk from Exit 3 at Temmabashi Station.
About 16 mins walk from Morinomiya Station.
[Duration of Event] November 22, 2019 (Fri) through March 1, 2020 (Sun) ※Open daily during the event
[Hours] 5:00pm-10:00pm (Light up 5:30pm-9:30pm)
[Admission] Adults (middle school students and older) 1,500 yen; Children (elementary School students and younger) 800 yen
Spots Introduced
[Access] About 11 mins walk from Exit 1-B at Tanimachi 4-chome Station.
About 12 mins walk from Exit 3 at Temmabashi Station, about 16 mins walk from Exit 2 at Osaka Business Park Station, about 19 mins walk from Exit 3-A at Morinomiya Station.
[Hours] 9:00-17:00 (from November to February until 16:30)
※last entry: 30min before closing
[Closed] Monday (next weekday if holiday), New Year holidays

Recommended Plans
Spring is almost here. Soon, Sakura cherry blossoms—"spiritual beauty"—will be in full bloom …
2023.03.10
The first day of spring came and left, and the sun feels stronger on a sunny day. We still have …
2023.02.17
In Japan, Setsubun is the most famous seasonal festival in February. Setsubun celebrations are …
2023.01.27