One Day of Historic Osaka
With Enjoy Eco Card Train Pass
2022.02.18

Written by: Hamza(Hamza)
● Shitennoji Temple - The First Official Temple of Japan
Merhaba!
I'm Hamza. I was born in Turkey but raised in Osaka until I was 18. I live in Turkey now.
Although I lived in Osaka for many years, there's a lot I don't know about its history.
So, I used Osaka Metro's Enjoy Eco Card to tour Osaka and learn about the history of this wonderful city.
If you're not yet familiar, Enjoy Eco Card is a 1-day train pass that's perfect for a full day of sightseeing in Osaka City. It can be used on all of Osaka Metro lines as well as most of the Osaka City bus system. The cost of the pass for an adult is 820 yen during the week and only 620 yen (310 yen for children) on Saturdays/Sundays/holidays. It also gives you special discounts at various tourist attractions. To make it easy, this convenient pass can be purchased at any of the ticketing machines at Osaka Metro stations.
Get your pass and let's go!
The first stop of our Osaka History Tour is Shitennoji Temple, known as the first official temple of Japan. You can take the Tanimachi Line to Shitennoji-mae Yuhigaoka Station and it's a quick 5-minute walk to the Stone Divine gate on the west side of the temple. This torii gate happens to be the oldest stone torii that currently exists in Japan.
A five-story pagoda rises into the sky. What a sight. The temple grounds are large and the vast sky above feels great.
You need to pay an admission fee to visit the Central Temple (中心伽藍), the Honbo Garden (本坊庭園), and the Treasury (宝物館), but Enjoy Eco Card will get you a very nice discount. At the Central Temple and the Honbo Garden, adults can get 100 yen off of the 300 yen admission and at the Treasury, adults pay only 200 yen instead of 500 yen. That's a total of 500 yen discount for the three must see sights of Shittennoji! It's a nice deal.
More than 1,400 years ago, Shittenoji was founded by Prince Shotoku, a historical figure every Japanese knows, who also used to be on the 10,000 yen bill. While many Buddhists come to this temple, it is also one of the top historical spots in Osaka, attracting other visitors. I'd love to show you the solemn and beautiful buddhas from Shitennnoji's Golden Pavilion (金堂) and Lecture Hall (講堂), but no photos are allowed here so you'd have to come see them yourself.
I happened upon a service called Shari-dashi (舎利出し) at the Golden Pavillion. Shari-dashi is a ceremony to pray for Buddha's guidance. At 11 am every morning, monks at Shitennoji chant a sutra and worshippers are blessed with "O-Shari" (Śarīra, Buddhist relics).
The ceremony was solemn and somewhat mysterious.
Shittenoji Temple is full of interesting things to see.
Here's the Niōmon (仁王門), the Deva Gate. The two masculine warrior statues are very cool.
I was hungry after walking around the temple in the cold. Luckily, Shitennoji Hayauchi sits just steps outside of the Deva Gate, aka Chūmon (中門; literally "middle gate"). This little soba noodle shop has a nice, relaxing atmosphere. A cup of hot soba tea was served as soon as I sat down and melted my almost frozen body. Then I ordered my favorite, Tempura Soba, hot soba noodle soup served with shrimp and vegetable tempura. First, I had one of the crispy tempuras just with a little salt. Shrimp was springy and delicious!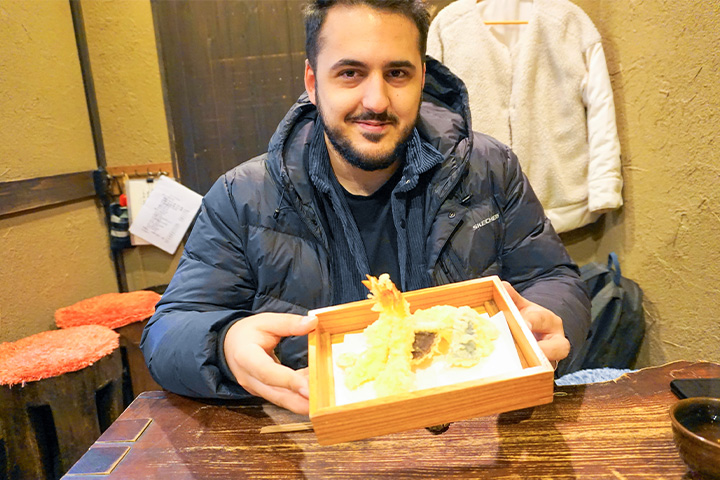 Delicate soba noodles were aromatic and dashi broth was gentle on my cold body.
It was a perfect meal on a cold day. Turns out this shop is so popular there always is a line of people at lunch time. I'm glad I went as soon as it opened and avoided getting in line.
● Experience Osaka's Evolution at Osaka Museum of History
After I warmed up with the hot soba noodle soup, I hopped on Osaka Metro's Tanimachi Line to go to Tanimachi 4-chome Station. A short walk from the station took me to the Osaka Museum of History.
The modern building is sleek in style. NHK Osaka Hall stood tall right next door like a twin.
Here again, I got a discount simply by showing my Enjoy Eco Card, 10% off of the 600 yen admission (for permanent exhibits only).
Shall we?
The elevator took me all the way up to the 10th floor where I walked into ancient Osaka of the Nara Period (710 – 784 CE). The Daikokuden Hall of the Naniwa Palace has been partially reconstructed here with life-size vermillion-lacquered pillars and palace personnel recreating a scene from the ancient time.
At the end of the visual presentation about the Naniwa Place, the big screen opens and dramatically reveals the ruins of the actual Naniwa Palace across the street.
I was standing in the center of an ancient capital. I thought back to some 1,300 years ago and romanticized the ancient city of Osaka as I marveled the view from the 10th floor.
On the escalator between the 10th and 9th floor was a great spot to take a picture of Osaka Castle. Only few people know that this museum is a hidden gem for photography, with Osaka Castle soaring directly across from the building.
The 9th floor features Osaka of the Middle Ages and the Early Modern Period. The exhibits include a replica of Osaka Hongan-i Temple (aka Ishiyama Hongan-ji Temple) with detailed, elaborate designs.
Osaka with this bridge, pictured below, is from the Edo Period (1603 – 1868 CE). Neighborhood names, such as Hachikenya (八軒屋) and Ajikawaguchi (安治川口) that are familiar to the Osaka locals today, originated around this time.
So, this is what Osaka used to be like. I could easily imagine the busy lives of Osakan folks back then.
Danjiri—a portable shrine on a cart—is a highlight of festivals in Osaka, yet you rarely get to see it up close. Here at the Osaka Museum of History, you can get this close to it. It was spectacular.
The Naniwa Archaeological Resource Centre on the 8th floor is all about excavation. Exhibits here talk about archaeological excavation in simple terms that even children can easily understand. Programs have been suspended temporarily due to Covid, but their simulated excavation experience and the restoration puzzles let the visitors see first-hand what it's like to be an archaeologist.
Modern and contemporary Osaka is represented on the 7th floor. The replica of 1940's bustling shotengai shopping street made me feel somewhat nostalgic.
This is Dotonbori Kadoza Theater where they performed Kabuki (popular drama) and Rakugo (storytelling). Dotonbori today with its iconic Glico Man neon and gigantic Crab sign is known as the top tourist destination, but the area used to be the center of theater and movies.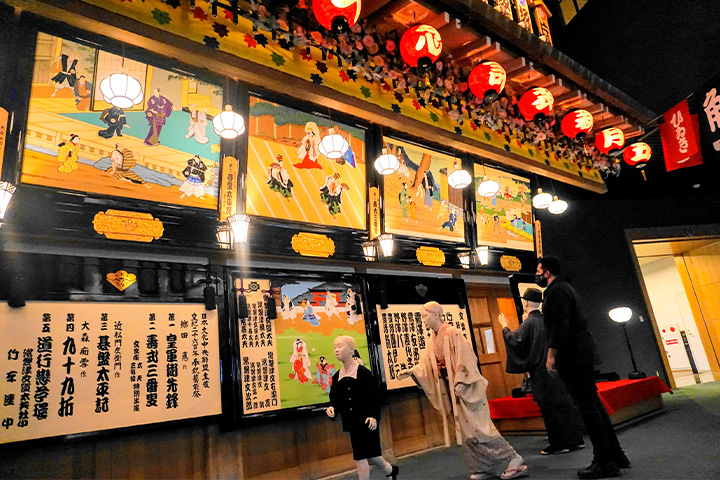 Shinsaibashi Shotengai shopping street—also a top tourist destination in Osaka today—was back then the trendiest spot in town apparently.
This floor was quite entertaining, full of spots for taking fun retro looking photos.
Down back on the first floor, I found a large time capsule that was buried at Expo '70 in Osaka.
Osaka is host to another expo, Expo 2025 Osaka Kansai. I'm sure it'll be an exciting one again. I won't miss it for the world!
● A Museum of Osaka's Famous Entrepreneurs
Last stop on the Osaka History Tour is the Osaka Entrepreneurial Museum of Challenge and Innovation. I took the Chuo Line from Tanimachi 4-chome Station to the next stop, Sakaisuji-Hommachi Station. The museum was about 5-minute walk from the station. This museum features Osaka based entrepreneurs and their achievements through exhibits of their personal items and other materials. I have a particular interest in this place as I have an aspiration for starting my own business.
Here again, I got a discount simply by showing my Enjoy Eco Card, 100 yen off of the 300 yen admission.
Are you ready?
The 15-minute introductory video talks about Osakan spirit, the roots of Osaka's entrepreneurs, represented in Toyotomi Hideyoshi, a samurai warrior who built Osaka Castle, and Osakan merchants during the Edo Period.
The main exhibit following the video showcases the achievements and memorabilia of 105 entrepreneurs who contributed to the development of Osaka's industries. You may not know the names of the entrepreneurs, but you're sure to recognize the names of their businesses, famous Japanese corporations such as Panasonic and Ezaki Glico. Who knew so many successful entrepreneurs came from Osaka?
Going through various exhibits, I learned how innovative these entrepreneurs were and how they faced and overcame numerous obstacles to achieve their successes, creating an impressive history.
Our society and economy developed, and our lives improved, all supported by these entrepreneur's successes.
Curiously, I found my favorite cup noodle at the museum. This is by far the most famous cup noodle in the world, I think?!
It was part of the exhibit about Momofuku Ando, the inventor of the world's first instant noodles and the founder of Nissin Food Products Co., Ltd.
Free audio guide available in multiple languages (Japanese, English, Chinese, and Korean) provides helpful narration through the exhibits. I thoroughly enjoyed watching the videos at the theater as well as browsing through these entrepreneurs' autobiographies and biographies, and the corporate histories of their businesses.
You can learn a lot from these extraordinary people who've made important accomplishments.
Each entrepreneur acted on their ideas around his/her conviction, took it all the way despite difficulties, and expanded their business further. It's simply impressive. Their words are so wise, I learned a lot just by reading them.
Knowing all these people succeeded in this city, I saw Osaka in another light. And learning about them gave me courage to move forward.
Throughout the day, I learned different sides of Osaka, from ancient to contemporary. I realized Osaka has always been an important city politically and economically that has built a wonderful history.
This is the city I grew up in. I'm so proud.
It was nice (and convenient) to have the Enjoy Eco Card help me save on transportation and admission throughout the day—in the end, I spent 2,140 yen total where I would have paid 2,720 yen without the pass. That makes me extra happy.
I hope you'll also take advantage of this train pass and learn about the amazing history of this exceptional city, Osaka!
※Some exhibits, etc. at the locations introduced in the article are currently restricted in order to prevent the spread of the novel coronavirus. Please check the official homepage of the facilities for details.
Recommended Plans
One of the highlights of Osaka is its people and their warm, friendly character. Over its …
2023.09.29
Everyone knows about Japanese snacks—from Pocky to gummies, to ramune to matcha KitKats and mochi …
2023.09.15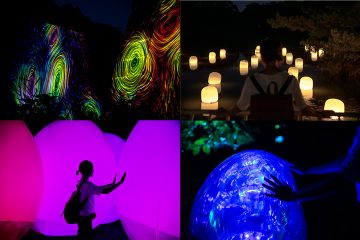 Hello! My name is fuji. I am a writer. Have you been to a botanical garden that is also an art …
2023.09.01
Namba
Namba
Namba
Shitennoji-mae Yuhigaoka
Tanimachi 4-chome
Tanimachi 4-chome
Sakaisuji-Hommachi
Sakaisuji-Hommachi