Japan to Host for the First Time:
The 2019 Rugby World Cup☆ Enjoy It in Osaka with Us!
2019.09.27

Written by: コンちゃん(Kon chan)
● No Tickets? No Problem!
The Rugby World Cup, one of the world's major sporting events along with the Summer Olympics and the FIFA World Cup, has kicked off! This year, the Rugby World Cup is held in Japan, the first Asian host of this tournament. From the opening game to the finals, twenty teams will compete in twelve cities.
Are you panicking because you don't have a ticket for this event the world is watching? Don't worry! TEN-SHIBA (the Tennoji Park entrance area), located 1-minute walk from Osaka Metro's Tennoji Station, is hosting public screenings.
Great for Adults and Kids Alike
I visited TEN-SHIBA on September 21. The park's open space had transformed into a sacred site for rugby fans.
Many of them had already gathered, enjoying the France vs. Argentina game on the grass in the Fan Zone where a large screen was set up. Food stands sold local foods including, of course, takoyaki, the Osaka favorite!
Free rugby activities offered in the Fan Zone included a game in which you throw a pass when touched by an opponent. I tried it—and intercepted a pass and scored a try!!! I couldn't help myself but to do a fist pump. It was fun to experience rugby, a rare sport in Japan.。
After working up a sweat, I grabbed a beer and roamed around the site. I'd heard that rugby fans drink six times more than soccer fans. Apparently, many start drinking before the game and, after the game, they drink with the fans of the competing team. Indeed, lots of people were walking around with a beer in their hand!
The Excitement at Public Screening
The game I saw was New Zealand vs. South Africa. This game was one of the most interesting matches this year—while New Zealand was going for their third championship title after they'd won the title in the last two tournaments, South Africa already had two championships under their belt and had won the third place in the last competition.
New Zealand showed up first on the large screen that both teams' fans were watching. Dressed in all black uniforms, the Kiwi team is known as All Blacks. Once all players gathered, they started their pre-match ritual, the haka dance, through which they show respect and appreciation to the competing team. How cool! Around me, All Blacks fans were getting really excited!!
South Africa was not staying quiet either. Their team is known as Springboks. Springboks is an herbivore that originates in South Africa and looks like gazelle. That sounds cute but don't be fooled—this team is characterized by players' large and tall physique and looked very powerful!
Once the game began, I heard a loud cheer after every play. You can expect such high energy only at the World Cup. I really like the excitement of watching good plays and cheering together with everyone!
In the end, New Zealand won with the score of 23 to 13!!
The Rugby World Cup has just begun. Public screenings of the games will be held at TEN-SHIBA on 9/28 (Sat), 10/3 (Thu), 10/5 (Sat), and 10/13 (Sun).
You can access TEN-SHIBA easily from Tennoji Station (the Midosuji & Tanimachi Lines). Go and enjoy the heat of excitement!
Spots Introduced
[Access] About 1 mins walk from Exit 19 at Tennoji Station.
About 8 mins walk from Exit 2 at Abeno Station.

Recommended Plans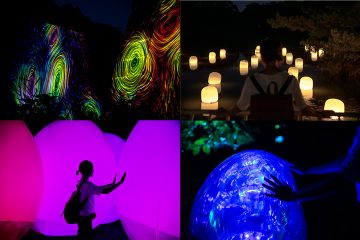 Hello! My name is fuji. I am a writer. Have you been to a botanical garden that is also an art …
2023.09.01
Do you like to pack your days when you travel? Start the day at that breakfast place you read …
2022.12.09
สวัสดี! I'm Bie. I'm from Thailand. I'm a student here in Japan and I love exploring Japanese …
2022.07.22