Shinsekai & Tsutenkaku Tower☆
Part II: Fun Spots Around Tsutenkaku
2022.07.22

Written by: Bie(Bie)
● NEW: The Official Umaibo Shop♡
สวัสดี!
I'm Bie. I'm from Thailand. I'm a student here in Japan and I love exploring Japanese towns.
Following my visit to Tsutenaku Tower and a thrilling ride on the Tower Slider slide in the Part I of the Shinsekai & Tsutenkaku Tower series, I thought it'd be perfect to explore the area around Tsutenkaku today. Let's go!
My first stop was the new Umaibo Shop right outside of Tsutenkaku Tower. Opened on April 1, 2022, it is the one and only official shop of Umaibo in Japan. What is Umaibo? Literally meaning "tasty stick"—in case you didn't know—Umaibo is super popular Japanese corn puff snacks that come in a variety of flavors. Japanese kids love Umaibo, and so do people who visit Japan. I am no exception♡
You may be able to pick up couple flavors of Umaibo at a Japanese store or order them online where you are, but here at the official Umaibo shop, you are surrounded by all flavors of Umaibo and Umaibo merchandise! It is basically a Umaibo paradise♪
The store carries other types of snacks, too, including everyone's favorite, Japanese gummies, and all sorts of classic Japanese snacks! In fact, I found so many of my favorite snacks at the store and had a hard time deciding what to buy.
Look, I even found a little shrine that enshrined Umaibo's mascot, Umaemon! Maybe I'll be blessed with Umaibo fortune♪
● Japan's Biggest Shooting Game Gallery
Strolling in Shinsekai, I saw less people than the pre-Covid era, but I felt the area was starting to become busier and livelier than the last couple years.
In Shinsekai's covered alleyway called Janjan Yokocho, some had started their night early at a friendly standing bar that usually gets packed at night.
Among Kushikatsu shops, other eateries, bars, stores, a retro arcade, and a Igo game club that crowd the Tsutenkaku Koen Hon-dori Shopping Street, I came across a shooting game gallery, Hihokan Honten. If you like carnival games, this is your spot because Hihokan Honten is home to Japan's largest, 11-meter-wide shooting game! Look at the colorful snack targets waiting for you.
I'll go first. Find the target and aim…
Yay! I got it on my first shot!
You can even pretend you're a Ninja and throw shuriken stars.
To my surprise, this proved to be more difficult. I could hit the target alright, but the shuriken stars wouldn't stick to the target…
It was okay, though. Throwing shuriken, tossing balls and rings, and playing cute retro games, I was having so much fun♪ and lost track of time. lol
● Kushikatsu Shop "Yokozuna"
When my stomach started to let me know I needed to eat, I knew exactly where to go and headed to Yokozuna Shinsekai Honten, a famous Kushikatsu restaurant nearby. When you're in Shinsekai, you've got to eat Kushikatsu!
I thoroughly enjoyed hot, crispy Kushikatsu. Among familiar Kushikatsu menu items, I tried a new ingredient, beni-shoga. Yep, that's red pickeled ginger—you know, like the pickled sliced ginger you get with sushi but thicker. I had never had it as Kushikatsu, but it was delicious!
By the way, back in 2021, this Yokozuna restaurant introduced a new signage above its storefront that takes the design after Nebuta, gigantic paper lantern floats used at one of the Tanabata Star Festival events in summer. Named the "Light of Naniwa", this signage is sure to become a new symbol of Shinsekai.
The colorful signage is a work of the first female Nebuta artisan, Asako Kitamura, who came up with a perfect design for Osaka. I saw takoyaki, Kushikatsu, the running Glico man, the Tower of the Sun…all important elements of Osaka in this Nebuta. This beautiful signage was created with the hope that the pandemic will be over soon, and everyone will be able to look upward as they move forward.
This Nebuta filled the spot as a symbol of Shinsekai right across the street from where the giant blowfish—a long time symbol of Shinsekai—was taken down back in Septebmer of 2020. Visit this new symbol of Shinsekai—well, it's a new symbol of Osaka!—and get a cool photo of yourself.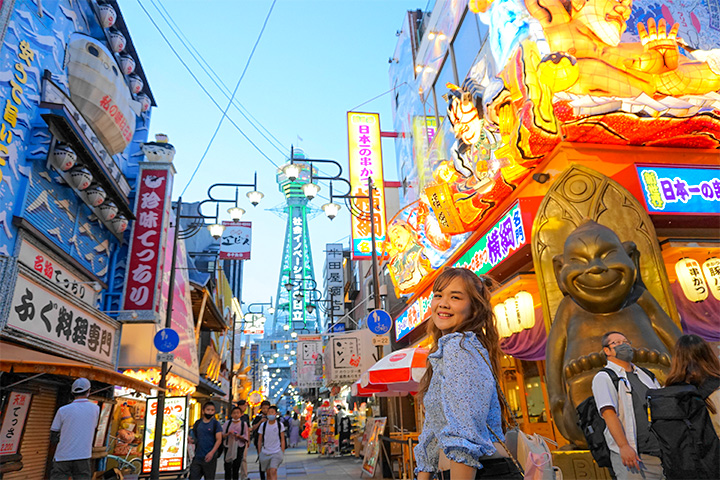 ● Twin Tsutenkaku Towers?!
Speaking of cool photos, Shinsekai is a great place for photo shoots.
I'll show you my favorite spot. Walk down to Spa World, a hot spring spa straight down the street from Tsutenkaku Tower, and get close to the building, and I mean really close, as if you're a butterfly on the wall of Spa World…
See the twin Tsutenkaku towers? Isn't that cool?! I don't know how someone found this spot, but it doesn't matter.
The trick is to get very, very close to the wall, like this.
Who wouldn't want a cool picture like this?
This is my favorite, but you might find other spots around Shinsekai where you can get your favorite photos.
Do also check out one of the newest additions to Shinsekai when you go. OMO Osaka by Hoshino Resort opened only this year on April 22. It's a great place to stay.
■ Related article
A Perfect Spot for Urban Tourism, OMO7 Osaka by Hoshino Resorts
Shinsekai, literally "New World", continues to evolve with new excitements and traditional elements all mixed.
Come visit Shinsekai, a fun and exciting place that has so much to offer!
Recommended Plans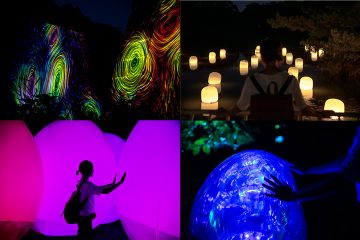 Hello! My name is fuji. I am a writer. Have you been to a botanical garden that is also an art …
2023.09.01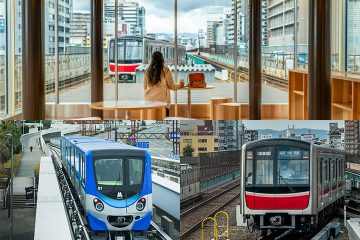 The colorful train cars of Osaka Metro attract railway enthusiasts and others to take …
2023.08.25
Osaka's nightlife is full of excitement and many enjoy dining at one of many restaurants …
2023.08.18
Ebisucho
Dobutsuen-mae
Dobutsuen-mae