Shinsekai & Tsutenkaku Tower☆
Part I: All about Tsutenkaku Tower
2022.07.15

Written by: Bie(Bie)
● The New 60-Meter-Long Tower Slider Slide
สวัสดี!
My name is Bie. I'm from Thailand.
I used to visit Japan often and fell in love with this country. I'm now here to stay and study. While I'm here, I'm taking every opportunity to travel because I like exploring new places.
Shinsekai is regularly in the list of most popular spots visited in Osaka. The pandemic significantly slowed down the visitors to Shinsekai, but I hear people are starting to return and the area is regaining its vigor. Today, I'm going to visit the good old Shinsekai and check out its newest attraction!
A quick 3-minute walk from Osaka Metro Sakaisuji Line's Ebisucho Station took me to the famous Tsutenkaku Tower. This is the home of Shinsekai's newest attraction, Tower Slider. Opened on May 9, 2022, Tower Slider is a 60-meter-long tube slide
that starts at the 3rd floor of the tower and swirls around the elevator building down to the basement floor, with a view of the area. I love thrill rides. Shall we?
Tickets can be purchased on the first basement floor of the tower and free lockers are provided for storing your belongings during the adventure. I grabbed the helmet and the black padding that were given to me and took the elevator to the second floor only to see the end of the slide right there as I stepped out. One by one, I saw people coming down the slide. And heard loud screams from above… I couldn't wait!!!
A spiral staircase takes you from the second to the third floor where the start of the slide is located. The shiny slide looked futuristic.
And it was my turn! Let's do it!
The entrance to the tube-shaped slide is like a bed. You use the padding you brought and lay down. The padding has a pocket for your feet, which made me feel more secure. I put my hands together over my chest and waited to be pushed… I admit it was a bit tense.
Three…two…one… aah! I thought my heart was going to jump out of my body! lol
Aaaaahhhhhhh!!!!!!!!!
After I caught a glimpse of the outside world, I was in a tunnel of lights. Then, next moment, I was out of the tunnel…
That was FUN!! And exhilarating! My heart was still pounding from the excitement and a feeling of relief flashed over me at the same time. The ride was some intense fun.
While I was screaming my lungs out, Tower Slider did a nice service of recording me. And the video was ready to download on the spot—all I needed to do was to connect to Wi-Fi "TOWER SLIDER MOVIE" and scan the two-dimensional barcode (2D code).
Here's one of my videos.
This makes a nice souvenir especially since you can't take your cell phone on the ride. The Tower Slider ticket is 1,000 yen for adults and 500 yen for children in addition to the Tsutenkaku Tower admission. It's not cheap, but it's worth every yen! I highly recommend it.
● A Panoramic View of Osaka
You can relax and enjoy the Tsutenkaku Tower after the thrill of a lifetime♪ The Billiken god of happiness looked over me as I went up in the elevator to the observatory listening to the 2001 Space Odyssey theme song in the background. On the monitor inside the elevator, a Tsutenkaku Tower rocket was launched into the space. THIS is the Osaka that I love.
Fifth floor. The view from the golden observation deck was beautiful. Tennoji Park sprawled below me with Abeno Harukas skyscraper soaring behind it.
You can see the whole Osaka, 360 degrees.
I found a statue of Osaka's mascot, Billiken. It is said rubbing the bottom of Billiken's feet will bring you luck. I guess the god of happiness is not ticklish.
For an additional fee (300 yen for adults, 200 yen for children), you can enjoy Tenbo Paradise, an outdoor observation deck, and TIP THE TSUTENKAKU, a tip of the tower extending outward in the open air at the top of the tower (about 100m above ground). Neon lights in the staircase to Tenbo Paradise turned out great in the pictures I took. See, doesn't it look cool?
Woah. Feels great in the fresh air! Wind feels nice, and the view is excellent at the top of the building.
What a spot for a bench! I truly enjoyed the view of my favorite city from here. You can't get this experience anywhere else.
Is it only me or do you also get an urge to holler when you are in a higher place? For people like me (and you?), here, there's a machine to measure the loudness of your voice. HEL-LO!!!
Down one step, I walked out onto the TIP THE TSUTENKAKU. This small space literally extends outward into the sky. It was all transparent beneath my feet but it felt really nice.
Well, maybe it was a little scary when I looked down.
For those brave hearts, this spot is available for rent for 5,000 yen (30 minutes at night). Some couples reserve it for a romantic yet thrilling date. Some reserve it for that special proposal.
While the fifth floor deck was golden, the fourth floor deck is colorful. It looks like this during the day…
And it turns into a shining nightclub-like spot with a mirror ball at night. Who'd have thought you can disco at Tsutenkaku? lol
● Miniature Models of Historic Shinsekai + Souvenirs
Down on the third floor is where you can learn about Shinsekai's history. Miniature model displays including Luna Park, Japan's second amusement park that operated during the Meiji Era (1868-1912), and the Hankai Tramway that runs south from Ebisucho still today show you what Shinsekai used to look like.
I snapped a photo with Kinnikuman, a Japanese manga character popular in Thailand, too.
Wakuwaku Land on the first basement floor brings together Japan's famous snacks and their manufacturers, Ezaki Glico, Morinaga's Choco Ball, and Nissin Foods' Chicken Ramen. I found cute characters and mascots I'd never seen elsewhere.
Here's a good souvenir from Osaka's Tsutenkaku. It's an instant curry sauce called "Mo Curry". In Japanese, "Mo Curry" is pronounced "mo kaa rei" which sounds the same as a Japanese term that means "make profit". I'd say that's a very appropriate naming for a souvenir from the city of merchants, Osaka.
So, that was all about the Tsutenkaku Tower! I hope you had as much fun as I did. As you've seen, this tower is not just a spot to capture a great view of Osaka. It also offers an exciting and thrilling attraction and colorful Osaka shops.
This was actually my first time to visit Tsutenkaku. I had no idea it'd be so much fun! I especially loved the view of Osaka from the top—my love for Osaka has deepened.
Tsutenkaku offers so much to both newcomers and returnees. In the next article, I'll explore the Shinsekai area so you can enjoy the whole area when you visit the Tsutenkaku Tower♪ Don't miss it!
Spots Introduced
[Access] About 4 mins walk from Exit 3 at Ebisucho Station.
About 6 mins walk from Exit 5 at Dobutsuen-mae Station.
[Hours] 10:00-20:00 (Last admission:19:30)

Recommended Plans
Hello! I'm Nasu from South Korea. I love Japan and have studied the Japanese language …
2023.11.17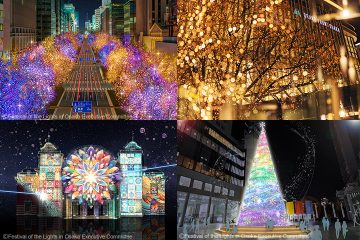 Every year at this time, dazzling winter illuminations begin to appear around the City of …
2023.11.10
Traversing the city north to south, Midosuji is the most famous street in …
2023.11.02
Ebisucho
Dobutsuen-mae
Dobutsuen-mae