Walking Between Osaka Metro Stations:
From Temmabashi to Minamimorimachi
2020.05.29

Written by: Shino(Shino)
● Relaxing Stroll Along the River♪
The state of emergency has been lifted in Osaka!
We can't travel far yet but I'm happy to be free from confinement and walk above ground along the subway line, with a mask on and 2 meters apart!
People have returned to Temmabashi Station on the Tanimachi Line as the Keihan City Mall opened its doors this week.
The bright station makes me happy. It's a comforting space, a turnaround from the dark, quiet station during the lockdown.
Let's go walk along the river.
The wind felt pleasant on my face at Hachikenya-hama Boat Dock with fresh greenery in sight across the river.
It was quiet with no cruise ships nor tourists here today.
When the weather got warmer, I had planned on trying out Stand-up Paddleboarding (SUP)—a marine sport where the rider stands on a large flat board and uses a long paddle to move through the water.
It must be so refreshing to paddle through the water surrounded with fresh greenery. I'll try it next year!
City SUP is currently closed but you can still go to the little plaza on the rooftop to enjoy yourself.
The little round stage is a perfect spot to catch a cool breeze and a nice view of the city.
You can see the fountain in Kensaki Park (the tip of Nakanoshima Park) in the middle of the river.
I hear you can even see a rainbow sometimes.
It's a good spot to relax alone, forgetting the everyday stress and quandaries.
I felt rejuvenated already!
As I strolled along the river, I noticed many flowers and the sweet aroma of lavender.
When you move slowly, you make many discoveries.
I walked up to a marker inscribed "From Watanabenotsu to World Heritage Kumano Kodo."
Watanabenotsu, where I stood, historically was the hub of water transport. During the Heian era (794-1185,) people started here and walked Kumano Kodo for one whole month to get to Kumano Sanzan, or the three grand shrines of Kumano, that includes Kumano Hongu Taisha, Kumano Hayatama Taisha (in Shingu), and Kumano Nachi Taisha.
Walking for a whole month!! Hats off to the people of Heian.
I crossed the Tenjin Bridge, overlooking Kensaki Park.
The view of the river from the bridge was grand yet calming.
A river, greenery, and buildings, all in one.
Some say Osaka is a city of jumbled mess, but it is a city that commands fine views like this.
Look at this spiraling path. What a cool design.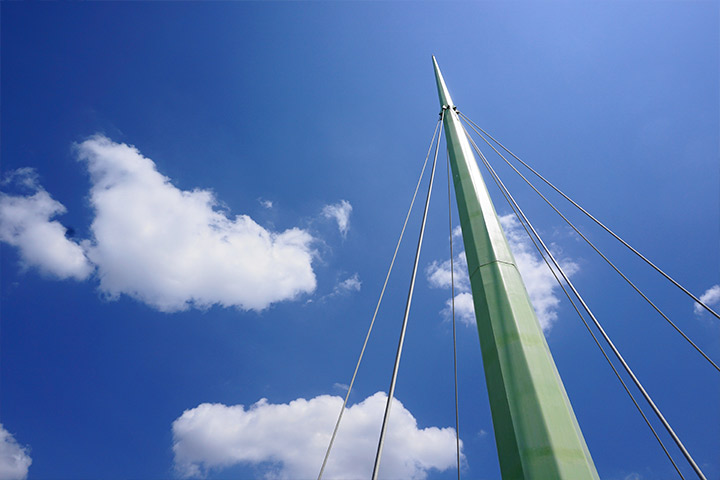 I found a modern looking building on the other side of the bridge.
Inside was a display of mikoshi—portable shrine—from the Tenjin Matsuri Festival. The Tenjin Festival is one of the biggest festivals in Osaka and one of the three major festivals of Japan that draws out some 1.3 million people each year. It has been cancelled to prevent the spread of coronavirus this year, but Shinto rituals will be held as usual, as the purpose of this festival is to pray for protection from plague.
I'll miss the Funatogyo (boat procession) and the Fireworks for Dedication, but I decided to contribute to the cause by giving my prayers here.
Find more about Tenjin Matsuri Festival here:
https://metronine.osaka/article_tour/article-now02/
● Grilled Squid Osakan Style & Traditional Medicine
As I walked north on Tenjinbashisuji street towards the shotengai shopping street, artworks on the walls of a retro Western style building caught my eye.
Then I found a cute Ikayaki shop and took a break in their outside seating area.
Are you familiar with Ikayaki?
Okonomiyaki and Takoyaki are famous, but Ikayaki is another Osakan specialty.
In Osaka, Ikayaki is not just a grilled squid that you see in other parts of Japan. It's more like a crepe made with batter and squid pieces that is typically served folded with a sauce in the middle.
It makes a great midday snack and/or companion for beer.
Try it and enjoy the crispy-rubbery texture of squid when you get a chance!
After my belly was satisfied, I walked the quiet road to Osaka Temmangu Shrine instead of going through the busy shotengai shopping street, and still found interesting shops here and there that have been there for many years.
Yakushoku Saffrondo was one of such shops I came across.
This shop specializes in the traditional medicines of Japan.
They have been collecting rare traditional medicines from all over the country.
I learned each company has its own prescription with these traditional medicines, unlike Kampo (Chinese medicine in Japan)—which I personally had always classified in the same category as traditional medicines—that follows a certain prescription for each medicine thus always producing the same medicine no matter where you make them.
These traditional medicines utilize plants and are easy on your body.
You can find all sorts of medicine here including stomach medicine, cold medicine, eye drops, and gynecological conditions medications.
Many have existed since Edo period (1603-1868) when samurais roamed the land of Japan and the package designs are very Japanesque and cool.
This corner displays Okigusuri in packages with cute retro designs.
Okigusuri is a sales method well known in Toyama that used to be practiced all over Japan.
In this system, peddlers visit people's homes with medicines in their basket and leave the ones that are needed.
A system to ensure you always have a stock of necessary medicines, Okigusuri must have been useful in a time when drug stores didn't exist everywhere.
Besides medicine, Yakushoku Saffrondo carries spices and food items that are also easy on your body.
I learned a lot about medicine and health in my conversation with the storekeepers here.
● A Prayer at Osaka Temmangu Shrine
The road ended at Osaka Temmangu Shrine.
I also ended my journey there and offered my prayer.
I had one wish—that our current calamity will end and peaceful days will return soon.
I'd always taken the subway and skipped all these cool places in my previous busy life, but it was refreshing to take my time and enjoy a nice stroll alone between the stations at a time like this.
I like both the bustling Osaka and the quiet Osaka.
I do hope for the energetic Osaka to return soon.
Until then, let's cease on opportunities to release stress—take a stroll!—and overcome this difficult time together.
Recommended Plans
Spring is almost here. Soon, Sakura cherry blossoms—"spiritual beauty"—will be in full bloom …
2023.03.10
The first day of spring came and left, and the sun feels stronger on a sunny day. We still have …
2023.02.17
The night of Near Year's eve into the morning of the New Year's Day is a …
2022.12.23