Enjoy Local Craft Beer in Shinsaibashi
At One's Brewery Pub
2020.07.02

Written by: リナ(rina)
● Beer Season is Here!
Summer is the ultimate season for beer.
Honestly, I'm at my happiest when I drink a glass of ice-cold beer at the end of the day.
Now that the business hour restrictions due to Coronavirus have been lifted, I'm going to go grab a glass of nice beer♪
Naturally, I came to Shinsaibashi!
Located on Suoumachi-dori Street (aka Europe-dori Street), right between Nagahoribashi Station and Shinsaibashi Station, One's Brewery Pub opened just this March. It's a place I had planned to go since I found it on Instagram.
It's hard to miss; Look for the big silver beer tank in front of the building with "WE♡BEER" written on it.
● Made in Osaka
I was so excited about the prospect of trying new craft beer as I stepped into the pub.
The industrial design of the interior was nice. I don't think it's an overstatement when I say the atmosphere there is perfect for beer drinking.
The industrial chandelier with black pipes and exposed light bulbs snaking along the wall piqued my interest. It'd make a great pic for Instagram♪
But let's get down to business: the beer!
They offer six types of craft beer. All of them are made at their separate brewery in the city's Nishi ward, so they are literally "Made in Osaka!"
Above the counter is the description of each beer, numbered one through six. You can order by the number and pay as you go.
I couldn't decide on one, so I ordered all six to compare☆
Taps are right on the counter (this isn't always the case in Japan,) and I enjoyed watching the staff pour the beer with finesse.
Ta-da! I got the six flavors! Each was a different color. Shall we see what they taste like?
● Various Flavors
I started with No. 1 KLS-05 (Kölsch).
Agghhhh, I just love beer! This beer has a gentle fruity flavor. With a nice touch of bitterness, it tasted excellent. Not to my surprise, this impressive beer is a recipient of the Japan Great Beer Awards 2020 Gold.
I tasted all six before the food arrived.
My favorite was No. 1 and No. 4.
No. 4 is KLB-02 (Brut Kölsch). It had almost no bitterness and was easy to drink.
I also liked No. 2 SWZ-01 (Kölchwarzbier,) a hybrid of Kölsch and Schwarzbier. This dark beer was also easy to drink!
● Japanese Fried Chicken Paradise☆
Their food menu includes a lot of items that go well with beer. I ordered "karaage paradise" (literally "Japanese fried chicken paradise")—I liked the name and it was their top recommendation.
Shortly after, this big metal heavy-looking container thing that was sitting on the table was filled with a whole bunch of karaage, sort of like how French fries are sometimes served. I wasn't even sure how many servings it was; it was a lot!
For karaage lovers like me, though, it was literally a paradise☆
Karaage is juicy and tasty as is, and you can add different flavors to it.
I selected a few from the many choices presented at the "Salt Bar"—negi shio (green onion salt) and onion shio (onion salt) were both excellent choices.
It is my opinion that one can't have beer without sausages. It was like heaven biting into the juicy sausage. And, as expected, it did go well with the beer.
I also enjoyed ajillo with lots of plump shrimp too.
When the food is good, you drink more. I was super happy.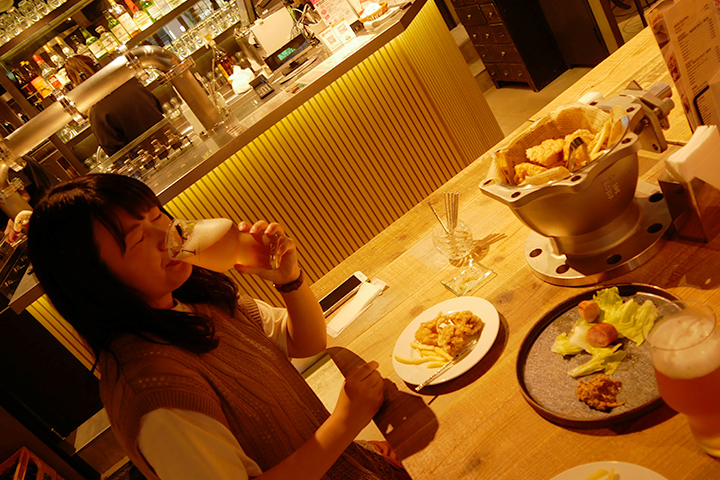 ● A Nice Encounter
I was feeling pretty good when I noticed the international customers at the table next to me.
My English is terrible, but the power of alcohol helped. I got up the nerve to talk to them!
I was nervous but was welcomed warmly, thank goodness!
Dominik had a gentle nature and Rebecca had a pretty smile. They had recently moved here from Germany for work. They looked great together.
They say Germans like beer. It seemed true with these two. I hope I will visit Germany someday too♪
A wonderful encounter like this makes beer taste even better♪ What a happy night I had!
If you are a beer lover like me, go and enjoy your favorite drink at the stylish ONE's BREWERY PUB♪
Spots Introduced
[Access] About 5 mins walk from Exit 7 at Nagahoribashi Station.
About 6 mins walk from Exit 6 at Shinsaibashi Station.
[Hours] Monday – Saturday 6pm – 3am
[Closed] Sunday

Recommended Plans
The season for winter light festivals is here!As the last month of the year approaches …
2021.11.26
The recent record-breaking hot October days have gone, and cool autumn days have finally arrived! …
2021.10.29
Osaka's nightlife is full of excitement and many enjoy dining at one of many restaurants …
2021.05.21
Shinsaibashi
Shinsaibashi
Nagahoribashi
Nagahoribashi