Shopping at Don Quijote Dotonbori – Part II
2023.02.10

Written by: Nene(Nene)
● Japanese Souvenir Galore!
สวัสดี! (Hello!) I'm Nene. I'm from Thailand and I live in Osaka. I love anime, manga, food…and pretty much everything about Japan, including Don Quijote Dotonbori, a popular shopping spot in Osaka among both locals and travelers. It's a mega discount store that has just about everything you can imagine. In the last article, I covered mainly food and snacks at Don Quijote that'd make an excellent souvenir. This time, I'm going to show you other cool stuff you can find at Don Quijote, like Japanese souvenirs, cosplay goods, and beauty and skincare products.
As one might expect in a popular destination like Dotonbori, lots of Japanese souvenirs are sold at Don Quijote, or "Donki" as the locals call this mega store.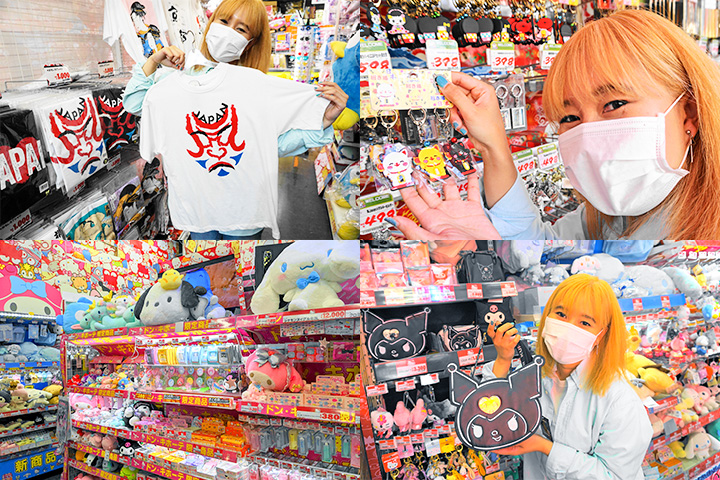 Starting with the long-time best-seller Japan-themed T-shirts (think Sumo wrestlers and Kabuki face paint prints) to anime character goods to the traditional choice of chopsticks and Japanese dishes, Donki has all the popular souvenir items visitors look for.
One of the top selling items is key chains. A common souvenir among domestic travelers in Japan, key chains are an easy yet unique choice. From conventional "I ♡ Osaka" designs to adorable character designs, Japanese souvenir key chains come in hundreds of designs and are favored by many tourists for its quality and affordable pricing. (And they don't take up much needed real estate in the luggage!)
You can also find lots of items designed in collaboration with Sanrio at Donki Dotonbori, including the beloved character Kuromi. I bought some for my Sanrio collector friends in Thailand and picked one up for myself, too♪
● Japanese & Korean Cosmetics
The second floor of Don Quijote Dotonbori is like a treasure chest filled with beauty products.
This Crush Jelly foundation is long lasting and has a good reputation in Thailand for its control of oil and sweat.
Korean cosmetics are popular, too. They are economical and top caliber.
Spot patches for acne were first produced in South Korea. Now, made in Japan patches have also gained fame.
I use it myself sometimes.
Let's continue with Japan made beauty products!
Inside the light blue and white package above is a rice face mask. Yes, it contains rice…well, more specifically it contains rice serum. I mean rice is good for you, so why not put it on your skin? This rice serum containing face mask adheres effectively, addresses dryness, open pores, and redness, and improves skin texture. It's great for sensitive and/or dry skin.
You can also find high-end Japanese skin lotions at Donki. Formulated with Japanese and Chinese plant essence, those lotions are a widely popular long-seller that has a calming effect on sunburns and provides protection against skin problems through moisturization.
On the other end of the spectrum, puchi-pura products like the yellow packaged skin lotion in the picture above contain plenty of vitamins and help address pores, too. The term puchi-pura stands for "petit price" and is used to describe stylish fashion items (and cosmetics, etc.) that are cute and inexpensive. This product is excellent–it not only moisturizes your skin but also treats age spots and prevents acne. This is a rare find actually—it's often sold out—but I got lucky and found the last one on the shelf here!
There's more than just skin lotions at the Donki cosmetics section. Cleansing foams that lather up like rich whipped cream, for example, are great for clearing pores♪ Creamy foam is gentle on the skin, so using it twice a day—in the morning and at night—is totally okay! I love it that the price is nice for what it can accomplish.
Pictured below is the hair dye section.
Japanese hair dyes are popular because they are high quality and they actually color your hair beautifully. And look at the wide range of available colors!
A corner was dedicated to color eye contacts that are popular among young girls.
● Cosplay, Uniforms, and Unique Socks♡
And I found a whole section on uniforms! (lol)
How does this JK (high school girls) uniform look on me?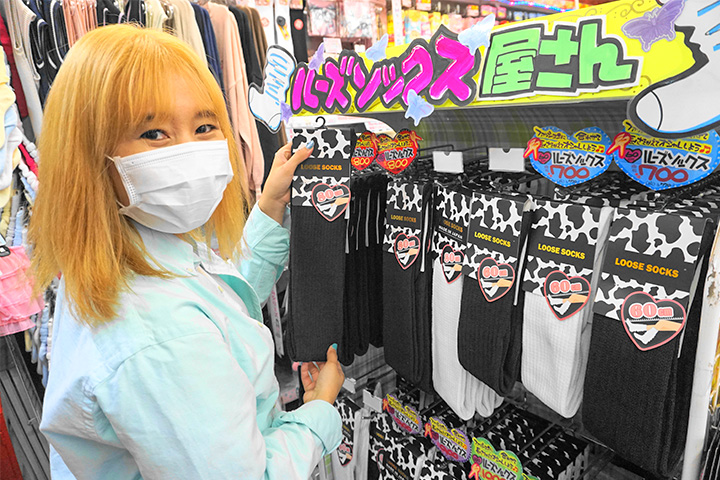 Here're JK loose socks, too! These loose socks were trendy among high school girls in Japan back in the 90's. They were brought back in 2022 and are now a must have item among young girls. JK loose socks are typically worn with a short skirt or a dress. How about a pair? With these socks, you can enjoy cosplay for a reasonable price♪
They have regular socks, too, but they are colorful and have popular anime characters and Japanese food product designs—a unique, easy-to-pack souvenir choice! I think my anime loving friends back home would appreciate Pokémon or Dragon Ball socks.
I'm now up on the third floor, where you can find toys, cosplay/party goods, and the entrance to the Ferris wheel.
Headgears, concert lights, cosplay items… You don't find these types of party goods in Thailand. I could throw an original party back home if I brought some of these back. (lol)
● Popular Games to Home Appliances
There're whole bunch of popular board games, stuffed animals, and other family fun items.
And they have a jail for phones?!
It's a phone charger that locks up the phone while charging, designed for those who're addicted to cell phones. Maybe I should get one… (lol)
Fourth floor is like a general store with home appliances.
You can find inexpensive but good quality products including hair dryers, epilators, kitchen appliances, games… I also found Don Quixote's original brand "Jonetsu Kakaku" products, including home appliance products, marked with a big "ド" (do)! Instant cameras—which are regaining popularity—seem to be priced cheaper than the market price, too.
Knives are popular souvenir item from Japan. In fact, I saw some travelers looking at them intently.
Fifth floor has clothing.
Men's joggers and underwear, business shirts and shoes…the aisles are literally packed with clothes!
Look at the cute character outfits for girls♡
Don't worry if you buy too much because you can also buy luggage here!
Donki's original brand suitcases are big and cost less than 10,000 yen. That's reasonable, particularly given it allows you to shop to your heart's content. lol
You might not notice with one glance but things get a little high class on the sixth floor with designer handbags, jewelries, and expensive liquors.
This is Donki, so these designer bags (real ones), watches, and other accessories are stacked high and packed like sardines. Maybe I can find that bag I've wanted at a reasonable price if I look around…
At Donki, you can find everything you ever want or need, plus a whole lot more.
Floor-to-ceiling, wall-to-wall shelves packed with products may be overwhelming at first but pay attention to the signages around the store that describe even the most bizarre product and help you navigate the millions of choices in front of you. And, if you don't read Japanese, multilingual staff will be more than happy to help!
Don Quijote can be a perfect one-stop shopping spot for all of your souvenir needs (and more) during your busy trip.
Start with what I showed you in this two-part series if you're unsure what's best to get. (You're welcome.)
As a discount store, prices are excellent at Donki to begin with but, now with yen being so weak, it'd be even a better buy if you're coming from outside Japan.
One important note: There's a lot to see at Donki. Make sure to you have plenty of time when you visit!
※Price and the availability of the goods introduced in this article are current as of the day of the interview and may change without notice.
※Each location of Don Quixote has its own merchandises.
Spots Introduced
[Access] About 5 mins walk from Exit 14 at Namba Station.
About 7 mins walk from Exit 2 at Nippombashi Station.
About 10 mins walk from Exit 4-B at Shinsaibashi Station.
[Hours] 11:00 am - 3:00 am (following day)
[Closed] Open daily

Recommended Plans
Onigiri is a simple food. Steamed white rice shaped into a triangle, with just a little bit …
2023.05.12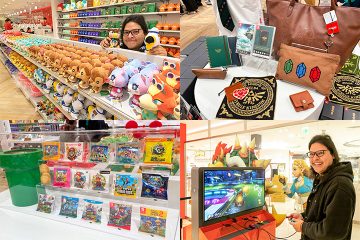 Hola! I'm Kuro from Mexico. I'm a student. Today, I'm visiting my new favorite store in Osaka, …
2023.04.14
Hola! I'm Kuro from Mexico. I'm a student. I've been into Japanese games ever since my …
2023.04.07
Namba
Shinsaibashi
Namba
Namba
Nippombashi
Nippombashi
Shinsaibashi