SPECIAL
Now! Osaka
Spring Blossoms at Osaka Castle Park
2023.05.02
Namaste! I'm Manju from Nepal.
I've been living in Osaka for 3 years. Despite the common image of big cities having little nature, Osaka, perhaps unexpectedly, has an abundance of nature as demonstrated with the Rose Garden in Nakanoshima and the Ginkgo trees that line the Midosuji Boulevard. Above all, Osaka Castle Park's vast grounds is home to various kinds of greens and flowers, a peaceful space for the residents and visitors of this bustling city.
I went to explore the park, one of the most popular spots for Osaka sightseeing, and investigated the park's flowers that bloom in March and May!
January – March: Plum Trees, A Sign of Spring
When the plum trees in Osaka Castle's Plum Grove start to bloom, you know the warm weather is on its way because the plum blossoms are the first flowers to bloom in spring! One by one, some 100 varieties of plums in the 4.2 acre Plum Grove bloom during the months of January through March. The view of the plum blossoms with Osaka Castle in the backdrop is just picture perfect. Naturally, it's a popular spot for photo shoots.
Sweet fragrance of plum blossoms attract bees. With warm spring ahead, the plum season is an exciting time for all!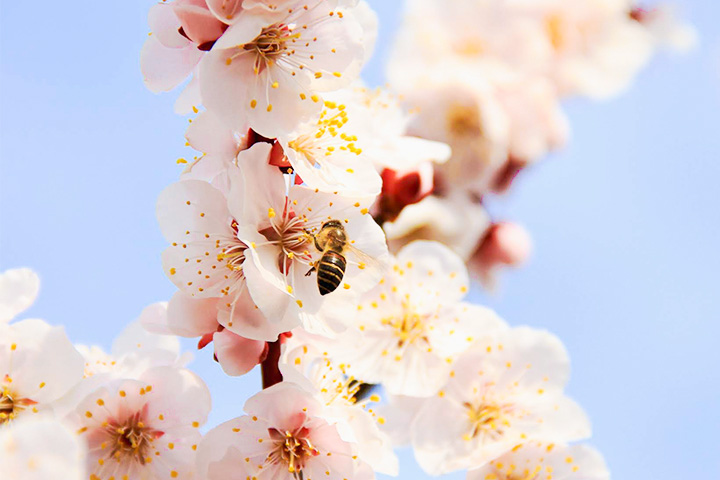 Late March – Early April: Sakura Cherry Blossom
As the plum blossoms fade, the season of magnificent Sakura cherry blossoms arrives. Having been selected one of the 100 best Sakura sights in Kansai, Osaka Castle Park is an outstanding Sakura spot with about 3,000 Sakura trees.
Look at the gorgeous Sakura! It was in full bloom and looked brilliant under the blue sky. Everyone walking or taking pictures in the path under the Sakura blossoms had a big smile on their faces. That's the power of Sakura!
Sakura extends above a path along the South Outer Moat like a tunnel.
Elegant Sakura along the moat. I think this beauty has healing powers.
Here's me with Sakura. So spring-like. Sakura symbolizes spiritual beauty, elegance, and purity. I can see that—I think Sakura is pristine and graceful. When I see something like this, I only feel blessed that I chose to live in Japan.
Sakura blossoms along the East Outer Moat create a nice contrast with the modern buildings of Osaka Business Park.
After climbing a long stairway, you get to another spot where you can see the Castle and Sakura in harmony before you reach the Inner Moat.
Yoshino Cherry is the most common and famous Sakura in Japan. After Yoshino Cherry had fallen, Yaezakura—double cherry blossoms—was in full bloom in the area up from the Tamatsukuri-guchi entrance. It's a good spot for those who missed the Hanami season.
Because Osaka Castle Park has a wide variety of Sakura, it offers multiple opportunities to enjoy different colors of Sakura over a long period, something not many places can offer.
Mid-April: Sweet Flags in Water & Peach Grove at Its Best
There's much more than Sakura at Osaka Castle. Castle Park is full of different types of flowers, and whatever season it may be, you will find flowers blossoming. The castle itself is a story of historical romance and chivalry, but I think the plentiful of flowers at the castle each season adds a lot to its story.
A flower that I found blooming in the Hydrangea and Deutzia Garden at the same time as Sakura was fringed iris. They were beautifully grown under the trees.
By the water, I found sweet flags. Bright blue looked so brilliant against the green leaves.
Did you know there's a Peach Blossom Grove at in Osaka Castle Park?  Peach flowers shining in glossy pink with Osaka Business Park in the backdrop like in the picture below drew my attention. Various types of peaches begin to blossom around mid-March.
Late April – May: Colorful Azaleas, Japanese Wisteria, and Dogwoods
By late April, azaleas are blooming everywhere at Osaka Castle Park. In front of the tower of Osaka Castle is one of the best spots for azaleas.
Here're pictures of me with colorful azaleas!
Walk up from the Tamatsukuri-guchi Entrance and you will see azaleas with imposing stone walls in the background.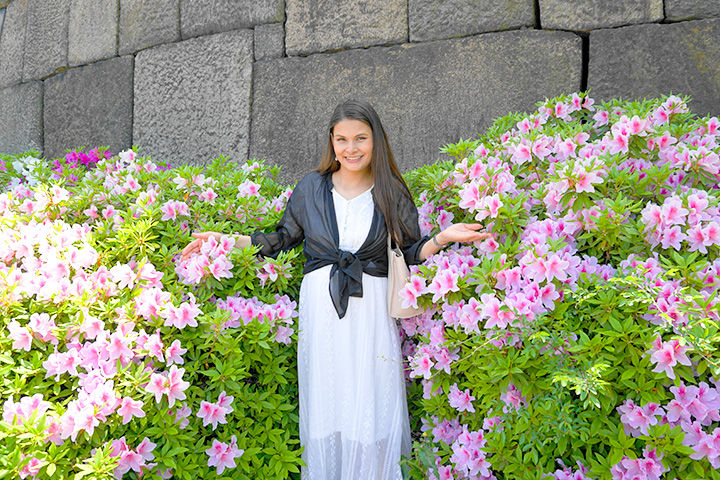 And, don't miss the wisteria trellis near the Tamatsukuri-guchi.
Late April to May is the best time for Japanese wisteria.
I found bright dogwoods near the Inner Moat.
The Gokurakubashi Bridge is a good spot to take a picture of the dogwoods and the castle together.
I found blooming Old Man's Beard (Chinese fringe tree) in front of the mainkeep. What an interesting name lol. It had a nice fragrance.
Osaka Castle's homepage conveniently has a section dedicated to its flowers and has maps (of not only the Plum Grove and Sakura but also flowers by seasons!), information on various types of flowers, a calendar of the best times to see the various flowers, etc. It's a great resource for enjoying the beautiful blossoms at Osaka Castle Park!
※The information in the article is for 2022.
※The time of bloom varies each year.
Spots Introduced
[Access] A short walk from Exit 3-B at Morinomiya Station.
About 3 mins walk from Exit 2 at Osaka Business Park Station, about 6 mins walk from Exit 1-B at Tanimachi 4-chome Station, about 8 mins walk from Exit 3 at Temmabashi Station.

Recommended Plans
One of the highlights of Osaka is its people and their warm, friendly character. Over its …
2023.09.29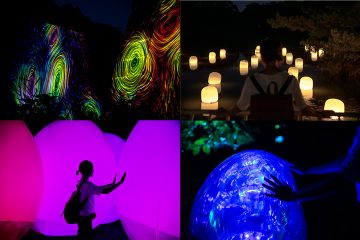 Hello! My name is fuji. I am a writer. Have you been to a botanical garden that is also an art …
2023.09.01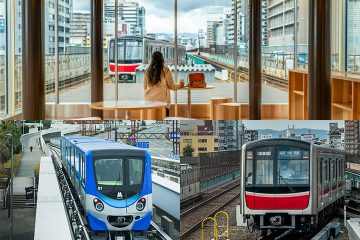 The colorful train cars of Osaka Metro attract railway enthusiasts and others to take …
2023.08.25