A Messenger of Spring
at Osaka Castle's Plum Grove
2023.02.17

Written by: Shino(Shino)
● Arrival of The Plum Season
The first day of spring came and left, and the sun feels stronger on a sunny day. We still have cold days ahead, but I can feel spring is in the air. That means the warm Sakura season is going to be here.
But, before the Sakura starts to bloom, we get to enjoy the plum season in Japan! The plum season begins in late January and ends in March. Various kinds of plums blossom during that time. In Osaka, Osaka Castle's plum grove is THE place to see the beautiful plums. Each year, over 100 kinds of plums blossom there.

● Exploring The Plum Grove in Mid-January
Expecting the plums to bloom soon, we visited the plum grove at Osaka Castle on a sunny day with a clear blue sky soon after the New Year began. The plum grove is located on the east side of Osaka Castle Park, about ten-minute walk from Osaka Metro's Morinomiya Station or Osaka Business Park Station.

The plum grove looked like this. I was disappointed we came too early.
But as we walked through the plums…

We found plum blossoms! Beautiful, delicate blossoms!
Some trees had only a few blossoms, but it was such a delight to find spring in these early blossoms.

Since the ancient times, the Japanese term "tanbai" (literally "explore plums") refers to the act of enjoying each and every plum flower that has bloomed early.
As we found one plum blossom here and another there, I felt a sense of joy in each.
Many people think flowers don't blossom when it's cold, but plums are an exception. I have a certain fondness for those little plums that start blooming quietly in the cold.

We even saw some bees at the grove. They were working hard despite the cold temperatures. I bow to the tough creatures of the nature. These little signs of spring I found give me courage.
Do you know how to differentiate plums from Sakura? They have overlapping seasons and look similar, so it's a bit challenging. The key difference is in their petals: Plum petals are round while Sakura petals are shaped like a heart. In my opinion, Sakura is pretty and spectacular, while plums are more of dignified beauty.

Down below, daffodil covered the ground around the plum trees! They are also a harbinger of spring. The trumpet-shaped flowers were all looking up and smiling at me. So cute!
● A Messenger of Spring
Around the time the early plum blossoms reach its peak, the next batch of species begin to bloom.
This happens around late January to mid-February. The Japanese term "shobai" (literally "prize plums") refers to the act of enjoying the plums in full bloom. Around the time of shobai, some 1,000 plum trees blossom in red, pink, and white at the plum grove at Osaka Castle, and the whole area is enveloped in the sweet aroma of plum blossoms. A walk through the plums is like a stroll in a different world, and you can feel the spring with your senses.

After the shobai comes "sobai" (literally "send plums") in late February to mid-March when you bid a fond farewell to the falling plum blossoms. The temperature starts to rise around this time and the true spring awaits right around the corner. And when the plum season ends, it is the beginning of the Sakura season.
You see, plums are like a messenger of spring, announcing its arrival.
● Find Spring in Osaka
Since the ancient times, the Japanese see in the plums the different stages of the arrival of spring.
These beautiful blossoms will be there for a while. Visit Osaka Castle's plum grove and enjoy the arrival of spring while social distancing! You can check on Osaka Castle Park's homepage for the peak bloom period of different species of plums. A pop-up Lawson convenience store is scheduled to be set up at the plum grove during the peak seasons—you will be able to enjoy warm drinks and oden, buy plum related goodies, and use restrooms!
Or, perhaps you can go on "tanshun" (literally "explore spring,") borrowing the ancient terminology for exploring plums. Spring can be found everywhere. Explore your neighborhood and enjoy each and every piece of spring that has arrived early!

Plum blossoms taught me that after every winter comes spring. We're almost there. Welcome bright spring together.
Spots Introduced
[Access] About 10 mins walk from Exit 1 at Osaka Business Park Station.
About 10 mins walk from Exit 1,3-B at Morinomiya Station.
About 17 mins walk from Exit 1-B at Tanimachi 4-chome Station.
About 10 mins walk from Exit 3 at Temmabashi Station.

Recommended Plans
One of the highlights of Osaka is its people and their warm, friendly character. Over its …
2023.09.29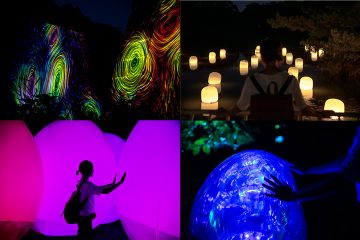 Hello! My name is fuji. I am a writer. Have you been to a botanical garden that is also an art …
2023.09.01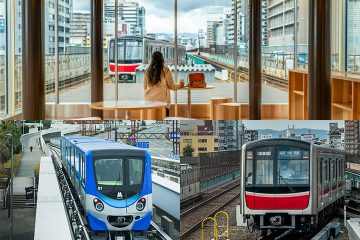 The colorful train cars of Osaka Metro attract railway enthusiasts and others to take …
2023.08.25
Morinomiya
Morinomiya
Temmabashi
Tanimachi 4-chome
Tanimachi 4-chome