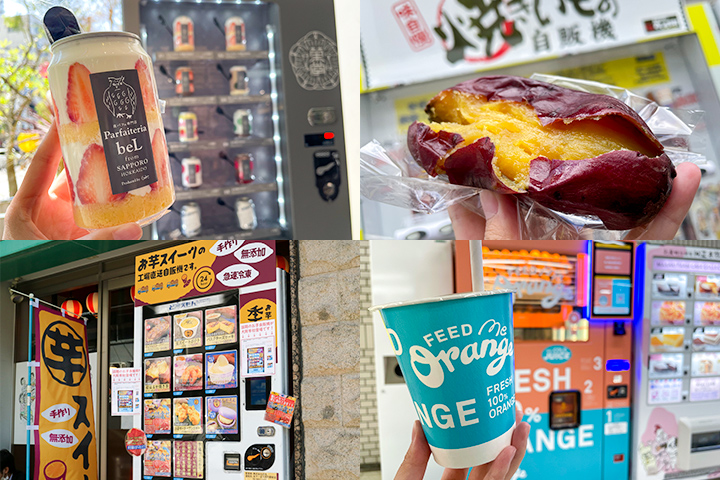 Osaka's Sweets Vending Machines Top 4
2023.06.09

Written by: フジ(fuji)
● Sweets Vending Machines in Osaka
Continuing from the last article on Osaka's gourmet vending machines that dispense gyoza potstickers, ramen noodles, and sushi, we're going to show you the best sweets vending machines around Osaka Metro today♪
Here're our top 4 sweets vending machines near Osaka Metro stations.
┣Yakiimo Baked Sweet Potatoes | Higashi-Umeda Station
Right next to Oita Johnny's Karaage Fried Chicken about a 5-minute walk from Higashi-Umeda Station is the "Baked Sweet Potato Vending Machine" by Naniwa Yakiimo Honpo, a baked sweet potato specialty shop.
It sells Chilled Yakiimo Baked Sweet Potatoes (top row), Hoshi-Imo Dried Sweet Potatoes (middle row), and Dried Fruits (bottom row).
I love Yakiimo baked sweet potatoes and chose the one made with "Silk Sweet" sweet potato. Look at this golden potato!
Does it not look just excellent?! Smooth and creamy, this exquisite Yakiimo really brings out the sweetness of the ingredient. I wouldn't have believed it came out of a vending machine if I hadn't seen it with my own eyes!
By the way, chilling the potato not only brings out the sweetness of the potato but also gives it more moisture, making it easy to digest and ideal for dieting. Healthy and tasty. What more can you ask for?
【Price】 Chilled Yakiimo Baked Sweet Potatoes 400 – 600 yen
【Hours】 24 hours (Open daily)
【Location】 1-7-12 Sonezaki, Kita-ku, Osaka
【Access】 Osaka Metro's Higashi-Umeda Station (Tanimachi Line)
┣Cakes & Desserts | Shinsaibashi Station
About 3 minutes of walk from Shinsaibashi Station's Exit No. 7, inside the BIG STEP shopping mall in America-Mura is a cute vending machine that dispenses cakes and other desserts.
Currently trending on social media are the Shortcake Cans (yep, they are, literally, shortcakes in cans!). Eight other varieties of dessert cans sold include Chocolate Cake Cans, Mont Blanc (Mont-Blanc aux marrons) Cans, "Fluffy" Cans, and Puddings Cans♪
It was difficult to choose, but I bought the most popular Shortcake Can! I could smell the sweet aroma as soon as I opened the can that was stuffed full of a strawberry shortcake with Hokkaido whipped cream and a bright red strawberry in the center.
It felt more like a parfait at first but, as I discovered almond Florentine cookies and strawberries, I knew it was unquestionably a genuine shortcake, just like those that are sold at department stores.
Price seems a bit high but the quantity makes up for it and, best of all, you get to enjoy the uniqueness, the cuteness, and the convenience of "cakes in a can" ♪
 
【Price】 Shortcake Can 1,200 yen, Other desserts 500 – 1,180 yen
【Hours】 24 hours (Open daily)
【Location】
●Vending Machine at Big Step OKASHI GAKU®︎
1-6-14 Nishi Shinsaibashi, Chuo-ku, Osaka
●Vending Machine at Shinsaibashi OKASHI GAKU®︎
1-13-2 Higashi Shinsaibashi, Chuo-ku, Osaka
【Access】 Osaka Metro's Shinsaibashi Station (Midosuji, Yotsubashi, and Nagahori Tsurumi-ryokuchi Lines), Yotsubashi Station (Yotsubashi Line)
┣Fresh Squeezed Orange Juice | Nakamozu Station
Right outside of the ticket gate at Nakamozu Station is a vending machine that dispenses fresh squeezed OJ.
Insert a 500-yen coin and wait about 40 seconds, and you have a cup of freshest 100% orange juice in your hand♪ Oranges used differ every season, so you can savor a variety of orange flavors throughout the year.
Wondering how it works? Here, I just put 500 yen into the machine!
Voila! Here's my fresh squeezed OJ made with three or four whole oranges! Quick and chilled, it was fresh and tasty and the vitamins gave me energy!
【Price】 500 yen
【Hours】 24 hours (Open daily)
【Location】 Outside the ticket gate at Osaka Metro's Nakamozu Station (Midosuji Line)
┣Sweet Potato Desserts | Daikokucho Station
This sweet potato desserts vending machine is located about a short 1-minute walk from Daikokucho Station.
It dispenses eight kinds of sweet potato desserts including chocolate custard brûlée, Nama sweet potato, burnt Basque cheesecake, and Yakiimo baked sweet potato made with Beni Haruka sweet potatoes.
It even offers a nice package deal—1,200 yen worth of desserts for 1,000 yen—a good option when you are getting together with a group of friends or you are just not sure what to get☆彡
【Price】 Sweet Potato Sweets 250 – 500 yen each, Assorted Sweet Potato Sweets 1,000 yen
【Hours】 24 hours (Open daily)
【Location】 3-10-18 Shikitsuhigashi, Naniwa-ku, Osaka
【Access】 Osaka Metro's Daikokucho Station (Midosuji and Yotsubashi Lines)
●Other Unique Vending Machines in Osaka
┣Daily Pantograph | Nishi-Umeda Station
Just outside of the South Gate at Nishi-Umeda Station is a specialty shop corner called Daily Pantograph with three types of vending machines that sell useful products like snack packs, character towel handkerchiefs, disinfectants, and hand wipes.
【Location】 Outside the South Gate at Osaka Metro's Nishi-Umeda Station (Yotsubashi Line)
┣Diapers | Nishi-Umeda Station
We found a diaper vending machine next to the South Gate at Nishi-Umeda Station! Disposable baby diapers come in sizes M and L, and you can also buy baby wipes. What a helper this would be for traveling parents with little kids! An accident? No problem! We got you covered!
【Location】 Near Exit 7-A, outside of the South Gate at Osaka Metro's Nishi-Umeda Station (Yotsubashi Line)
┣Capsule Toys
You will see this capsule toy vending machine at various Osaka Metro stations. Toys sold include popular anime and manga figurines, well-known Osakan artiste figurines, and miniature toys.
Look at these little Doritos, UNO, and beef rice bowls (lol). Even public phones are tiny! As small as they are, though, the details are incredible, and they all look real. Wait a minute! I think these would make a great souvenir from Japan!
● A Vending Machine Tour with the Enjoy Eco Card Train Pass♪
Gourmet vending machines, sweets vending machines, and unique vending machines with practical goods…How about these amazing vending machines in Japan?
You've now seen and read a lot about Japanese vending machines online, and will absolutely love them when you find a unique one in person in Osaka♪
Maybe you will happen upon one, or you will seek out one of the vending machines we talked about. Or, maybe you will make a day of touring vending machines using Osaka Metro's Enjoy Eco Card train pass!
Recommended Plans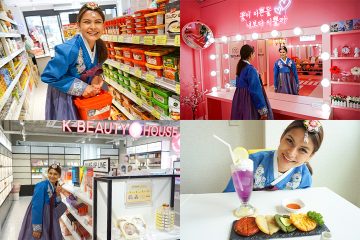 Namaste! I'm Manju from Nepal. I love gourmet food and shopping! I love Osaka's Korea Town in …
2023.08.10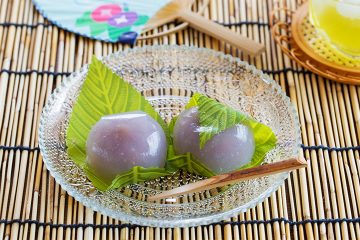 July brings a full-fledged summer to Japan. These scorching hot days make me want to eat cool …
2023.07.07
Namaste!I'm Manju. I came from Nepal to Osaka two years ago. I enjoy exploring the …
2023.06.23
Nishi-Umeda
Yotsubashi
Daikokucho
Nakamozu
Daikokucho
Shinsaibashi
Shinsaibashi
Higashi-Umeda