Bar Hopping in Ura-Tennoji
2021.10.29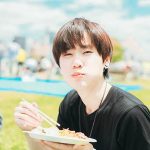 Written by: いっくん(Lee)
● Fall is Here!
The recent record-breaking hot summer days have gone, and cool autumn days have finally arrived! it's time to enjoy one of the best seasons in Osaka!
So, I called my friend, Yun.
Lee "Let's go grab a beer!"
Yun "It's been too long—since the haunted house in summer?! But I know just the place to go. Wanna do hashigozake (bar hopping)?"
The place Yun was referring to was Ura-Tennoji, an area in Tennoji I'd never heard of. Ura means "back", so, Ura-Tennoji means something like back streets of Tennoji. I found out it is the area around Hanwa Shotengai just north of Tennoji Station.
We met up at Tennoji Station at 5pm and it was a mere 2 minute walk to Ura-Tennoji.
● Welcome to Ura-Tennoji
Whoa. I already felt the deep Osaka culture at the entry to the back streets of Tennoji. The ceiling was bare, with electric wires all exposed, and the telephone poles had retro looks. Best of all, the street was alive and exciting.
It'd been so long since we'd had a night out like this. We couldn't help but express our joy with a little happy dance lol.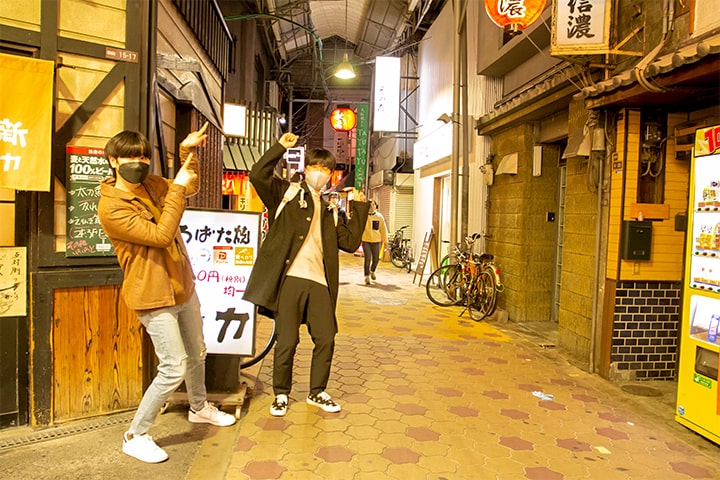 The shotengai shopping street was on a smaller end of scale, but it was packed with izakayas and other shops. I liked the nice mix of bars and restaurants—some are old school with red lanterns out front while some newer shops have stylish and modern storefronts.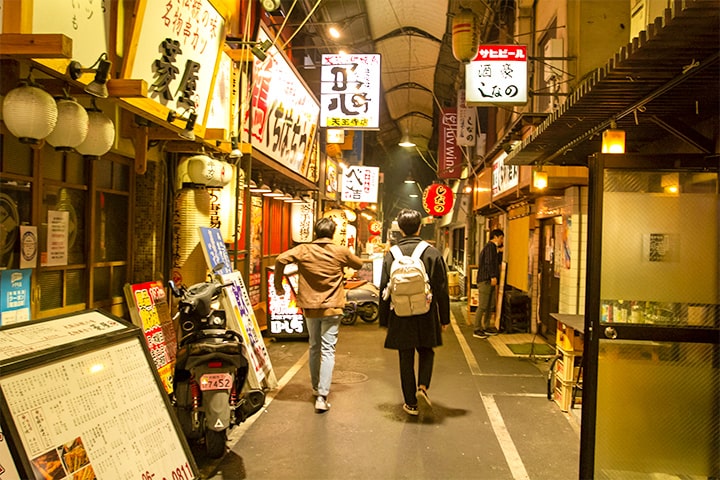 ● Hundreds of Unique Dishes at Taneyoshi
Yun had a destination in mind but, before we made it there, a wall covered with strips of paper, each representing a different menu item, at Taneyoshi stopped us. There was a lot of these strips of paper called Tanzaku—probably in hundreds. It was almost overwhelming in fact.
I've tried countless new foods since I arrived in Japan, but Taneyoshi's menu included many items I'd never even heard of. Maybe these are delicacies from different parts of the country? That's be suitable for Osaka, I'd say.
And I found bugs on the menu. Yes, I mean INSECTS!! I had to go here.
Yun and I stepped into the space where people were huddled together—standing—around an L shaped counter. Mama with a big smile came to greet us: "You're from South Korea, aren't you? Welcome! Have a drink!" She sprayed hand sanitizers into our hands and we got our beer☆ We stepped outside to enjoy it.
Mama recommended a dish called "Kame no Te", which literally means "turtle hand". This is a dish we eat back home, too, but I'd never tried. Frankly, I never thought I'd have my first turtle hand in Japan! I have to say it looked pretty grotesque. To me, it looked more like a dinosaur hand than a turtle hand lol. And the taste? It was not something I expected. It tasted sort of like shellfish, maybe crabs. It had a scent of the sea, and it was delicious!
After trying the delicacy, we went for the standard karaage—Japanese fried chicken. They were, as always, great with beer!
● "Abeno Harukas" – A Giant Egg Roll
"Harukas" is a popular dish at Taneyoshi. Like the real Abeno Harukas, the landmark of Tennoji, it was a very tall dish. It made me chuckle, though—it was a giant egg roll, served vertically, stuffed with hot potato salad! With some chili sauce poured from the top of the skyscraper, the tallest building in Japan made its way into my belly with no problem.
We had to stop ourselves from ordering too much though. Afterall, we were bar hopping and still had a long night ahead of us! We took a picture with the Mama, promised we'd be back, and left Taneyoshi.
I just love Osakan mamas. Their warm smiles always cheer you up.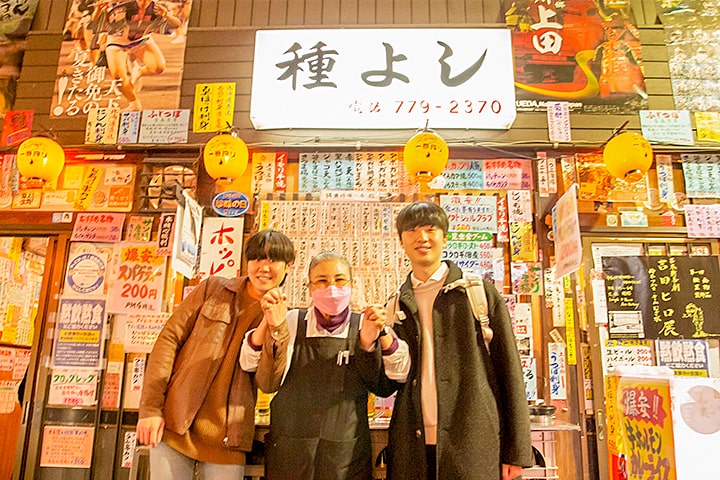 ● Southeast Asian Fare at Typhoon Hanten
Next stop: Typhoon ("Taifu" in Japanese) Hanten. As we climbed the stairs to the second floor, the aroma of various spices used in Southeast Asian cooking teased our nose.
"Foods from the countries in the Typhoon path" is the theme of this restaurant whose menu includes dishes from Taiwan, Thailand, and Okinawa. The cute, colorful plastic chairs reminded me of food stalls in Southeast Asia, and I liked how it felt as if I was in another country.
The drink menu of course included beers from the Typhoon countries—I got Leo beer from Thailand and Yun got a Taiwan beer. We had already eaten some so we only ordered one dish—Suchika (Okinawan salt pork) veggie wrap. It is the second popular dish at Typhoon Hanten. This dish, along with others on the menu, are great for sharing. I'd like to come back with more friends and try lots of food here.
● Fresh Seafood at Suchi Center!
Finally, we made it to Yun's choice, Sushi Center, to wrap up the night! Sushi Center is a popular stop for many, serving good seafood and sushi at a reasonable price. There was a long line when we took a quick peak earlier in the evening, but it was gone by the time we came back. It was a good idea to save this spot for last!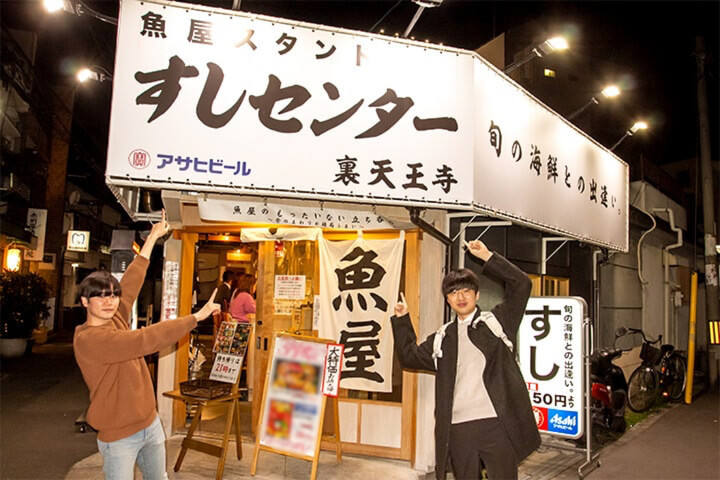 Counter seats were occupied so we got a table. Ample social distancing measures made us feel safe.
It was just passed 8 pm and, sadly, most fish was sold out… But they offered lots of drinks to choose from!
And, reading the menu was actually fun here—menu items are given unique and interesting names.
I made a mental note that they do carry out, too.
It was a miracle they still had ark shell, my favorite. I guess it was my lucky day!
Fish at Sushi Center is so fresh and high quality because they get their fish directly from fishmongers. Yet, they are generous and don't hike the price. We're fortunate to have this place around.
Look at this satisfying meal.
We started at 5 pm. After three delicious stops, it was 9 pm. Yun and I thoroughly enjoyed ourselves♪, so much so that we forgot to take more pictures lol.
If you're looking for a true Osakan experience, Ura-Tennoji is a perfect place. Yun and I loved it and will be back.
※The information in the article is for 2021.
Spots Introduced
[Access] About 2 mins walk from Exit 8 at Tennoji Station.
[Hours] 4:00 pm – 12:00 am (Last order at 11:30 pm)
[Closed] January 1 & 2, Sundays

[Access] About 2 mins walk from Exit 8 at Tennoji Station.
[Hours] Weekdays 16:00-26:00 (last order 25:30)
Saturdays, Sundays, and holidays 17:00-23:30 (last order 23:00)

[Access] About 2 mins walk from Exit 8 at Tennoji Station.
[Hours] Mon-Thursday 14:00-23:00
Friday 15:00-23:00
Saturdays, Sundays, and holidays 12:00-23:00
[Closed] Not specified

Recommended Plans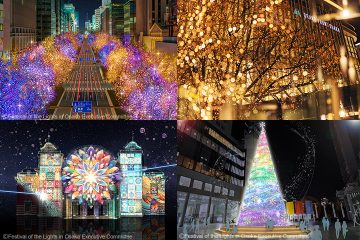 Every year at this time, dazzling winter illuminations begin to appear around the City of …
2023.11.10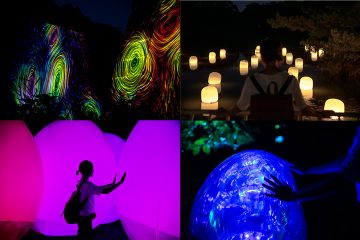 Hello! My name is fuji. I am a writer. Have you been to a botanical garden that is also an art …
2023.09.01
Osaka's nightlife is full of excitement and many enjoy dining at one of many restaurants …
2023.08.18