Japanese Tea & Coffee Fusion
At CHASHITSU Tea Stand in Hommachi
2022.01.28

Written by: TK(TK)
● Tea House with A View
Forget the conventional image of Japanese tea served properly in a traditional tearoom. Instead, imagine savoring the tea in a sleek and casual ambiance. This recent trend in the world of Japanese tea is centered around Tokyo, Osaka, and Kyoto and we found just the place to experience the modern elegance of Japanese tea in the middle of Osaka. And they specialize in Japanese tea and coffee fusion drinks!
CHASHITSU Japanese Tea & Coffee, a Japanese tea stand, is located about 5-minute walk from Exit 28 of Osaka Metro Yotsubashi Line's Hommachi Station. The chic shop faces Utsubo Park where you can enjoy the nature and seasonal changes despite being in central Osaka.
CHASHITSU originally opened as "CHASHITSU for worker," produced by HELLOlife, an NPO specializing in employment support, in the ground floor space of a building where the NPO's operations and activities centered. It was designed as a space for visitors to refresh their body and mind and offered Japanese tea and sweets.
The space reopened as "CHASHITSU Japanese Tea & Coffee" in July 2016 with a new style while retaining the original concept. You can still see the reminiscences of the original shop in the employment related books that line the wall shelves of CHASHITSU. Today, the shop provides a healing space for workers in the neighborhood as well as a destination for café lovers.
As you look around the shop, the black café counter and the black square frame hanging from the ceiling stand out in the bright setting. This corner was designed in the image of a traditional tearoom (called "chashitsu" in Japanese) and the countertop incorporates tatami (floor mats traditionally made of straw) made of Japanese washi paper. As typical of a tearoom, Chabana flower arrangement is on display at CHASHITSU and is regularly updated by a flower arrangement expert, Kats. The arrangement I saw in early December was perfect for the month with a touch of Christmas in the design. I liked how you can experience various Japanese aesthetics at CHASHITSU.
● Japanese Tea & Coffee Fusion
The top feature of CHASHITSU is hands down their Japanese tea & coffee fusion drinks. I interviewed one of their staff, Yurika Wakazono, about their fondness and devotion for Japanese tea and coffee.
― Tell us about the Japanese tea used at CHASHITSU.
"We use the tea produced in a town called Wazuka-cho located in southern Kyoto Prefecture. Wazuka-cho has been producing high quality Uji-cha for over 800 years, and is known as "Chagenkyo", or sometimes called "Teatopia" in English, for its beautiful landscape made up of rush green hills of tea plantations. We serve two types of tea—Hojicha and Matcha. Both are of extremely high quality and allow our customers to enjoy the authentic flavor of tea."
― I love this Hojicha, served hot. It's very aromatic and tastes rich.
"We receive many comments like that. This premium Hoji was matured for 3 years then roasted twice at different temperatures. Its most distinctive feature is its excellent roast and aroma. They are most prominent when served cold—by pouring the tea with hot water first then cooling it with ice. Many people think the aroma of tea comes through the steam. With this particular tea, the aroma comes up rather vigorously through your nose when you drink it cold. Drinking it out of a wine glass with wider opening would also let you enjoy a deeper flavor and aroma."
Indeed, the difference is palpable when comparing with a quickly chilled version. You can choose the perfect preparation for an appropriate time or purpose—served hot for relaxation time and served cold for mealtime, for example. This premium Hoji tea leaves are used for everything on their menu, except for Hoji Latte (pictured right), for which they use its own special Hoji tea leaves.
― Talk to us about your coffee, too.
"Our coffee infused drinks were created in cooperation with Unir, a coffee roaster in Kyoto that specializes in high quality Specialty coffee. We wanted to make the most of both tea and coffee, and selected fruity single-origin coffee which, when combined with tea, is not too bitter. The best drink on our menu to taste the flavor of both tea and coffee is Hoji Americano. You can enjoy seasonal changes, too because we use different beans every season due to circumstances with the producer."
You can taste the difference in coffee alone, but the change is apparently explicit when combined with Hojicha. How interesting is that!
● Creative Pairing with Japanese Sweets
I'm sure you're eager to see what these fusion drinks taste like. Shall we?
Top Recommendation☆Hoji Americano
"It's not strikingly bold, but it's deliberately flavorful," Wakazono san recommended Hoji Americano. It is a sumptuous cup of carefully extracted Specialty coffee mixed with premium Hoji prepared in an iron kettle. I expected each flavor to assert itself. Instead, I tasted an indescribable harmony. The two flavors had blended together to create one flavor. Make sure to take your time with the drink—the aroma intensifies as the temperature changes over time.
Ohagi Burger is a perfect companion to Hoji Americano. In these cute little Japanese sweets, azuki beans and seasonal ingredients are sandwiched with sweet rice "buns" that are lightly roasted on both sides. For my simple flavor Hoji Americano, I chose refreshingly fragrant Ohagi Burger Yuzu (served in winter only) with a distinct sweet and sour flavor.
I also ordered a corn pound cake. Give it a quick mist of soy sauce right before eating, and it tastes just like roasted corn on the cob. Sweet and savory, it's addictive.
Perfect in Winter! Matcha Vienna Coffee
Matcha Vienna Coffee is ideal for this season—and is served in winter only. It's a hot coffee with matcha syrup and slightly whipped cream added. Their homemade syrup uses raw sugar and produces delicate and comforting sweetness. It's perfectly made for the winter months. Don't miss the moment when matcha cream is poured into coffee. The aroma that emerges—from the coffee or the matcha, or both, I'm not sure—and gently floats in the air is delightful.
For creamy and rich Matcha Vienna Coffee, Ohagi Burger with Japanese Chestnut (pictured far right; limited-time offer) is a great match. With a flavor similar to a classic French dessert, Mont Blanc, this Ohagi Burger perfectly combines Japanese and Western ingredients and is great for those who are not too familiar with Wagashi Japanese sweets.
The seasonal menu gives you something to look forward to—coming up in February is Le chocolat! You can match the sweets with your favorite drink to create your own "Oyatsu Set" ("snack set") menu for a good price.
● Online Shop and Workshops
So, what do you think about the Japanese tea & coffee fusion?
If dining in or making the trip to the shop is not possible or easy, go no further. Premium Hojicha and Ohagi Burgers as well as Japanese pound cakes I showed you, and other goodness are all available online or for carry out.
CHASHITSU also hosts workshops and events around the topic of tea. Check their official website or social media sites for most updated information.
Wakazono-san (pictured on the left) and Ishii-san (pictured on the right), thank you for the wonderful experience!
Spots Introduced
[Access] About 5 mins walk from Exit 28 at Hommachi Station.
[Hours] Weekdays 11:00 am - 6:00 pm (Last Order 5:30 pm)
Weekends/Holidays 1:00 pm -5:00 pm (Last Order 4:30 pm)
Please check the official homepage/social media sites for most updated information.
[Closed] Second Tuesday of the month

Recommended Plans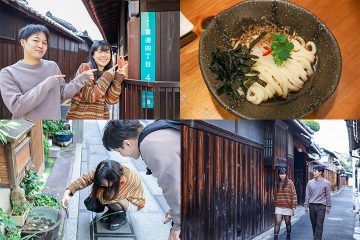 Hi! My name is Nasu. I came from South Korea to do Working Holiday in Japan. …
2023.11.24
Hello! I'm Nasu from South Korea. I love Japan and have studied the Japanese language …
2023.11.17
Vegetables are almost always part of a Japanese dish, but the truth is it's not easy to find …
2023.10.06
Hommachi
Hommachi
Hommachi