Winter Scenes From Abeno Harukas
2019.02.15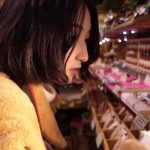 Written by: 戴安娜(Dianaaa)
● We took a trip to the top of Abeno Harukas!
It's still cold outside and the air is clear, so we took a trip to the top of Abeno Harukas for some fresh views of the city…
From the observation deck of Japan's tallest building, you can see Osaka and beyond with recognizable landmarks peeking up from the sprawling landscape. There's the aquarium, the castle, and Tsutenkaku, plus so much more. There are views of the surrounding mountains and sea. The way the city sparkles from up here, it's like no other nightscape we've ever seen.
And just when you thought it couldn't get any more beautiful, the lights begin to dance right before your eyes. CITY LIGHT FANTASIA BY NAKED presents a magical projection mapping show, featuring sharks and whales swimming through the sky, fireworks and more. These dreamy images set to music make for great photos too!
And words cannot describe the next place we visited. We're talking about the very tippy top of the building! You can actually take a tour that leads you up to the heliport, where you'll find yourself standing out in the open air 300 meters above ground.
Safely returned to the observation deck we noticed couples enjoying a cozy moment with drinks and dinner while seated at "Kotatsu". These knee-high tables are a common sight during winters in Japan, and they keep your legs toasty with built-in heaters and warm blankets to drape over your lap. We missed our chance to grab a seat, since the kotatsu require reservations and are very popular. We'll try to get our own table next year. And we'll definitely be back before next kotatsu season too.
Spots Introduced
[Access] A short walk from Exit 9 at Tennoji Station.
About 4 mins walk from Exit 1 at Abeno Station.
[Hours] B2-3.5F (wing building) 10:00-21:00 B2F · 2-4F (Sorach) 10:00-20:30 4-11F 10:00-20:00 12-14F (Abeno Harukas dining) 11:00-23:00 B2F (Abeno Market Restaurant) 10:00-22:00 ※ It varies according to stores
[Closed] Irregular holidays

Recommended Plans
สวัสดี! I'm Bie. I'm from Thailand. I'm a student here in Japan and I love exploring Japanese …
2022.07.22
สวัสดี! My name is Bie. I'm from Thailand. I used to visit Japan often and fell in love with …
2022.07.15
สวัสดี! I'm Nulek. I'm from Thailand. Osaka is a city of culture. It's home to numerous …
2022.07.01