A Cozy Winter Evening at Japan's Tallest Building
2022.11.25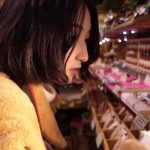 Written by: 戴安娜(Dianaaa)
● Winter Scenes From Abeno Harukas
It's still cold outside and the air is clear, so we took a trip to the top of Abeno Harukas for some fresh views of the city…
Abeno Harukas is located right outside of Osaka Metro's Tennoji Station, or a mere 4-minute walk from Abeno Station. Its observatory, Harukas 300, is at the top of this tallest building in Japan, at 300 m above ground.
Built in 2014, Abeno Harukas is undoubtedly a landmark and one of the top tourist destinations in Osaka. The elevator to the observation deck left from the 16th floor and took us all the way to the 60th floor in no time, where the Abeno Bear (Harukas 300's mascot) welcomed us.
The observation deck that takes up the entire 60th floor is surrounded by floor-to-ceiling windows that showcases a magnificent view of the city as the sun goes down and the darkness envelopes the city. You can see Osaka and beyond with recognizable landmarks peeking up from the sprawling landscape. There's Tsutenkaku, the castle, and even the big red Ferris Wheel in Umeda, plus so much more.
The way the city sparkles from up here, it's like no other nightscape we've ever seen. It is a perfect spot for a date night on a crisp winter night.
● Heliport Tour
And words cannot describe the next place we visited. We're talking about the very tippy top of the building!
You can actually take a tour that leads you up to the heliport, where you'll find yourself standing out in the open air 300 meters above ground.
The wind was chilly, but it didn't bother me at all. I mean, how often do you get to go to a heliport? At the tallest building in Japan?! Standing atop Abeno Harukas was definitely one-of-a-kind experience.
In the clear, crisp air of the heliport, Osaka looked like a galaxy with tiny glittering stars, a view completely different from the view from inside.
● Winter Only – "Kakomu de Kotatsu"
Safely returned to the observation deck we noticed couples enjoying a cozy moment with drinks and dinner while seated at "Kotatsu". It was part of the winter-only event, "Kakomu de Kotatsu", literally "Sit Around Kotatsu".
These knee-high Kotatsu tables are a common sight during winters in Japan, and they keep your legs toasty with built-in heaters and warm blankets to drape over your lap. It's so comfortable that, if you've experienced Kotatsu once, you'd know that it's virtually impossible to get up from the table once you sit down. (lol)
This popular feature of Japan's winter scenes was invented some 500 years ago. I guess the Japanese people has been enjoying the warmth of Kotatsu for a loooong time.
The event "Kakomu de Kotatsu" highlights the tradition of Kotatsu combined with winter comfort foods of Japan… and the spectacular view of the city from Harukas. New this year at "Kakomu de Kotatsu" is Horigotatsutables–these Kotasu tables come with a recessed floor underneath the table so you can sit on the floor and stretch out your legs as if you're sitting in a chair. Imagine you can sit comfortably on the floor without your legs falling asleep!
● Oden Dinner & A View
While dinner at the highest point in Osaka is a fancy affair, the Kotatsu setting of "Kakomu de Kotatsu" makes it such a comfortable, cozy experience at the same time. It's like having dinner and drinks at your best friend's home, just with an amazing view.
Choose from three types of course menus (and kids menu) that will warm you up.
Here's one of the three–the Oden course.

Oden course (image photo)
Some would argue Oden is the best comfort food during the winter months in Japan. Using simple dashi broth made from kombu and bonito, various ingredients are stewed in a clay pot and served family style.
Oden ingredients at Harukas includes daikon radish, hard-boiled eggs, tender beef tendon, fishcakes, konnyaku, fried tofu, mochi, cheese wieners, and more.
It's a perfect winter dish to share with family and friends. Just talking about it makes me hungry. I'd order beer or sake with my Oden and celebrate the end of the year or the New Year.
The other two options are the Shabu Shabu course that uses ago-dashi broth and the thinnest and the finest Satsuma Chamiton pork (great with sesame sauce or ponzu soy sauce!) and the Mentaiko Tororo Hot Pot course that combines–perfectly, I might add–rich, spicy cod roe with refreshing grated yamaimo yam. All options are distinctively Japanese and keep you warm on a cold winter night.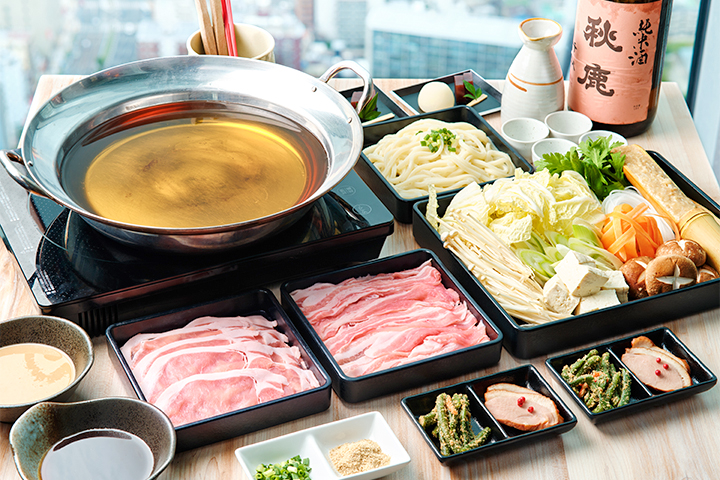 Ago-dashi Shabu Shabu course (image photo)

Mentaiko Tororo Hot Pot course (image photo)
"Kakomu de Kotatsu" brings together the warmth of home and the best view of Osaka, creating a romantic date night for couples or a fun end-of-the-year party for friends.
Come experience the best of Japanese winter at 300m above ground this winter! (And don't forget to make a reservation!)
Spots Introduced
[Access] A short walk from Exit 10 at Tennoji Station.
About 4 mins walk from Exit 1 at Abeno Station.
[Hours] Vary depending on the store
[Closed] Vary depending on the store

[Access] A short walk from Exit 10 at Tennoji Station.
About 4 mins walk from Exit 1 at Abeno Station.
[Hours] 9:00-22:00

Recommended Plans
Hi! My name is Daniel. Seven years ago, I moved to Osaka from California, U.S.A. Japan's …
2023.01.20
Do you like to pack your days when you travel? Start the day at that breakfast place you read …
2022.12.09
With icons like Dotonbori and Tsutenkaku Tower, many think of Osaka as colorful and …
2022.12.02