Nipponbashi's Mandarake Grand Chaos,
Every Otaku's Dream Museum
2021.03.05

Written by: diego(diego)
● Mandarake Grand Chaos Now Open in Nipponbashi
Hola! I'm Diego, Osaka Metro NiNE's designated otaku reporter. I love Japanese manga comics, video games, and pop culture and moved to Osaka from Barcelona, Spain. I've been pursuing my otaku life every day while studying Japanese.
Today, I visited one of my favorite shops, Mandarake Grand Chaos, at its new location in Nipponbashi Osaka's otaku paradise! It just moved there from America-mura in December.
Mandarake Grand Chaos stands tall in the middle of Nipponbashi Den Den Town, about 6-minute walk south on Sakaisuji Avenue from Ebisucho Station.
The six-story building is filled with manga, anime, video games, J-Pop idol merch, cosplay products, special interest magazines…everything from vintage to the newest on the market, from Japan and all over the world. It has everything otaku loves—it's a dream museum for otaku.
When you come here, you might see your favorite hero from your childhood. It stirs my nostalgia every time. And to top it off, you can take home with you your hero right here, right then! Isn't that cool?
● Packed with Ultraman and Other Nostalgic Toys
Your eyes are immediately drawn to the display cases as soon as you enter the building on the 1st floor. Power Rangers, anime toys, you name it! I'm already overwhelmed—in a good way—with the wide range of collections offered!
Here're Ultraman and Ultramonster PVC figures from different generations. Look at this cute Ultraman with a big head! (LOL) I like retro figurines.
Whew! These monsters with distinctive quality are a piece of art.
I can't help but admire every one of them, each with a different expression.
I was crazy about robots when I was a child. They were so strong. I was pretty much obsessed.
I think Mazinger Z was the TV show that triggered the spread of Japanese anime in Spain in the 70's.
It was the first anime to feature a robot like this. It was radical and exciting and became super popular in Spain. Everyone admired Japan for creating such anime.
You can say that was the beginning of my journey to Osaka, too.
Doraemon and Ninja Hattori-kun are famous in Spain, too. I kind of like these vintage toys♪
Here's my favorite, Saint Seiya!!
I'm not going to indulge you in my love for Saint Seiya here (you're welcome) but I am soooooo excited!!! I don't know if I'll be able to leave this place now.
● Action Heroes & Sailor Moon
The 2nd floor of the building is also lined with glass showcases with so many anime figures including Neon Genesis Evangelion, Dragon Ball, Kinnikuman, Jojo's Bizarre Adventure, and Lupin the Third!
Another aisle is filled with Gundam series' plastic model kits.
What a selection! It makes me happy.
I also found my favorite gaming goods, like Dragon Quest.
I had a friend who was into Pretty Guardian Sailor Moon. They have other magical girl series and retro Disney goods, too.
● A Manga Heaven!
3rd floor is all manga. The collection of manga here—from long story manga to ones I've never seen before—is simply amazing.
You know the popular Naruto and Slam Dunk series…
These old weekly comic magazines caught my eyes. They are over 50 years old!
And of course, the works of Osamu Tezuka, the God of Manga!
Demon Slayer (Kimetsu no Yaiba) is hitting the charts everywhere in the world. In Spain, everyone knows it's now on Netflix. COVID is delaying the movie release, but I'm sure it'll be an instant hit.
● Impressive Collections of J-Pop Merch, Cosplay Goods, Trading Cards…
On the 4th floor is a section for CDs and DVDs and a corner for female J-Pop idol goods and their photo books.
A friend of mine in Spain is a big fan of Morning Musume. I ship some merch over there sometimes.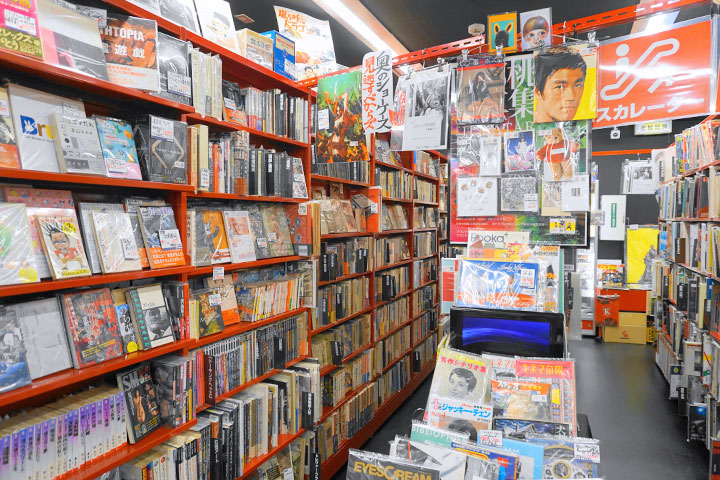 Next floor up—the 5th floor—is all about boy bands, cosplay, and special interest magazines for women.
A whole collection of cosplay costumes and accessories requires a specialized sales associate, but they were out unfortunately…
About half of the floor is filled with special interest magazines. I didn't realize there are that many genres!
Finally, the 6th floor of the building is dedicated to cards and stickers.
There isn't enough time to enjoy every Bikkuriman stickers, Pokémon cards, and other trading cards.
● Find Your Once-in-a-Lifetime Treasure
There are simply too many treasures to cover in an article (or two, or ten…)!
Mandarake's biggest strength in my opinion is the abundance of merchandise and genres offered. Maybe they get rare items through their buy-back center.
Mandarake's homepage is updated daily with information on new arrivals—it's fun to just look through them. Mandarake ZENBU, their auction catalog is published every other month in the even numbered months.
Timing is everything in finding your treasure because many items are one-of-a-kind and sell out right away. Not knowing what you'll find is part of the excitement, though. Staff at Mandarake are all friendly and knowledgeable. I don't know about you, but I enjoy talking to fellow otaku.
Visiting Mandarake gives you a comprehensive understanding of Japan's otaku culture. There's so much to see, so make time and come find your treasure!
Spots Introduced
[Access] About 6 mins walk from Exit 5 at Ebisucho Station.
About 12 mins walk from Exit 5 at Nippombashi Station.
About 12 mins walk from Exit 3 at Namba Station.
[Hours] 12:00-20:00
[Closed] Open daily

Recommended Plans
Hi! I'm Bryan. I was born in New York and grew up in Denver. I've been living in Japan for 15 …
2023.08.04
你好! I'm Huang from Taiwan. I've been a Pokémon fan since the time of Game Boys. After years …
2023.07.21
你好! My name is Huang. I'm from Taiwan. Pokémon games are one of my favorites since I …
2023.07.14
Ebisucho
Nippombashi
Nippombashi
Namba
Namba
Namba